Come out and enjoy the competition at the historic showgrounds in Keswick and remember the Keswick Horse Show Foodstand will be serving their fabulous food- breakfast, lunch and dinner!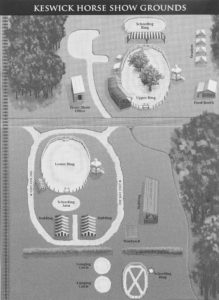 The 112th annual Keswick Horse Show will again be held at the historic Keswick showgrounds from Tuesday, May 17th through Sunday, May 22nd.This year's show is brought to you by the Keswick Hunter Jumper Foundation.
Keswick has maintained its excellence as a AA rated World Champion Hunter Rider Event and in 2014 was honored by the USEF as a designated Heritage competition. The designation of a USEF Heritage competition is reserved for competitions that have been in existence for a quarter century or more, promoted and grown equestrian sport and made contributions to the community outside the gates of the horse show by achieving, maintaining and promoting the equestrian ideals of sportsmanship and competition. These shows have become a part of the fabric of the American showing scene. With their endurance, dedication to philanthropic efforts and impact on their communities, they are perfect examples of what they look for when designating Heritage Competition.
Douglas Wheeler and Meredith McLaughlin are again co-chairman of the show assisted by numerous committees of Keswick volunteers. The Keswick Horse Show has always been known for its entertainment and this year again as always the committee has created a wonderful schedule of events.
On Wednesday evening grab your dog , practice your tricks and get your best costumes ready for the 28th annual Eastminster Dog Show For over 25 years, CO-chairs Peggy Augustus and Ginny Semmes have continued to host this wonderful family event. The SPCA is so grateful for supporters like Ginny and Peggy not only because the show has evolved into a Charlottesville tradition but it is a fun time for everyone.
Dogs and their families are invited to compete in fun-filled classes of competition, including Best Costume, Best Trick, Best Family, Musical Chairs, Best Rescue, Beginner Obstacle Course and Best in Show. Registration for the family friendly event begins at 5:00 pm with the show starting at 6:00 pm. Of course spectators are welcome. Admission and entry is free but donations to the SPCA are encouraged.
The weekend starts with the USHJA National Hunter Derby followed by dinner under the tent  on Friday night. Saturday is always a special gathering for the entire community featuring the $20,000 UVA Children's Hospital Jumper Classic. It is a beautiful evening that has become a tradition in Keswick. Sunday's Down Home Fish Fry on the porch is a relaxing conclusion to a wonderful week. The horse show features classes for Hunters and Jumpers Wednesday through Sunday beginning at 8 am with classes on Friday and Saturday evenings.