By Sam Johnson – Deputy Director of Cullinary | 1776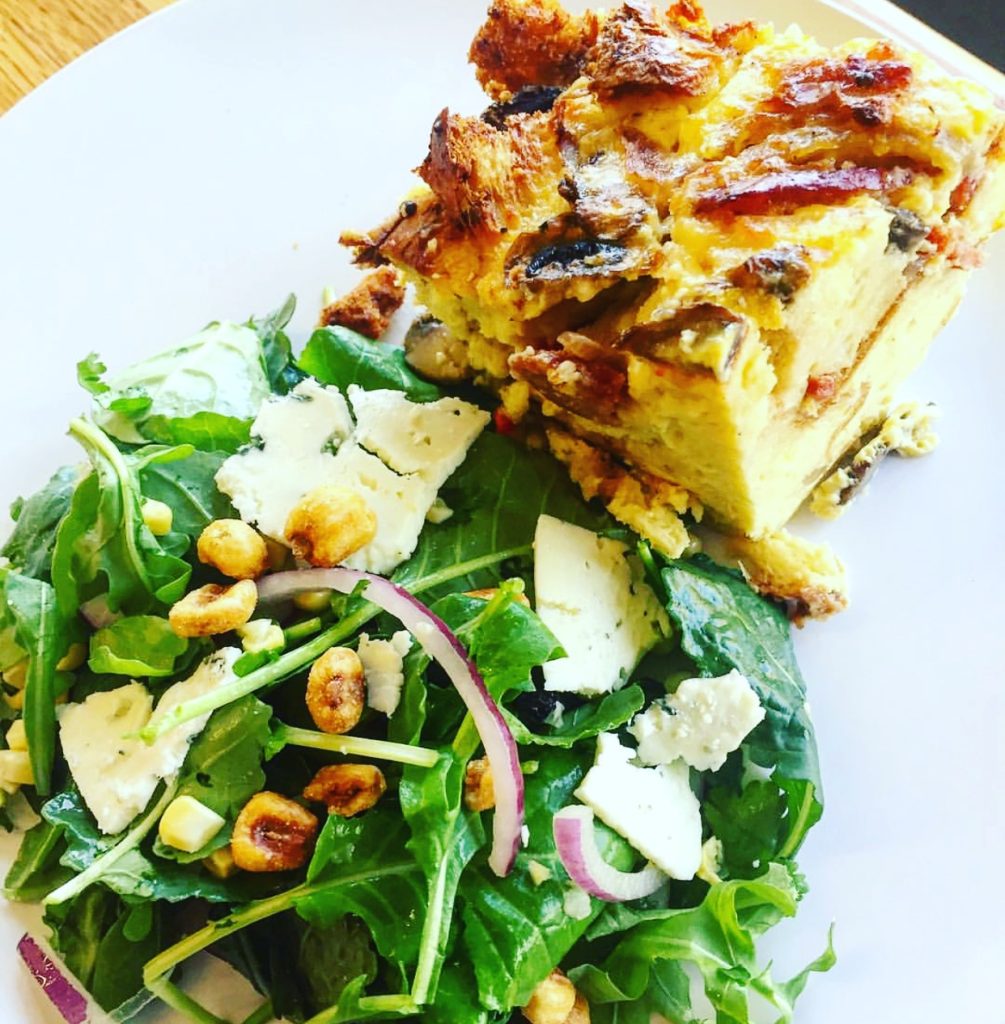 Sam's Leek Bread Pudding is sure to please at your next brunch, gather up a group of friends and share a meal this winter!  This libation pairs well and helps set the festive spirit: 
Maple Rosemary Bourbon Punch
4 Cups of Ice
750 ML Ginger Ale
1liter of Cranberry Juice
16 oz of Bourbon
Maple Syrup to taste
Fresh Rosemary
Sam's Leek Bread Pudding
2 cups 1/2-inch-thick slices leeks, white and light green parts only, cleaned and rinsed
2 ½ cups of button mushroom
2 cups of sweet peas
Kosher salt
4 tablespoons (2 ounces) unsalted butter
Freshly ground black pepper
12 cups 1-inch-cubed crustless brioche or challah bread
1 teaspoon fresh thyme 
1 teaspoon of rosemary
1 teaspoon of fresh chopped garlic
6 large eggs
3 cups whole milk
4 cups heavy cream
2 cups of white wine
2 cups shredded parmesan cheese
2 cups of jalsberg cheese for topping
Directions
Place a medium sauté pan over medium-high heat, drain excess water from leeks, and add to pan also add chopped garlic. Season with salt, and sauté until leeks and mushrooms begin to soften, about 5 minutes, then reduce heat to medium-low. Stir in butter, and wine Cover and cook, stirring occasionally, until leeks and mushrooms are very soft, about 20 minutes for the last 10 minutes add peas. Adjust salt and pepper to taste.
Preheat oven to 350 degrees. While veggies are cooking, spread bread cubes on a baking sheet and bake until dry and pale gold, about 20 minutes, turning pan about halfway through. Transfer to a large bowl, leaving the oven on.
Add veggies, rosemary and thyme to the bowl of bread; toss well. In another large bowl, lightly whisk the eggs, then whisk in milk, cream, a generous pinch of salt, pepper to taste.
Make sure pan is coated well with cooking spray. Mix together bread veggies and parmesan cheese spread out evenly in pan.
Pour in enough milk mixture to cover bread, and gently press on bread so milk soaks in. Let rest 15 minutes.
Add remaining milk mixture, letting some bread cubes protrude. Sprinkle with salt and jalsberg cheese. Bake until pudding is set and top is brown and bubbling, about 1 1/2 hours. Serve hot.
"This is my go to winter brunch favorite, warm the soul and heart insures all in Keswick will enjoy."