Interview with Matt and Charlene Scibal at Inn at Willow Grove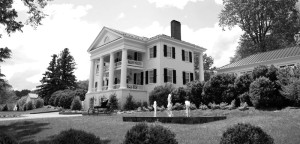 The Inn at Willow Grove is located just north of Orange, Virginia on Route 15. Built in the late 18th century for Joseph Clark, the original frame residence was substantially enlarged in 1848 by the addition of a brick wing and a unifying Tuscan portico. It is believed some of the woodwork in this Federal portion was executed by the same artisans who crafted Montpelier. President James Madison's lifelong Orange County home, The remodeling was done for Clark's son, William, who inherited Willow Grove in 1839. The resulting building stands as an example of the influence of Thomas Jefferson's Classical Revival style on the country homes of Piedmont Virginia. The portico is accented by the distinctly Jeffersonian touch of Chinese lattice railings. The mansion has withstood the ravages of two wars. Generals Wayn and Muhlenberg camped here during the Revolutionary War, and the mansion was under siege during the Civil War. Trenches and breastworks are visible near the manor house and a cannonball was recently removed from the eaves. The house is enhanced by its pastoral setting and collection of outbuildings. Later the homestead of the Shackelford family, the house and outbuildings are now used as a country inn. This is the description of Willow Grove by the National Park Service website titled "Journey Through Hallowed Ground".
In the 1980's a couple from New Jersey bought Willow Grove and kept it as a bed and breakfast. Charlene and David Scibal would occasionally have a meal there and Charlene described it as a cozy pub. It gradually declined and sat empty for many years until Charlene and David decided to buy it and fix it up in 2008. They lived on nearby "Windholme" in Orange County. 
Charlene is the driving creative force behind Willow Grove. Her husband David and son Matt are there every day along side her running their Inn. Matt is the General Manager and could rival the best graduate of the Cornell Hotel School, he is a true people person and well versed in his trade. Charlene grew up in New Orleans and went to art school after high school. After time working in the insurance industry, where she met her husband David, she owned and ran an art gallery so all things art come naturally to her.
When they bought the Inn it was in shambles and the various outbuildings were in disrepair. The main floor of the mansion had to be adjusted by 10' to level it, a major restoration project alone! The original barn was falling down and they had to tear down the wood. They left the stone foundation and use that now for event space. The various outbuildings have been restored and are used as guest space. The schoolhouse, I was told, is the oldest schoolhouse in Orange County. It is two levels with an outside door at the second level, where the teacher slept, accessible only by a ladder. This place abounds with history and stories.
The Inn has been written up by Forbes Travel, the Washington Post and many other travel sites and magazines all to rave reviews. Charlene and Matt say their intention is to "exceed the destination anticipation" of their guests. They want a superior experience for their guests from the first phone call to make reservations.
One such guest I interviewed was Dr. Brian Clark, a dentist in Reston, Virginia. His wife Nancy works in his office. He said it's their favorite destination in the fall and winter for a getaway. They read about the Inn in the American Express magazine and decided to give the dining room a try. They were seated in the Chef's Room. While dining they met the owners, Charlene and David, who insisted they spend the night. Brian jokingly said they didn't bring their toothbrushes. Unbeknownst to them Charlene and David went to a local pharmacy and purchased light-up toothbrushes for them while they dined. They spent the night!
Brian said he takes his wine group there and word has spread among their friends about this wonderful Inn only two easy hours from Northern Virginia.
"Everything about this Inn is a luxurious experience", Brian said. The setting is elegant but comfortable. Among the seriously comfortable furniture are pieces of art added by Charlene, in the form of a cow painting or a chair made of books. It is NOT stuffy; just well appointed in decor. Brian raved about the special mirrors in the bathrooms. He said "I've never seen any like them before; everyone wants one."
Apparently, that goes for all the decor items. So it seemed a natural to Charlene to open a shop in downtown Orange called "Objects on Main". It opened on October 23. She said people were asking her where they could purchase items from the lavender soap to art to furniture. I'm sure it will be an art gallery of delightful items for sale.
Charlene said she wanted the dining experience to be along French lines with many courses and impeccable service. Having eaten at the Inn myself I can only rave about the exquisite food. I took three friends there for a birthday dinner and we were served personalized birthday cakes. Very elegant and understated, no waiters singing Happy Birthday and clapping!
To quote the article in the Washington Post in 2011, "This is luxury living. In the morning, the butler arrives with our breakfast tray, coffee and beignets. (After all, Charlene is from New Orleans!)" That luxury service is the same today. I think we have a special place in our midst here in the Piedmont of Orange County.
Wednesdays they are offering for $5.00 per plate a Tapas experience. The small plates are items from the main menu in smaller tastings. As Matt says, "For $25.00 you can taste the items from the main menu." On Thursday it's Three on Thursday night where for $29.95, you get three entrees. Their Inn is the perfect place for a couple getaway or a corporate event. The Inn at Willow Grove seems to have all the entertaining bases covered with an elegant venue, great food and impeccable service.