A Wedding, a Big 'Appaws' and a Grace Church Picnic
A Round of Appaws for Critter Ball 2016!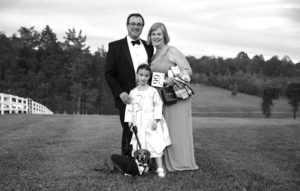 On Friday night, October 14th, hundreds of animal lovers came together for a night of dancing, bidding and delicious cuisine to celebrate the 10-year milestone as a No Kill community at Castle Hill Cider in Keswick. The 2016 Critter Ball was another huge success for the Charlottesville-Albemarle SPCA, raising more than $230,000 in net proceeds to benefit the animals at the shelter! Terrific live and silent auctions featured exciting packages and key initiatives, including our art camp and spay/neuter appeals. Attendees also supported our Compassionate Care-A-Van, a mobile unit we are in the process of purchasing that will help underserved populations in need of pet care in our community. To top off the night, guests grooved to Motown performers Kustom Made, and a $3,500 gift card to Keller & George Jewelers was raffled to a lucky winner!
Weddings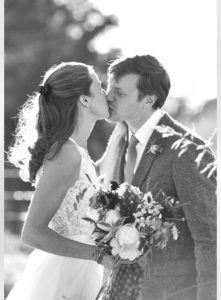 Peyton Coles and Katherine Belk were married October 22 in Chester, South Carolina at the family farm of Katherine's parents, Tim and Sarah Belk. They met a few years ago at their high school reunion–his 10th and her 5th. Katherine, known to her friends and family as Peanut, had promised a family friend to find Peyton at the reunion and to introduce herself as his future wife. Peyton took her seriously and within a few months convinced Peanut of the same. Peyton is the son of Julie and John Coles of The Plains, VA and grandson of the late Roberts and Doris Coles of Cloverfields and godson of the late Hugh Motley. The wedding party consisted of siblings of the couple and the groom's friends from high school and college. Peyton's father, John Coles, was honored to be the Best Man. The couple currently lives in Cambridge Massachusetts.
---
The Flower Show Results
By Keswick Life  |  Photography submitted to Keswick Life
The 82nd Annual Garden Club of Virginia Daffodil Show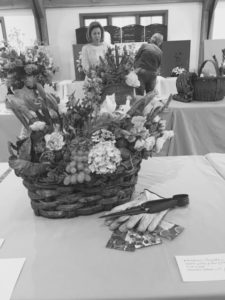 The 82nd Annual Garden Club of Virginia Daffodil Show was on March 30th and March 31st held at the Hampton Roads Convention Center and hosted by the Huntington Garden Club.
Fifteen of the Dolley Madison Garden Club members were involved in a variety of ways, with nine members; Gail Babnew, Suzie Bresee, Bridget Bryant, Catherine Gillespie, Jane Hammond, Laurie Holladay, Pat Filer, Annie Vanderwarker and Bernice Walker present at the show.
GCV Daffodil Committee members Suzie Bresee, Bridget Bryant and Catherine Gillespie worked the Horticulture Show. Bridget Bryant and Jane Hammond attended the GCV Daffodil Judging School 101 took the Judging test and are now Student Judges. Laurie Holladay was an Artistic Show judge and Annie Vanderwarker assisted with the clerks and runners.
A big thank you to all the DMGC members who graciously gave test collection blooms for DMGC Inter Club Collection class:
Gail Babnew, Suzie Bresee, Trish Falcon, Catherine Gillespie, Pam Gottschalk, Lucille Morton, DeLane Porter, Page Sullenberger and Annie Vanderwarker.
Gail Babnew, Trish Falcon, Pam Gottschalk, Jane Hammond, Lucille Morton, Carla Passarello, DeLane Porter and Page Sullenberger also had blooms entered in the horticultural classes.
ARTISTIC
Pat Filer entered the Interclub Collection Naturalistic Landscape Design and won second place award.
HORTICULTURE
Bridget Bryant entered the Interclub Collection Class and was very happy to receive the White Ribbon out of a huge sixteen entries class. Thank you to Suzie Bresee and Catherine Gillespire for their continued support and help each year.
SILVER WINNERS
Suzie Bresee was presented with the Broyhill Trophy for her Best Vase of Three "New Penny".
Catherine Gillespie was presented with the Edith Harrison Walker Award for ten varieties from GCV collections
TROPHY COLLECTION AWARDS
Bernice Walker – Red in "Five Varieties of American Bred Daffodils".
Bridget Bryant – Red in "Five Varieties with Pink Coloring in Cup". White in GCV" Five Varieties of American Bred Daffodils". White in ADS "Five Varieties of American Bred Daffodils".
Jane Hammond – second place in the Horticulture Class Section Class 12 Anne Duvall Miller Massie Perpetual Trophy
Individual Horticulture – Listed below are the self reports from members at the show. Members will receive their ribbons in the mail.
Keswick Garden Show
Keswick Garden Show held their annual Flower Show and Tea "Mr. Jefferson's Birthday" on April 13th a tthe  Grace Church Parish Hall
Class 1 "From Mr. Jefferson's Garden" first place: Sylvia Gage
A fruit and vegetable arrangement.
Class 2 "Liaison Between the Continents" first place: Joan Goodenough
A stretch arrangement.
Class 3 "Picnic in the Vineyard" first place: Beth Hyder
An arrangement incorporating a basket, flowers and fruit.
Class 4 "Mr. Jefferson in Paris" first place: Norma Ballheim and BEST IN SHOW
A period French mass arrangement.
Class 5 "Mr. Jefferson Entertains the Madisons" first place: Betty Jo Svetz
A formal place setting with centerpiece.
Class 6 "Welcoming a Guest to Monticello" first place: Joan Standish                                                  
A small arrangement.
Class 7 "Happy Birthday Mr. Jefferson" first place: Annie Vanderwarker
A birthday cake made using flowers, fruits and/or vegetables.
Class 8 "Mr. Jefferson Looks to the East" first place: Carole Tiemeyer
An Ikebana arrangement.