I love to read about faraway places either when preparing to travel or while I am away on vacation. It stimulates my curiosity and whets my appetite for adventure.  Summer is the perfect time to explore and investigate new realms through reading.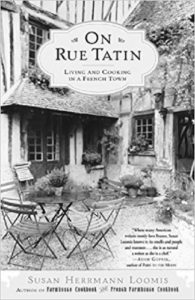 On Run Tatin combines two of my favorite things, exploring foreign culture and cooking.  One of my favorite cookbooks is the French Farmhouse Cookbook so when I found myself with the author's memoir on my hands I was thrilled. Susan Hermann Loomis moved to France in 1994 with her husband, Michael, and her child, Joe. She and Michael had already fallen in love with France but finally they found themselves owning a rundown convent in Normandy.  It was a leap of faith to buy this property and they began lovingly restoring it themselves.  It was quite the undertaking and it was fascinating to read about the gradual transformation, which brings the building back to life. You are able to get a real sense of the village life of Louviers as Susan paints a portrait of the sights, sounds and characters surrounding her.  The best part of this book, in my opinion, are the recipes placed at the end of the chapters.  From Wild Boar to goat cheese stuffed apples, every recipe is sure to tempt you and transport you to a village in France.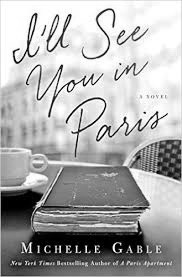 Keeping to a French theme I'll See you in Paris, by Michelle Gable, has a slight connection to that country, although most of the real action takes place in the United Kingdom. Loosely based around the life of Gladys Spencer-Churchill, Duchess of Marlborough, this novel takes the reader from the United States, to England then finally to Paris. There are overlapping stories told in this novel. Annie accompanies her mother to Banbury Village in Oxfordshire, England where she seeks to unravel her mother's past and the mystery of the book she found in her mother's belongings back in Middletown Virginia. The second story follows Pru as she seeks to escape her sorrow and becomes a companion to a crazy old woman, Mrs Spencer, living alone with her spaniels in a tumbling down house in Banbury.  The third tale recounts the fantastic life of Gladys Spencer-Churchill, Duchess of Marborough, who took the world by storm in the 1990s.  After reading this novel, I will definitely be reading more about this fascinating woman.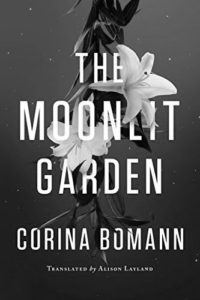 In The Moonlit Garden, A violin takes center stage. Corina Bowman, the author, also employs different stories across time to pull her readers into the world of antiques and instruments. A special violin affects a young musician named Rose in Sumatra and then pulls at a young widow named Lilly in Berlin. Lilly, an antiques dealer travels to London and then Indonesia in her quest to learn more about this remarkable instrument.  Loss, Love and music tie these stories together in a beautiful sweeping novel that traverses the globe.
I hope you enjoy these small forays into other lands!  Happy Reading!