As I write these reviews, I am up in the mountains on a retreat at Shrine Mont in Orkney Springs, and the air is crisp cool and the sky is bright with sunlight reflecting on the changing leaves. It's the perfect place to read and reflect.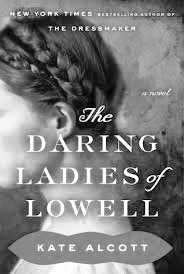 I have a mix of theme and genres this month starting with The Daring Ladies of Lowell by Kate Alcott. The author of The Dressmaker has delivered another historical novel that entertains. Based on an actual murder of a mill girl and the subsequent trial in 1833, this story centers around the mills in Lowell Massachusetts. There is a clear class distinction between the girls who run the looms and those families who actually own the mills. Many young girls have left family and farm work to work at the looms so that they can earn money and become independent but they are at the mercy of the mill owners. The Fiske family is the well to do owners of the mills in Lowell and when Alice Barrow begins working at their mill she suddenly becomes acquainted with the eldest son. She eventually represents the factory girls and workers and it is her dear friend Lovey (Sarah) Cornell who is found murdered. A tense trial begins and there is confrontation between the evangelical camp movement and the other religions in the area, between the industrial mill owners and the workers who are becoming increasingly angry about the conditions at the mills.
If you have ever wondered about the reason behind union movements this is a good look into the start of workers uniting in the US. It paints a picture of the rough conditions and the life of those who chose to leave everything behind for a chance to work in a factory. It is well written and a very easy read.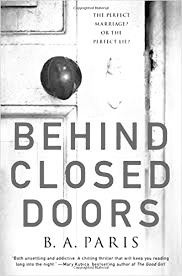 On a recent long-distance drive, I enjoyed listening to a new thriller that has just been released called Behind Closed Doors, a debut novel by B. A. Paris. Wonderfully creepy, it is a bit like Gone Girl in its intensity. Jack and Grace Angel seem to be the perfect couple. In fact, "perfect" is used quite a lot in this novel and start to mean something far different than the normal word. It doesn't take too long for you to realize that Grace is trapped in a horrible relationship that threatens not only her existence but that of her autistic sister, Millie. Grace will need all of her wits and strength to find her way out and she will have to rely on her sister to help her.
This was the perfect companion for my drive as it kept me engaged and intrigued the entire way – in fact I couldn't wait for the ride home so I could find out the conclusion. I always enjoy discovering debut authors and I will definitely be picking up the next B. A. Paris book!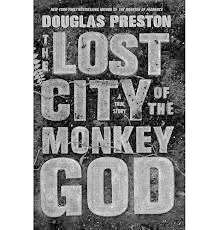 My final book choice is my favorite –The Lost City of the Monkey God by Douglas Preston. Preston is one of my favorite authors and you may remember I reviewed another of his books several months ago….The Monster of Florence. Preston is a freelance journalist, as well as a book author and he specializes in amazing true stories and mysteries. This time he has discovered that there is a group of explorers set to enter into a mysterious jungle in Honduras that has not been mapped or extensively explored previously. They believe that in this remote jungle lies the legendary White City, or also known as the City of the Monkey God. In 2015 Preston has managed to get himself included in this remarkable expedition. This book delves into the history of this area and discusses the Mayan culture and another culture which we known far less about which was located in the Mosquitia region and speaking Chibcha. Once the group, led by Steve Elkins, manages to get themselves into the region where they believe the ruins to be, they face deadly snakes, tropical diseases, drug cartels and a jungle so dense they can only travel a short distance each day. This is a perilous journey but the group stumbles on a cache of ritual objects buried in the jungle and they know they have made a significant discovery that may change our understanding of pre-Columbian culture. But the danger isn't over once they leave the jungle. Weeks after they are back home the team begins to face another enemy – Leishmaniosis. It is a parasitical disease which can take three forms and, of course, they have contracted the hardest to cure…the one that could kill them all.
I have to say this story makes me glad I am a book reviewer and prefer to write fiction because Preston puts his life on the line to get the stories he tells. It is no small feat! The other part of this story is the mystery of what happened to these massive cities which seem to have been abandoned in the jungle. The theory is that smallpox brought by Europeans to the Americas could have killed 90% of the population, decimating the once flourishing civilization. To put that into context – Black Death which devastated Europe only killed 30-60% of the population. Preston finds it ironic that a "New World city destroyed by Old-World disease wreaked havoc on its Old-World rediscoverers with a New World disease." This is an incredible story that will keep you enthralled throughout and you will be amazed that there are still as yet unexplored regions in our world with lost cities to find.
Have a wonderful fall and enjoy your Thanksgiving!