Welcome to fall…at last! No more sweltering heat but the smell of a warm fire and simmering stews and apple pies. Something about colder weather and crackling fires makes me start looking for good mysteries. Maybe it's the long nights or the mysterious nature of All Hallows Eve but this year I come prepared to offer some mysteries to entice you along with a few other books to suit the season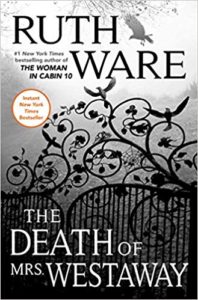 The Death of Mrs. Westaway by Ruth Ware could easily have been a Halloween choice. It is Victorian gothic in nature and involved Harriet Margarite Westaway (Hal), a young woman who is down on her luck and desperate for a way out. She suddenly finds herself the recipient of a large fortune from a grandmother she didn't know she had. Are the family correct in assuming that Hal is the same woman that Mrs. Westaway intended her fortune to go to? Certainly no one expected this strange young woman to be the beneficiary and so distrust and fear begins to creep into the story. The reader is as unsure as the protagonist and that keeps the pages turning. I have always enjoyed Ruth Ware's writing, and this is a fun eerie little mystery perfect for this time of year.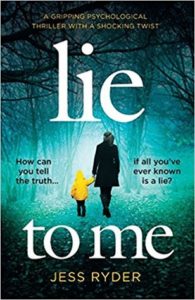 Lie to Me is a great debut psychological thriller from jess Ryder that reads a bit more like a crime drama, but I enjoyed it because the characters and relationships were intriguing. What happens if you suddenly find out that perhaps your mother had a secret…one your father is determined to keep. Who do you trust? This is what happens to Meredith Banks when she inadvertently comes across a VHS tape while cleaning out her Dad's house. Three minutes of footage suddenly rocks her world. Maybe there was something more about her mother's disappearance from her life than she previously though. Suddenly Meredith finds herself investigating a cold case murder of a young woman 30 years ago and she starts to learn about her mother's connection to it. The narrative comes from three different perspectives and jumps back and forth from present  day to 1984 but don't let that discourage you…the author manages to weave it all together and keeps the plot twisting and turning.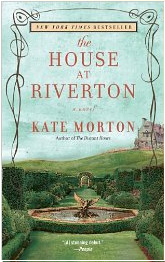 The House at Riverton by Kate Morton was written in 2007  so it's an older mystery by a well-established Australian author. It is a manor house mystery that follows the memories of a house maid, Grace Bradley, as she looks back at her life from her residence in a nursing home. She is 99 years old and losing her memory and so things come back in bits and pieces which keeps the reader guessing. The home was once owned by the Hartford Family and Hannah and Emmaline were the daughters of the owner, Frederick. In the summer of 1924 during a glamorous party held at Riverton, a poet, Robbie, commits suicide and it is witnessed by the daughters. A film director is taking a look back at the mystery so brings back to Riverton to try to get her to reflect back on what happened. What really happened is a secret kept for years but suddenly Grace is remembering it all…because she knows the truth. This book explores the mystery behind the death and the part each of the family and staff played in it. There is a Downton Abby feel to the setting and it harkens back to a way of life long since passed.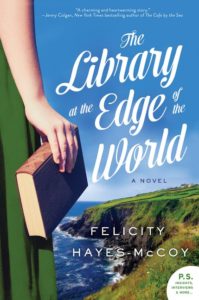 If you aren't in the mood for a mystery, then The Library at the End of the World may be a nice change of pace for you. It is a feel-good lovely novel by Felicity Hayes-McCoy. Honestly all you have to know is that it takes place in Ireland and involves a library and a woman trying to find herself. That alone sold me on it! Hanna Casey is a woman trying to find herself. That alone sold me on it! Hanna Casey is the main character who has left her life in London because she learns that her husband of many years has been having a twenty-year affair with a friend of hers. Her righteous anger prevents her from accepting any money from him in the divorce and that comes back to haunt her when she finds herself back in her hometown living with her grumpy mother. On the fictional peninsula of Finfarran jobs are scarce and so Hanna finds herself driving a mobile library around the country. Aloof and sad and a bit prickly Hanna must find her place in her village and decide what truly matters to her. The characters are great, from the surly builder who won't give an estimate and tends to do things his way versus how Hanna wants them, to Conner, her library assistant who has the job so that he can continue farming. When it looks like the county has plans to close down the library Hanna must find a way to connect to all of the library patrons so that they can save their connection to literature.
I hope one of these books will find a place by your bedside or perhaps alongside the fireside chair as we start into the colder months! Put another log on and settle in the cozy season that is fast upon us!