By Keswick Life
On July 17th, 2017, for the first time in 55 years, the southbound Amtrak train from Washington, DC to Charlottesville, stopped at the former Keswick Station, actually Hunt Club Road. Two of Keswick Hall & Golf Club's repeat guests "de-trained" and were greeted by staff, friends and Keswickians Mr. Donald Skinner, a 37 year employee with Amtrak arranged the historic stop.
He was recently described by Dave Harris, retired Amtrak, as "not only dedicated, but tenacious, detail oriented whole never forgetting to take his eye's off the "big picture" concerning his responsibilities of the position entrusted to him". He continued, "Don is definately on of my best [Amtrak Heros]".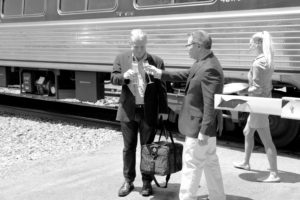 Mr. Skinner told friends and Keswick staff if he was going to end his 37 years with Amtrak, he wanted to end it here with us. Mr. Skinner and friends have been frequent guests of Keswick Hall and Golf Club for over 16 years.
The Keswick Hall & Golf Club team decided to capture this special moment for Mr. Skinner and presented the video at his departure. We thought you might enjoy as well.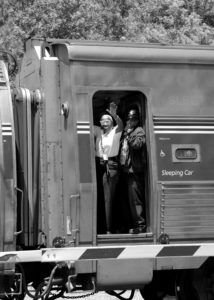 Looking Back at Keswick Station
The building Little Keswick School uses as a dining hall was once the Keswick train station. The train tracks used to pass close to it and curve around like the highway does. You can see the old track bed on Vicky Collins' property. You can see the foundation of the old bridge across the creek, across from David Ordel's. I believe they straightened out the tracks to their present line shortly after WWII. In the movie Giant, shot in the mid 1950s, the train stopped at the "new" depot, the cinderblock building across from Springdale.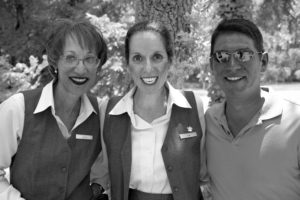 Charlotte Rafferty told me, and I've also read in newspaper articles, that the train would stop next to the lower ring (the upper ring wasn't built until the 1950s) to pick up and drop off spectators in the show's early days.
– Barclay Rives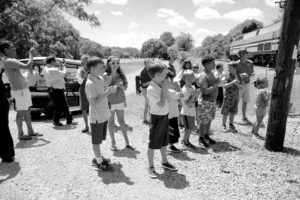 Mary Barbin called Peggy Augustus' mother and told her she would be passing by Keswick on the train  and would like to see the horse that they had for sale. As the train slowed, Mary Barbin was standing on the rail of the back car, and after catching a glimpse of the horse "Captain Lawton", she called to Peggy's mother "Ill take him".   Another time, Peggy remember a group of Texans had rented a train car and when the train passed the Keswick Horse showgrounds (which at that time was only located at the lower ring ) , the  Texans saw the horse show  and made the train stop to go see horse show.
– Peggy Augustus