Paul Wilson was born in South Shields (near Newcastle) in the northeast of England, his wife Yvonne was born in a small town some 40 miles north in the small town of Ashington (close to the Scottish border) and last but not least, Giacomo, who was born in Rome, Italy. Paul always had Terriers and Sighthounds from an early age. Most weekends, and when not at school, were spent with the dogs and ferrets hunting rabbits and rats and any other critters they could find. He also loves to fish, being brought up on the coast of the North Sea. Fishing since a child and more recently learning to fly fish. When not doing that, Paul enjoys photography and also likes to draw (less so in recent years, much to his wife's chagrin).
His Border Terriers and Whippets have been successful in the show ring, having achieved Best Puppy in Show at the prestigious Purina National (the Canadian equivalent of Westminster). The same dog has gone on to be a multiple Best In Show winner. Paul and Yvonne ship terriers all around the world, most recently, two dogs that went to Finland have done very well showing.
Yvonne and Giacomo are both crazy about Eventing. Yvonne has worked for some of the top Eventing Yards in the UK and has also worked for the Aga Khan in his breeding facility when we lived in Ireland. She has competed to Intermediate level and is a very good natural horsewoman, Whipping-in to Paul for the last 17 years — she loves her hunting! Giacomo also loves to event and has competed at lower levels on a paint horse he made himself and also his mother's old horse, Bebe. He too loves to hunt and is a good little rider.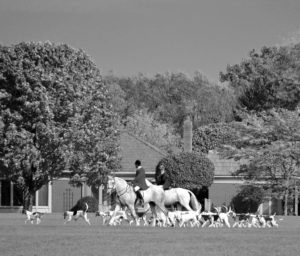 Paul whipped-in for several packs as a younger man learning his trade, starting with the East Devon Hunt and then the Modbury Harriers, from the southwest to the northwest to the Vale of Lune Harriers. They hunt hares in the Lake District and Lancashire. Great little active hounds and beautiful stone wall country. From the Harriers, then Whipped-in to the most northerly registered pack of Foxhounds, the Fife where he learned a lot from the Huntsman Marc Dradge who went on to be Ben Hardaway's Huntsman at Midland. Then Ireland next, to the Kildare. The country was very challenging to cross, lots of double banks and ditches!
In Rome , Paul had his first Huntsman's position which was a fantastic life experience. The country was varied and trappy, you needed a good horse to get you about the Campagna Romana. The hounds in Rome were "unconventional" in that they weren't English hounds. They had some English but also, had some Bloodhound/Foxhound crosses, as well as Anglo-Francais. Paul loved the Anglo-Francais, they remind me very much of the American Foxhound — fabulous cry, and accurate noses.
From Rome, he went to North America where he had a brief spell in Pennsylvania, followed by two great seasons at the Hamilton Hunt, and ending up in London where he has been for ten seasons, having some of the best hunting he has ever had. However, as much fun as hunting coyotes has been in big, open, arable countryside, Paul yearned to hunt foxes back on grass, which has now come to fruition.