By Sam Johnson, Deputy Director of Cullinary | 1776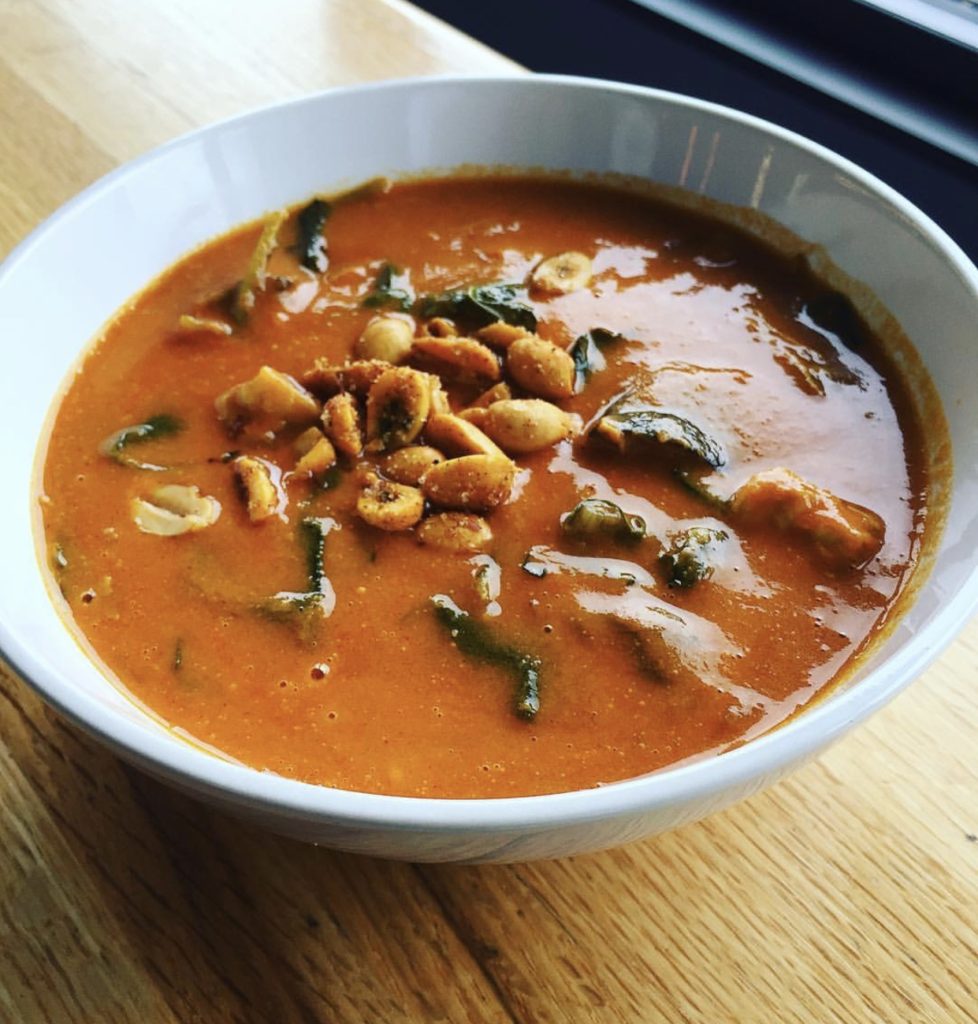 This is a west African dish I have made into my own I absolutely love this soup it's so hearty and good. Great for cold evening beside the fireplace or goes over well with a group of friends. It will be a hit. It has such a depth of flavor that builds over time. One of my favorites things to do is drizzle spicy garlic oil over the bowl when finished. Enjoy Keswick!!
Ingredients:
1 tablespoon Olive Oil
1 Pound Diced Cooked Chicken add  in and let come to the temperature of the soup
1 Medium onion
2 tablespoons Garlic
2 inches chunk Ginger
2 teaspoons Cumin
½ teaspoon Red chili flakes
¾ teaspoon Salt
1 pound Sweet potatoes/ cut into 1/2 inch cubes
½ cup Tomato paste
5 cups Chicken  stock
3 cups Collard greens (ribs removed and chopped into bite-sized pieces)
1 Cup Fresh cilantro
Directions:
In a large cooking pot warm the oil on medium heat. Once warm, add the chopped onion, ginger and garlic and sauté for about 5 minutes.
Stir in the cumin, chili flakes, and salt and cook 1 minute. Add the sweet potatoes, tomato paste and peanut butter. Finally, add in the vegetable stock. Mix until the stock dissolves the tomato paste and peanut mixture.
Turn the heat up, cover the pot and bring to a boil. Once boiled remove the lid and reduce the heat to a simmer. Let simmer about 15 minutes or until the sweet potatoes are soft and tender. Use the back of the wooden spoon to mash up about half the potatoes to thicken the soup. 
Add the collard greens, turn up the heat and boil uncovered for 5 minutes. Taste and season with more salt if needed. Diced Cooked Chicken add in ant end let come to the temperature of the soup. 
Serve with a side of rice, top with fresh cilantro and chopped peanuts if desired and enjoy!