By Sam Johnson Deputy Director of Cullinary | 1776
This is one of my favorites. I love it as these winter days get colder and colder.  It's so much fun to warm up with a bowl of soup and why not chicken pot pie soup. There are a couple of twists on the old classic in my recipe – I know it will be loved by all. Keswick, let's settle into the fall season with this classic.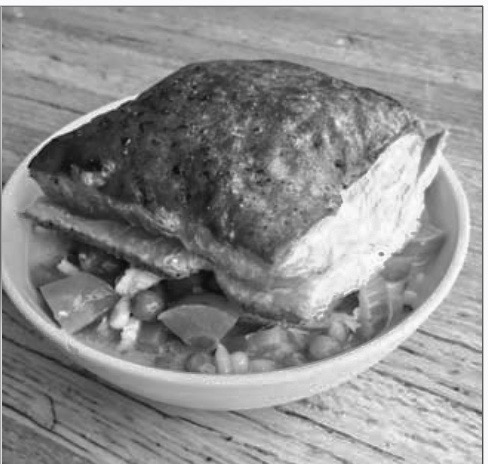 Ingredients:
6 tablespoons unsalted butter,
2 lbs boneless, skinless chicken thighs, diced
salt & coarse ground black pepper, to taste
1 white onion, diced
3 carrots, and diced
4 celery diced
4 cloves garlic, chopped
1 teaspoon poultry seasoning
1 tablespoon rosemary
5 tablespoons all-purpose flour
½ cup white wine
2 cups chicken stock
2 cups vegetable stock
1 bay leaf
1 cup fresh cut green beans
2 cup heavy cream
1/4 cup chopped fresh parsley leaves
½ teaspoon lemon zest
Instructions:
Melt 2 tablespoons butter in a large stockpot over medium heat. Season chicken with salt and pepper, to taste. Add chicken to the stockpot and cook until golden, about 2-3 minutes; set aside.
Reduce heat to medium; melt remaining 4 tablespoons butter. Add onion, carrots, and celery. Cook, stirring occasionally, until tender, about 3-4 minutes. Stir in garlic and poultry seasoning and rosemary.
Whisk in flour until lightly browned.
Stir in wine, whisking well.
Stir in chicken stock and vegetable stock add the bay leaf. Bring to a boil, reduce heat and simmer for 15 min.
Stir in green beans (can use frozen but fresh is better), heavy cream and chicken; simmer until green beans are tender and soup has thickened.
Stir in parsley and lemon zest let stand for 10 min then serve.
Roll puff pastry out cut into large squares brush with olive oil sprinkle with salt and pepper bake for 10 min at 400.