Albemarle Supervisor – Rivanna District Representing Keswick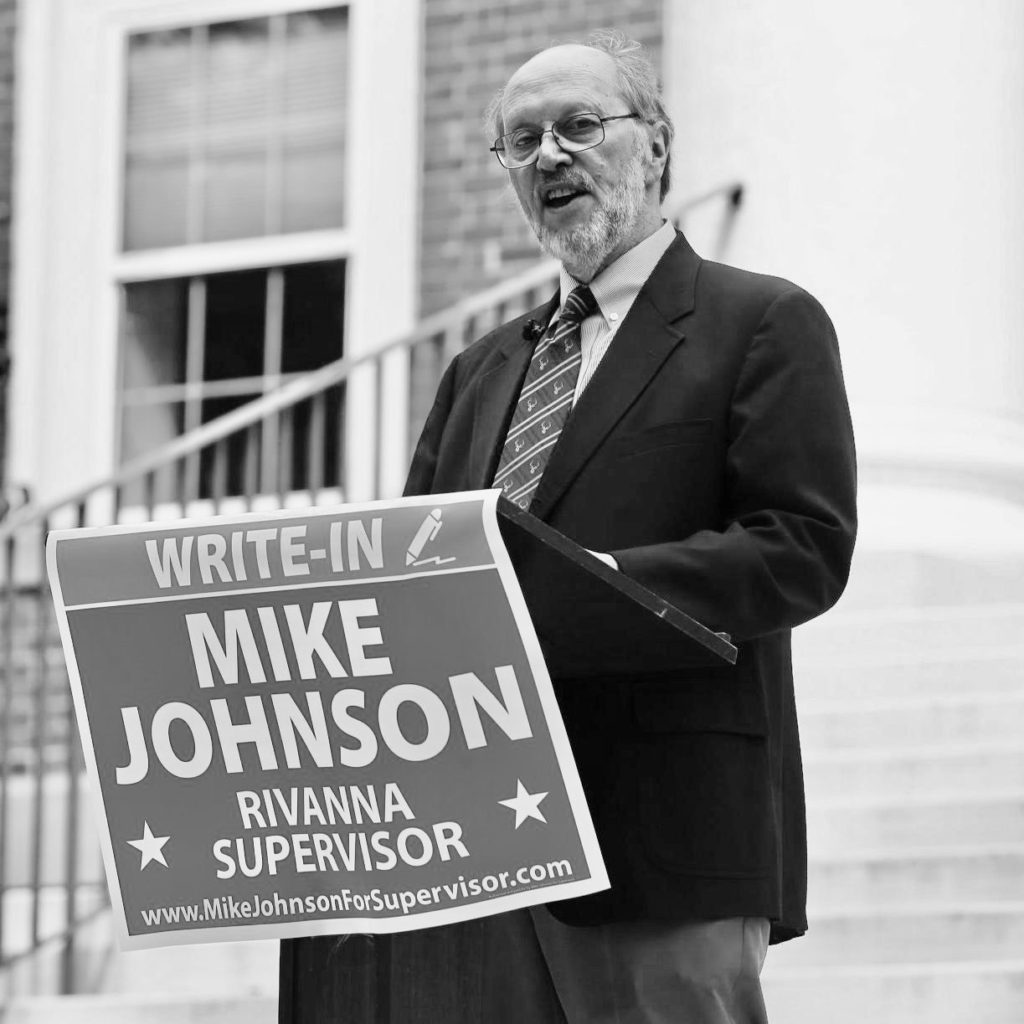 1. Mike, in 100 words or less, tell us something about yourself:
I grew up on a farm in Oregon where I worked until I left for college. I acquired degrees in math and computer science (B.S.), biochemistry (M.S.) and biophysics (Ph.D.). I joined the UVa faculty in 1979, as a scientist, working chiefly on biomathematical modeling.
As an educator I have taught classes at both the undergraduate and graduate levels, and directed the biophysics Ph.D. training program. I have also managed several federal grants.
I have lived in Albemarle County for the last 40 years, and in Rivanna District with my wife Diane for the last 21. Both of my children attended Albemarle County Schools and graduated UVa.
2. Why are you running for Rivanna Supervisor?
I like the idea of serving the community that has given so much to me.
And truly, no candidate should run unopposed. Voters need to be offered a choice of two visions. My opponent's vision is the same as the current supervisors who have started the county on an overspending and overtaxing spree that is making the county unaffordable for lower- and middle-income residents.
My vision is to let Virginia stay Virginia, where county residents are not overburdened with taxes and nitpicking regulations that interfere with their daily lives. Every new set of regulations calls for a new layer of bureaucracy to administer them.
I would like the County to take a more creative approach to solving problems, using free-market solutions, instead of throwing money at everything and setting up more inhibiting regulations. I want our county to be affordable for hard-working taxpayers, and more open to innovative solutions that do not cost money or add more regulations.
3. What are your priorities for Albemarle County and its residents?
My first priority is the well-being and prosperity of Albemarle residents.
I want the county to stay affordable for all taxpayers. We are a small community and cannot afford the lavish spending programs that are planned for us by our current supervisors, and by my opponent. Real estate revenues come from only 37,000 homes!
More spending means higher taxes, and that comes out of household budgets. That hurts a lot of people. Fiscal responsibility means fiscal restraint.
I want to protect our agricultural community by keeping land-use values. County bureaucrats should not be micromanaging farms by an ever-growing body of regulations. Farmers remain the best stewards of their own land.
I would like to see the rural areas have more representation in our local government. About 41 percent of Albemarle's population lives in rural areas, and yet 25 percent of the rural secondary roads remain unpaved. In 2008, Marcia Joseph, then chair of the County's Planning Commission, stated: "I'd much rather put aside money for a park in the urban area than set aside money to pave a road in the rural area." This means that the vehicles of many rural residents are ruined by wash-board, pot-holed gravel road surfaces. Rural residents also risk longer EMS response times.
And the Rain Tax? One of my neighbors told me she and her husband would have to plow up their paved driveway if it were passed. How did it even reach the voting stage in the first place? Our supervisors and my opponent never met a tax they didn't like.
Traffic is another problem. But bike lanes, walking paths, ride-shares and more bus routes will not solve it. (My opponent wants ride-share lots to be built in our rural areas.) See below for my views on transportation.
4. What are your views on education?
I want our kids to have the best education possible, and that's why I'm a big believer in back-to-basics education: a strong and demanding curriculum of math, science, English, history and languages. With that kind of broad background, our students will have the widest possible choices when they graduate. And it will be easier for them to change their career choices later on in life.
I am skeptical of the new Project-focused high school center model. The same goals could be accomplished with summer internships and apprenticeships – and save the county millions of dollars in infrastructure. It would also avoid shuttling students all around the county – increasing the already traffic-congested roads. I worry too that time studying the core subjects will be minimized.
Creativity is finding links between things that no one else can see. You need broad and deep knowledge to start the creative process.
I should add that I support building a new high school to serve the students in northern Albemarle. This will take hundreds of vehicles off the Rt. 29 corridor, and save students the hours they spend on school buses.
We could solve a lot of the area's problems with some decentralizing.
5. How do you think the County can make it affordable to Albemarle residents to buy their own homes? Would you support a permanent affordable housing fund as a line- item in the budget? Should the County purchase property and other real-estate to re-sell to low income residents?
We all want our residents to be able to afford a home, but too often government action can make things worse.
I think taxpayers going into the real estate business is opening a huge can of worms. I most definitely do not want – in my opponent's words – a "permanent affordable housing fund" to "buy up properties when they become available and put those as part of our stock of affordable housing."
It's not clear if this "stock of affordable housing" would be for sale or for rent.
Either way, the county would need an entirely new and expensive layer of bureaucracy to find, purchase, and sell or rent, and to continue to administer a yearly growing stock of taxpayer-funded properties. That would cost taxpayers millions and millions of dollars. Would the neighborhoods have anything to say about this?
And what if buyers defaulted on a loan, or failed to pay rent? Or, if they bought a cheap, taxpayer-subsidized house, then resold that house to make a profit – at taxpayer expense?
Look at what's happening in the real world: The lack of affordability in housing has to do with the red tape that the builders have to navigate just to get to the construction stage. There could be three or four design and architectural reviews, more meetings and reviews with the Planning commission, more public meetings with more demands, and, as always, thousands of dollars in proffers – all of which get added to the housing price.
Plus, there are the "inclusion" requirements that a certain percentage of those homes be sold at below the builder's cost. These demands raise the prices of all units by thousands of dollars.
You cannot solve this problem by throwing taxpayer money at it. But you can pull the county back from its overbearing regulatory environment which is the direct cause of the lack of affordable housing.
6. What suggestions do you have for solving the county's transportation problems?
Our population needs to be mobile, to get to work on time, to spend less hours in traffic. Our residents should not be spending an hour on a bus to go 3 miles. Maybe that's why are our buses empty most of the time. The system is clearly not meeting our residents' demand.
We do need smaller buses, but not the high-dollar electric kind that will cost taxpayers in the millions. And the bus routes should be studied and redesigned – what a great summer "project focused" effort for high school students using data and programs and real-time experimentation, and a great way to earn extra credit towards college admission.
There is another "microtransit" solution that would save the county tons of money and transit riders lots of time. The county — perhaps in conjunction with the City using the county's revenue sharing funds — could contract with a rideshare provider such as Via, Lyfft or Uber. The services use apps and smart phones to group travelers in a single vehicle that share a destination. This also works well for disabled constituents who need a more direct service.
This is being done in Arlington,Texas and in Innifsil, Ontario. I would not like to see the countryside dotted with (expensive taxpayer funded) rideshare lots. Carpooling should be a voluntary effort and individual decision.
7. What do you think of the County's "new economic development plan" whereby county funds are used to lure new businesses to the area?
There are a lot of ways to attract new business without taxpayers footing the bill.
Our hard-working taxpayers should not be asked to invest in a business they know nothing about. That's not right. How do we know that the businesses funded by our taxpayers will remain solvent? And which ones will be the favored ones? This program is not only costly, but an invitation to corruption.
The best way to lure businesses to Albemarle County is to have a business- friendly environment, to make our county an easy place to do business, to lighten the burden of regulations and taxes. That's a far better incentive than doling out taxpayer funds.
8. Do you support the county's Climate Action Plan?
Protecting our environment is a high priority with me. I am proud that our county is 72 percent tree cover and has no heavy industry. Our air, water and soil is in prime shape.
Having said that, I do not understand why county taxpayers should spend hundreds of millions of dollars following an international directive when we have done our job, as a county, to maintain our own environment.
I am the only candidate for supervisor who regularly attended the county's Climate Action meetings. I never saw my opponent. The county staff's Climate Action Phase 1 reports, the result of 2,000 hours of staff time, which were never published or publicized, can be viewed on my website.
Albemarle taxpayers will be funding, among other things, free EV (electric vehicle) charging stations, and "fuel" for the private vehicles of all county employees (second largest employer in Albemarle,) Residents could be subsidizing large solar farms, and solar panels for the homes of private individuals. Among many, many other things.
Another goal is to replace the our 222 school bus fleet with EVs, each costing $200,000 more – and which only have a range of 120 miles. That's $44.4 million dollars! (Our county, with longer school bus ranges, will probably not be awarded any of Dominion Energy's 100 subsidized EV buses.)
And that's just for starters. The price tag for the county's climate program is exorbitant. The goals that have been proposed have never been subject to cost-benefit analysis, let alone any measure of effeciveness.
The program will also come with an intrusive – and expensive – bureaucracy to administer the plan and monitor the daily lives of county residents. (The county's budget currently calls for hiring three new planners, at a salary of $90,000 plus benefits.)
One part of the plan proposes "auditing" the utility usage of residents and businesses, to meet the challenges posed by lack of "transparency between energy providers and energy consumers."
County taxpayers cannot afford it.
9. What is the biggest threats to Keswick and how would you address them?
Keswick finds itself at the intersection of growth in Albemarle and the surrounding counties. We need to protect its rural, historic character while making it affordable for all.
Keswick has a serious traffic problem on Rt. 22/231.The huge trucks barreling around the curves are, in my opinion, the main danger. Police need to enforce the current truck traffic ban and perhaps impose a lower speed limit.. I would also push to reduce the maximum size of trucks allowed along Rt. 22/231. The road is not suited for large amounts of traffic, let alone a stream of tractor-trailers. These mammoth vehicles are destroying the surface of the road and ruining the road for local traffic.
Other threats include over-taxation and over-regulation. After the "Rain Tax" debacle we cannot trust our current supervisors – or my opponent – to keep taxes and fees down. I have visited working farms and talked to farm owners. One of these farms was 500 feet from the Orange County border, and the farmer told me how much he would save if he only lived in the adjacent county! Farmers take taxes very seriously, it could determine their very survival..
Unlike my opponent, I am thoroughly familiar with the county's Climate Action Plan. It is chock full of intrusive regulations that will pose a threat to farmers and landowners not only in Keswick, but throughout the county. Our farmers who will be beset with regulations and accompanying fines will be threatened, as will be our way of life here. The county's plan will eventually demand that farm equipment be electrically run! Have they asked our farmers what they think?
Without our farms, we have lost our historic, rural character. The same goes for all rural residents. I believe we need to trust our farmers and landowners to steward their land, otherwise Keswick will lose its open, relaxed, wholesome character.
To cast your vote for Mike Johnson this Nov. 5, you must fill in the bubble next to the word "write-in" then write his full name.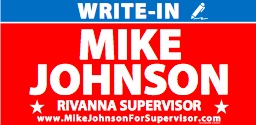 About the Candidate:
Mike Johnson, a retired scientist and UVa Professor Emeritus, is a forty-year resident of the county and has lived in the Southwest Mountain District with his wife Diane for the last 21 years. As an educator, he taught pharmacology and biomathematics, and directed the biophysics Ph.D. training program, along with several federal research grants. The Professor worries that excessive spending will result in higher taxes that will make the county unaffordable for lower- and middle-income residents. He believes that ethnic, racial and economic diversity in our community is what makes us rich. But the California tax-and-spend policies of his opponent will have the same results that they produced in California. People will be forced to leave their homes for lower-tax jurisdictions.
"People who sit behind desks cannot micro-manage a farm through overbearing regulations and costs and expect it to stay solvent." "The so-called 'Rain Tax' motivated me, and apparently the rest of the County," he adds. "It showed how out-of-touch our Supervisors were. They were all prepared to rubber-stamp this destructive tax proposed by County staff. Now, how did that ever even get to the voting stage? That tells me– it's coming back. Several Supervisors should lose their seats over that one."
"We want ethnic, racial and economic diversity in our community.That's what makes us rich," he says. "The lavish spending programs proposed by my opponent and the current Board of Supervisors will put an end to that diversity."You can see this in other localities that have put forth programs such as my opponent and the current Supervisors. Just look at what has happened in California. We do not want that to happen here.
"I am running to keep the County affordable, and to keep County regulations from stifling our vibrant agricultural and business cultures."
To learn more about Mike Johnson, see his website: www.mikejohnsonforsupervisor.com.