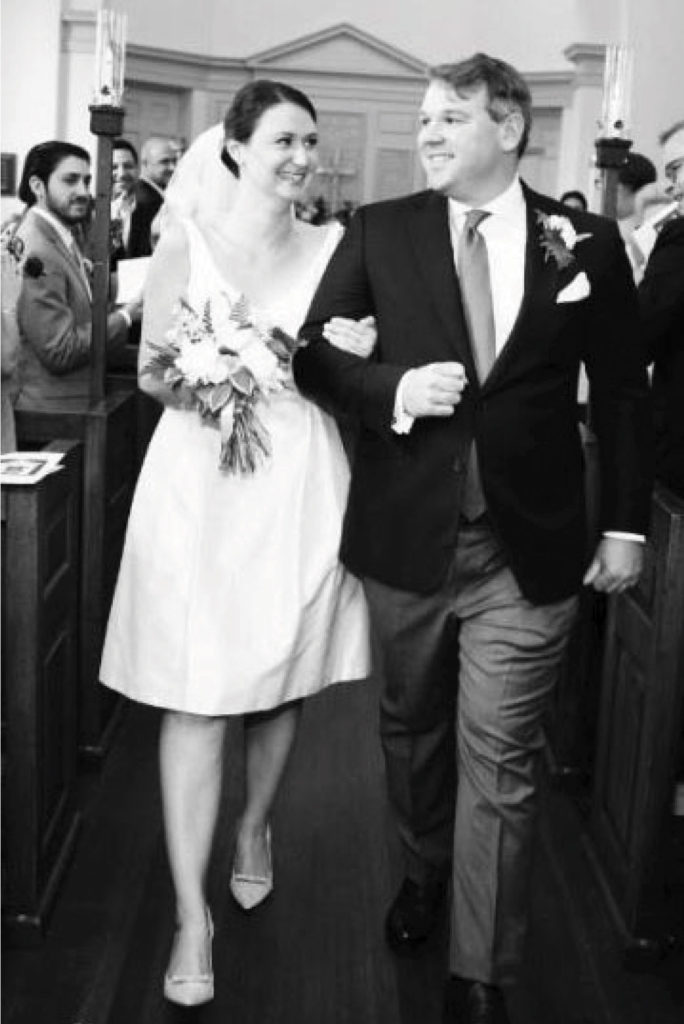 Jacqueline Camille Langholtz and William Randolph Taylor met by chance at Common House, in Charlottesville, just weeks after the social club opened in the summer of 2017. The attraction was instantaneous and mutual, and on June first they were married in the chapel of St. Paul's Memorial Church in Charlottesville. Thomas Taylor, of Keswick, brother of the groom, was best man and Annabel Taylor, the groom's sister, offered a reading—Jacqueline's sister, Gabrielle Langholtz was the bride's attendant and her daughter Bess was flower girl. The multi-faith ceremony was led by Episcopal Rector Will Peyton with support by Catholic Deacon Chris Morash, with a recitation of Hebrew prayers by cousins of the bride.
Immediately following the noon wedding, the couple celebrated with family from near and far at a garden luncheon at Keswick Farm. Summer flowers, including Sweet William, came from the gardens of Monticello, Castle Hill, and area farms and were arranged by Lou Hatch. Guests enjoyed a lunch by Judy Johnson and JM Stock and the beautiful cake was a wedding gift, baked by Melanie Pyne, a local friend of the bride. Annie Vanderwarker kept things organized under the tent while dogs lolled under the tables and children played badminton.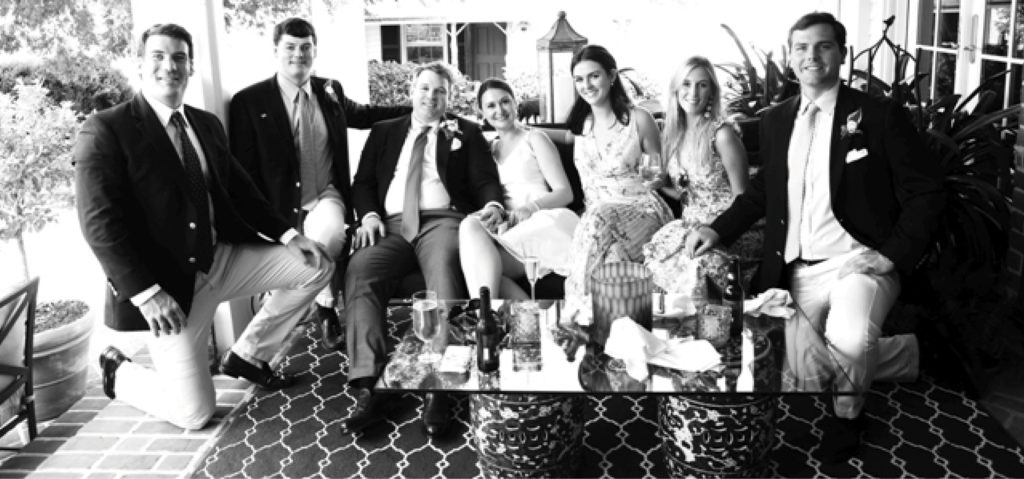 Jacqueline was finishing a lunchtime meeting with the Director of Second Street Gallery, where she is a board member. William, a founding member of the club and patron of the art gallery, was there with his business partner and father, and asked to be introduced. "Hi, dad!" were Jacqueline's first words to her future father-in-law. Sensing William's sweetness, and admiring his suspenders, she hoped he would ask her back for a drink at Common House. He did. As she entered the club for their first date a week later, Jacqueline bumped into a woman who happened to be walking in at the same time. Seeing the two ladies approaching together, "Hello, mother," was William's surprised greeting. With that second parental introduction haphazardly taken care of, William and Jacqueline quickly found they had much in common: a shared love of Broadway's "Hamilton: An American Musical," an enthusiasm for the arts and community engagement, New York City, homemade pasta, August birthdays, many shared friends, and more. They realized that Jacqueline, Education Manager at Thomas Jefferson's Monticello, had known William's aunt, Monticello's Executive Vice President, since she'd moved from Brooklyn for the job six years prior. Jacqueline owned up to having a "no dating bankers" rule. William, Assistant Vice President at BB&T Scott & Stringfellow, took the position that financial advisors weren't really bankers. She chose not to argue the point. As luck would have it, Common House happened to take a photo of their social hall that evening and posted it to Instagram. Among the drinkers and diners it's easy to see two people, both eagerly leaning towards each other, engaged in a lively conversation. William has a huge smile on his face. The club's first couple will be their first couple to get married.
The bride, 35, manages educational programs at Monticello. A graduate of William & Mary, she has recently begun a doctorate program in Educational Leadership, Foundations and Policy at the University of Virginia. Jacqueline is the daughter of Dr. Danielle Moretti-Langholtz, a lecturer in the Department of Anthropology and Curator of Native American Art at the College of William & Mary. Her father, Dr. Harvey Langholtz, is also a professor at William & Mary and is a retired US Coast Guard Commander and Director of the International Peace Operations Training Institute.
The groom, 33, is Assistant Vice President and Financial Advisor at BB&T Scott & Stringfellow in Charlottesville, where he works in partnership with his father, Rocky Taylor. A graduate of Hampden-Sydney College, William is currently completing his MBA at Virginia Commonswealth University. William's mother, Sandra Mirkil, lives in Charlottesville. His stepmother, Liza Nash Taylor, is a novelist. The couple will reside in Charlottesville.