By Sam Johnson, Deputy Director of Cullinary | 1776
I love this recipe its quick and easy, but still sophisticated enough where, you feel like you're having a great meal. In the photo, I served the main with a green leafy salad with a rosemary dressing and roasted white and purple potatoes. This meal can also be great for dinner parties as well!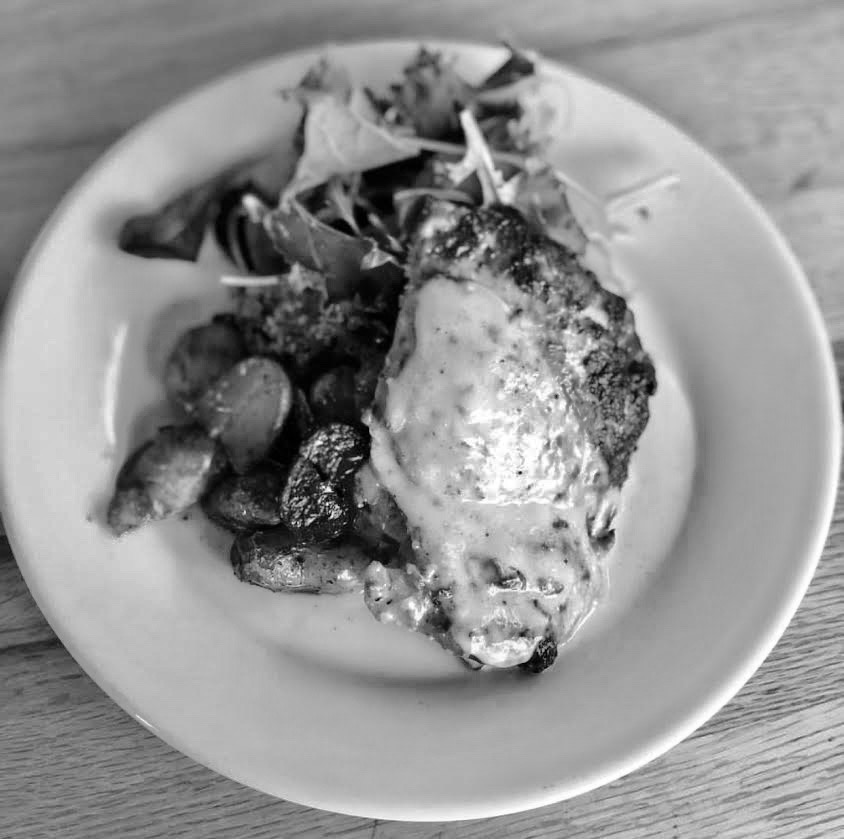 Ingredients
2 bone-in chicken breasts 
1 tablespoon good olive oil or canola oil
salt and freshly ground pepper
3 cloves garlic , minced
2/3 cup dry white wine 
1/2 cup chicken stock 
2 tablespoon lemon zest 
2 tablespoons heavy cream 
4 tablespoons cold butter
Instructions:
Preheat oven to 375ºF.
Heat olive oil over high or medium-high heat in oven-safe medium-sized skillet. Pat chicken breasts very dry and season with salt and pepper. Use tongs to place chicken skin side down in hot oil and brown well, about 5-7 minutes, depending on the heat of your stove. Flip and cook another 3-5 minutes.
Place in oven and let cook for 8 minutes or until the internal temperature is 165ºF. Remove skillet from oven and place on stove over low heat, then place chicken breasts on a plate and cover with aluminum foil. Make sure you're VERY careful about not touching the skillet handle without a potholder, as it's 375º!
Pour off excess fat in skillet, leaving about 2 teaspoons. Sauté minced garlic in skillet, stirring constantly, about 1 minutes, or until fragrant. Add in your wine to deglaze, and use a whisk to scrape off all the burny bits (fond) on the surface of the skillet. Raise heat to high and let reduce to about half, about 5 minutes. Then add in chicken stock and lemon zest  and let reduce to about half, about 4 minutes. Reduce heat to low.
Remove from heat and add in heavy cream, then one tablespoon of cold butter. Whisk constantly to emulsify the butter into the sauce. Replace on low heat and add another tablespoon, whisking constantly to dissolve in sauce. Remove from heat and add in the third tablespoon, whisk.. then replace on low heat, add the fourth tablespoon, whisk..
Strain your sauce using a fine-mesh strainer and serve immediately.