By Winkie Motley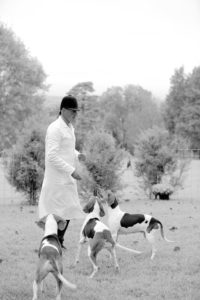 "Tivoli" was a picture perfect setting for this year's Keswick Hunt Club puppy show. While the puppies were exhibited  in the ring, spectators gathered on the porch and lawn.
The Puppy Show was established by Anne Coles in honor of her late husband, Eddie Coles. In the early years, the purpose of the event was to encourage club members and guests to be aware of the young hounds and to have a wonderful party. Anne's efforts for 10 years developed into a major fundraiser to benefit the hounds while continuing the tradition of a fun event. The first few years the Puppy Show was held at Cloverfields. Kenny and Ceil Wheeler then hosted at their farm, East Belmont, followed by the Puppy Show moving to the Keswick Hunt Club . Last year, Winkie and Sheila Motley hosted the show at the Hunt Club in honor of Hugh C. Motley, MFH  who placed great importance on the hounds during his tenure as Master.
This year due to the ongoing renovation of the Clubhouse, Kennels, Barn and Huntsman's cottage, the Puppy Show was hosted by Will Coleman, MFH at Tivoli.The Junior Handler's Class  started  the show at 5:00 and then the judging began with this year's entries of the 2018 Keswick Unentered Hounds. The Keswick Hunt Club Foxhounds are the major resource and their lineage can be traced back hundreds of years. Without them we would not enjoy the Hunting we have today.