By Colin Dougherty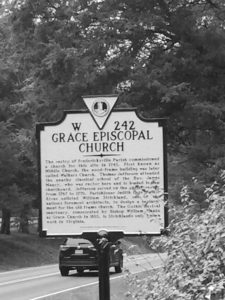 "The vestry of Fredericksville Parish commissioned a church for this site in 1745. First known as Middle Church, the wood-frame building was later called Walker's Church. Thomas Jefferson attended the nearby school of the Rev. James Maury, who was rector here and is buried in the churchyard. Jefferson served on the parish vestry from 1767 to 1770.  Parishioner Judith Page Walker Rives enlisted William Strictland, one of the nation's foremost architects, to design a replacement for the old frame church. The Gothic Revival sanctuary, consecrated by Bishop William Meade as Grace Church in 1855, is Stickland's only known work in Virginia."
Church members and bystanders stood alongside Rt. 231 in front of Grace Episcopal Church in Keswick on Sunday, November 5th, 2017 to unveil a new highway marker that highlights the church's history.  The marker, authorized by Virginia Department of Historic Resources, has history tied to Thomas Jefferson who served as a vestry leader.  The historical markers are self-funded and several months to complete the process.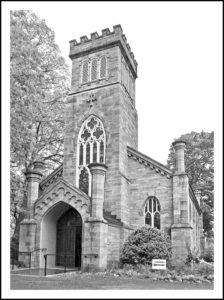 The church, built in 1745, is just one of six churches that are still active since Virginia was a colony.  Designed by architect William Strictland and widely considered to be one of his only works in the state of Virginia.  Harry Gamble, a member of the Grace Chruch Vestry, addressed the congregation assembled after the regular Sunday service and spoke about Grace Episcopal's importance to the community for centuries.
Jody Lahendro, a member of the State Review Board of the Virginia Department of Historic Resources, addressed the group during the announcement ceremony.  Barclay Rives, local Keswick historian and church trustee, said some words followed by the Rev. Miles Smith, rector of Grace Episcopal Chruch, unveiling the marker.  The Reverend said a few words before delivering a closing prayer to conclude the ceremony.
"This is a church that catches people's eye who drive up and down this road a lot – and it's beautiful – but it's not just beautiful, it's a part of our nation's history," says Rev. Smith. "And so we're proud to be able to acknowledge that with this sign and cooperation with the Commonwealth."