Written by Stephanie Peters
"Reprinted with permission of Equestrian Quarterly Magazine"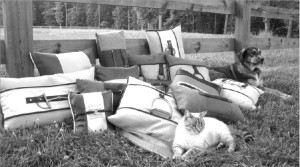 Merging the tactile qualities of leather and metal with an assortment of fabrics has always appealed to designer Janie Shrader.
"It is the combinations that I love and have always been drawn to the most," she said, while scanning her collection of original hand-sewn pillows – some ornamented with braided leather and others with weathered-spur accents – offers visual evidence of her claim.
Janie is married to Tim Ober, one of the equine industry's most renowned veterinarians specializing in lameness. His practice is based in Gordonsville, Virginia; however as the U.S. Equestrian Team vet, he travels extensively to major competitions with the show jumping team. Janie manages the rehabilitation side of the business with a skillful team of people who, in a calm and relaxing manner, carry out the necessary steps to encourage a horse's full recovery.
Janie is also the owner and principle designer of Shrader Leather, also based in Gordonsville. She is a charismatic, energetic woman who exudes a sense of outer calm and inner wisdom, and can discuss exciting advances in equine-therapeutic laser treatments as fluently as she can describe the art of making intricate leather tassels that add finishing touches to her in-demand pillows.
Her spacious studio is situated a few steps beyond the cluster of barns on the couple's property. The interior is an organized shrine to discarded leather and distressed horse tack – once functional but now await reimaging as horse décor accents. Also nearby are belts, buckles, bits and weathered reins, along with remnants of wool coolers, kid's garters, brow bands and spurs. It is a cornucopia of creative inspiration, and the only thing required is Janie's creative ability to transform these orphaned treasures into desirable objects.
"My sewing machine was the big leap," said Janie. "I used to paint, I was a graphic designer, and I designed museum exhibits. I knew I had the love of leather and metal, and I thought, why not learn how to do that. So I traveled to Oregon and took a leather-making class. I loved it so much I went back for another class. It was awesome."
Janie tries to spend a lot of her time in the studio. "It's perfect," she said. I can open up the doors and see who's in the paddocks or in the ring, and of course the dogs love to come and hang out."
"My business has been a long time in the making. It's nice to see it come to full fruition," she smiled.
Reprinted with permission from Equestrian Quarterly magazine