By Suzanne Nash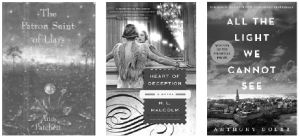 I have always loved Ann Patchett's writing and The Patron Saint of Liars is just one more masterpiece in her repertoire.  It's the 1960's and St. Elizabeth's stands in a field welcoming a stream of unwed mothers through its doors.  Unhappy with her life and expecting a baby that she does not really want, Rose lands on the doorstep of St. Elizabeth's and instead of giving away her child she finds a home and a life. The unwed girls and the nuns who care for them are all wonderful opportunities for character development and Patchett will not let you down. While the story is built around Rose and her choices, the way that the author constructs the tale gives the reader a greater insight into the feelings and emotions of everyone involved. The story is broken up into three sections.  The first section is written from the perspective of Rose as she struggles to find her path and the second section is narrated by Son, the man who looks after St. Elizabeth's. The final section is Cecelia's perspective and through her eyes the reader comes full circle.
Heart of Deception by M.L. Malcolm was written in 2008 but this sequel to Heart of Lies continues to be a wonderful novel that will carry you through World War II and into the 1960s. War forces families apart and requires decisions to be made that often remain hidden until much later. Leo Hoffman is a complicated man with a complicated life.  He really has no home and struggles to find a way to stay connected to his daughter once he sends her away from him for protection. In order to find a way back to his daughter, Leo must become a spy once more. Meanwhile his daughter, Maddy, believes she has been abandoned by her father. She is told half-truths and lies that change her life and direction.
All the Light We Cannot See by Anthony Doerr is another tale that takes place during World War II.  The protagonist is a blind young girl named Marie Laure who grew up exploring the Museum of Natural History in Paris where her father worked as the keeper of the keys.  In another country a young orphaned boy named Werner struggles to survive with his sister in a poor mining town.  Werner has a brilliant mind and once he finds an abandoned radio he begins to learn how it works, taking it apart and rebuilding it.  This skill soon becomes useful as Hitler takes control and Werner is recruited to locate resistance fighters. Eventually Marie Laure and Werner cross paths and the fact that they are on the opposite sides of the war cannot diminish their connection.
All of these books are about journeys of one type or another.  They will take you back in time and transport you to other lands but they all also explore the parent child relationship and what a parent will do to protect their child. I hope you enjoy them and remember to be thankful as we get ready for November and Thanksgiving!