By Keswick Life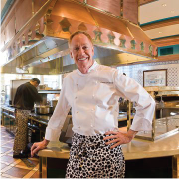 Patrick O'Connell, chef and proprietor of the Inn at Little Washington, will be keynote speaker for the exciting preview event for the Heritage Harvest Festival with will be hosted at the Paramount Theater. The program will be followed by a reception featuring samplings of local fare curated by Chef O'Connell. Tastings are prepared by top chefs and producers who will be highlights at the festival.
Patrick O'Connell, a native of Washington DC, is a self-taught chef who pioneered a refined, regional American cuisine in the Virginia countryside. His alliance with local farmers and artisanal producers was an adaptation born of necessity more than 35 years ago when nothing but milk was delivered to the tiny town of "Little" Washington, Va. Long before the farm to table movement had a name, he began cultivating fruitful relationships with his neighbors — many of whom have a strong connection to the land and a heritage of self sufficiency. Selecting The Inn at Little Washington as one of the top ten restaurants in the world. Patricia Wells of the International Herald Tribune hails O'Connell as "a rare chef with a sense of near perfect taste, like a musician with perfect pitch."
The Inn at Little Washington opened in a former garage in 1978 and has evolved from a simple country inn to an international culinary shrine. Its legend is multi-faceted; some view it as a classic, inspirational American success story — reaffirming that dreams can come true. Others focus on The Inn's pioneering efforts in the evolution of American cuisine. Preservationists marvel a the positive effects such a place has had on one of America's few remaining unspoiled, historic small towns. Students of business study The Inn as an unlikely business model and try to analyze what makes it work seemingly against all odds.
O'Connell has been referred to as "the Pope of American Cuisine." His orientation is different from most chefs today, primarily because he considers himself to be a restaurateur and as the title implies, his goal is to actually restore and heal people — the preparation and presentation of food being but a single element in the process.
Patrick has evolved and refined many of the dishes from his childhood, making them relevant in a new century while keeping their soul intact — building a sort of culinary bridge between past and future. His commitment as an Ambassador of American Cuisine has fueled his involvement in the international association, Relais & Chateaux, where he currently serves as President of Relais & Chateaux North America.On the occasion of The Inn at Little Washington's 30th Anniversary, O'Connell commissioned a documentary film celebrating the evolution of American culinary pioneers who helped make this transformation possible.
Both O'Connell and The Inn at Little Washington have enjoyed enormous national and international recognition. O'Connell is the author of the best selling cookbook, Patrick O'Connell's Refined American Cuisine, Governor Mark Warner said "Not since Thomas Jefferson first brought tomatoes to Virginia and the New World has one man created such interest in the culinary arts." His third, The Inn at Little Washington: A Magnificent Obsession, is a New York Times bestseller tells the story of the Inn's remarkable 36-year transformation from a rural garage to the sumptuous country house hotel it is today, and will be published in April 2015. O'Connell was asked to cook for Queen Elizabeth at the Governor's Mansion in Richmond. With Relais & Chateaux he staged a dinner celebrating the coming of age of American Cuisine in Paris and participated along with Alice Waters, Thomas Keller, Daniel Boulud, and Charlie Trotter in the American Food Revolution in Oxford, England. He has made numerous national television and radio appearances including Good Morning America, The Today Show, the CBS Morning Show, the Martha Stewart Show, Top Chef, the Diane Rehm Show, the Charlie Rose Show and is a frequent guest speaker at The Smithsonian Institution and The Culinary Institute of America.
Following his talk, O'Connell will be joined by JOel Salatin of Polyface Farm, Ira Wallace of Southern Exposure Seed Exchange, Amy Goldman, author and heirloom tomato expert, and southern food maven Michael Twitty for a lively panel discussion moderated by David Shields, food historian, about Southern cuisine. 
David S. Shields
David Shields is a Carolina Distinguished Professor at the University of South Carolina, publishes early American cultural history, photographic history, and food studies. He chairs Slow Food's Ark of Taste for the South, also the Carolina Gold Rice Foundation, whose mission is preserving historic cultivars. His research assisted in recovering Carolina Gold Rice, Sea Island White Flint Corn, the Carolina African Peanut, benne, the rice pea, purple ribbon sugar cane, purple straw wheat, and the Bradford Watermelon. His book, Southern Provisions: on the Creation and Revival of Cuisine appeared in 2015. 2017 will see Culinarians: American Chefs, Caterers, and Restarateurs 1793-1919.
Joel Salatin
Dubbed by TIME Magazine as America's most famous farmer, Joel Salatin is a farmer, author and tireless local and food choice advocate. His family owns and operates Polyface Farm in Virginia's Shenandoah Valley, producing salad bar beef, pigaerator pork, pastured poultry and forestry products, serving 6,000 families and 50 restaurants. Author of ten books and sought-after conference speaker around the world, he brings visceral dirt-under-the-fingernails perspectives to a host of topics, ranging from "Working with your Children so they will want to Work with You" to "Developing a White Collar Salary from a Pleasant Life in the Country." With mischievous humor and hard-hitting analysis of modern food and farm orthodoxy, he brings both conviction and inspiration to business, farm and foodie audiences.
Ira Wallace
Ira Wallace is a worker/owner of the cooperatively managed Southern Exposure Seed Exchange where she coordinates variety selection and seed grower contracts. Southern Exposure offers more than 700 varieties of open-pollinated heirloom and organic seeds selected for flavor and regional adaptability; and helps people control their food supply through sustainable home and market gardening, seed saving and preservation of heirloom varieties. Ira serves on the boards of the Organic Seed Alliance and the Virginia Association for Biological Farming (VABF). She is a member of Acorn Community which farms over 60 acres of certified organic land in Central Virginia, growing seeds, alliums, hay, and conducting variety trials for Southern Exposure. She is also an organizer and founder of the Heritage Harvest Festival at Monticello. southernexposure.com
Michael W. Twitty
Michael W. Twitty is a noted culinary and cultural historian who interprets the experiences of enslaved African Americans through food and its preparation. He was honored by FirstWeFeast.com as one of twenty greatest food bloggers of all time. He has lectured to more than 250 groups including at Yale, Oxford and Carnegie Mellon Universities, Colonial Williamsburg, and the Smithsonian Folklife Festival. His work has been featured in many publication and websites. He has appeared on NPR on a number of occasions and has also served as a judge for the James Beard Awards and is a Smith fellow with the Southern Foodways Alliance. HarperCollins will release Twitty's first major book in 2016: The Cooking Gene, which traces his ancestry through food from Africa to American and slavery to freedom.
Amy Goldman
Amy Goldman is a gardener, author, artist, philanthropist, and well-known advocate for seed saving and heirloom fruits and vegetables. Her mission is to celebrate and catalogue the magnificent diversity of standard, open-pollinated varieties, and to promote their conservation. Gregory Long, President of the New York Botanical Garden, describes her as "perhaps the world's premier vegetable gardener." Goldman's first three books, illustrated by award-winning photographer Victor Schrager have received many awards. Goldman's writing has appeared in such publications as Martha Steward Living, the New York Times, Organic Connections, and Organic Gardening. She has been profiled by the New York Times, Washington Post, New York Sun, Organic Style, and Horticulture Magazine. In addition, she has appeared on Martha Steward Living TV and PBS's The Victory Garden.
Goldman served on the Board of Directors of Seed Savers Exchange for more than ten years, half of that time as Board Chair; she now serves as a special advisor to the organization. She is a Vice Chair of the Board of Managers of the New York Botanical Garden. Goldman was elected Chairman of the Board of Directors of the Center for Jewish History in 2014. She serves as a trustee of both the Lillian Goldman Charitable Trust and the Amy P. Goldman Foundation.