By: Mark Sackson with Photography by Andrea Shirey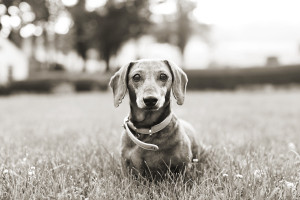 Meet Martin Sackson, the most lovable senior rescue from CASPCA!!! Marty came to the Sackson family in March of 2013 after a couple of stays at CASPCA. While his exact age is unknown, he has the attitude of a young pup and is up for just about anything!!!
His favorite spot is the back of the family room sofa and while he loves sleeping under an electric blanket, he is quick to chase rabbits in the yard or the family cats (despite being "cat approved" by CASPCA). Martin has a wonderful doghouse that was purchased at the 2013 Critter Ball and has been named "Marty Manor". Marty enjoys surveying and patrolling the yard from its porch.
How old are you?
Not sure. I have a touch of gray in my beard and am missing a lot of teeth, but I count the day that I came to the Sacksons as my birthday, so I am going to say I am two.
How do you spend your days?
When I'm not enjoying my 2 delicious bowls of kibble, I enjoy relaxing on the family sofa or playing with my brother Schnitzel. I like sunning myself outside and enjoy chasing whatever comes along, particularly UPS and FedEx trucks. Those guys live in fear of me. Little do they know it's all an act.
What do you like most about your life?
I am living on a farm now with 4 other dogs, 5 cats, a rabbit, guinea pigs, 2 ponies and chickens, a lot of whom are CASPCA rescues like me. I love being able to go outside whenever I like and I love being part of a big family. It is a real party and that is why my motto is Party with Marty!!! I would tell everyone to support the CASPCA because their donations help find animals like me a good home and a good life!!!
Liza and Mark Sackson have lived in Charlottesville with their 4 children for the past 12 years. On their Keswick farm, they have 5 dogs, 3 house cats, 5 guinea pigs, 1 rabbit, 3 birds and a few hermit crabs!! They also have 2 ponies, chickens and countless SPCA barn cats!!! Best in Show contestant, Marty, was a 2013 adoptee from CASPCA and has melded easily into the Sackson menagerie. Liza and Mark are life-long animal lovers and advocates of the SPCA in general. The best pet is an adopted pet!
We would like to thank all of our friends and supporters in Keswick. Their support made all the difference in Marty's victory.