Historic Grace Church Celebrates Seventh Annual "beyond the gates" Farm Tour and Country Fair, Saturday June 11, 2016 What's better than a day in the country exploring some of Virginia's fabulous historic farms? On Saturday, June 11, 2016, visitors are invited "beyond the gates" here they may view the lands and agrarian lifestyles known to some of the nation's founders and legendary Virginia citizens, from as far back as the 1700s. Grace Church's Seventh Annual Historic Farm Tour and Country Fair draws hundreds of visitors to its church grounds. Transformed this day to an earlier era, the fair features local artisans, merchants, musicians, and food vendors, offering handmade items, crafts, wares and refreshments. Attracting visitors near and far, the tour includes outdoor properties along and nearby State Routes 22 and 23l, in Albemarle County. Route 231 is, in itself, a tourist attraction–a dedicated National Scenic Highway that parallels the eastern ridge of the Southwest Mountains.
Grace Church's Farm Tour originated in 2010 to benefit the local community. Since then, the event has generated more than $250,000 in donations to local charities, including the church's food closet, Habitat for Humanity, the Salvation Army, Meals on Wheels, and several others. For those who attend, it is a magical day listening to music, visiting farm grounds, petting animals, viewing demonstrations, and selecting souvenirs. Hours are 10 a.m. to 4 p.m. with the Country Fair and Antiques at Airslie staying open til 5 p.m.
Advance Tickets are available at www.gracefarmtour.org and at select remote locations – Fink's (Charlottesville & Richmond), Wild Birds Unlimited (Shoppers World Charlottesville), In Vino Veritas (Keswick), The Laurie Holladay Shop (Gordonsville), Caspari, Inc. (Downtown Mall), and Jefferson Pharmacy (Lake Monticello).
"The Grace Farm Tour represents everything wonderful about living in a community that cares and gives back," says Stevia Anda, co-chair for the event. Anne Young, co-chair also extends a warm invitation to the public: "Join us for a truly special day surrounded by the natural beauty and history of Keswick along with caring neighbors and friends."
Vendors include: Abbey Noelle Animal portraits Chickie Dickie Jewelry Statement jewelry Charlottesville Camera Club Photo exhibit Dancing Chick Jam Delectable Hills Farm Goat milk soaps, woven rugs & linens Ellen Taylor Purses, blankets, children's, spices, salad dressing Equine & Wine Design Wine & horse jewelry Formo Leather Co. Leather goods Forrest Green Farm Organic herbs, plants, poultry Fred Williamson Wood bowls Harry Miller Charlottesville notecards It Works Products Healthcare products Jayne Cox Book-"Thomas Jefferson, from Boy to Man" Karen Wright Custom coin jewelry (new vendor) Lux Aromatica Candles, soaps, skincare, textiles Mary Kay Charitable Foundation & Cosmetics Mary Mayo Designs Original Gemstone & Pearl Jewelry Michael Turk Turkish towels & cottons Mud Chicks Pottery Pettigrew Woodworks Handcrafted wood accessories Phineas Rose Jewelry Handmade Silver Jewelry Phineas Rose Wood Handcrafted wood furniture Posh Ladies accessories & custom clothing 3 Sharon Kinchloe Oil Paintings & botanicals Southern States Garden supplies The Woodsman's Design Woodworking designs Wunderbars 100% Natural Body Balms Piedmont Master Gardeners Volunteer table
GRACE EPISCOPAL CHURCH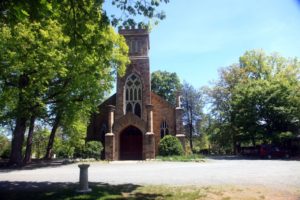 Historic Grace Episcopal Church stands at the site of one of six colonial churches in Virginia that still have active congregations. Foundation stones of the original church, constructed of wood and completed in 1748, are visible today under spreading oak trees in front of the present structure. A mountain chapel had previously existed on the premises, having been built by the earliest settlers in the area, probably in the 1730s. From 1767 to 1770, Thomas Jefferson served as a member of the Vestry of Fredericksville Parish, which included the original church and two others in Albemarle and Louisa Counties. The present church edifice was completed in 1855 at a cost of $20,000. A fire in 1895 left only the tower and four walls standing, which were incorporated into the present structure when the church was rebuilt.
A 1,575-pound bell was salvaged from the ashes and is still in use. The first annual Blessing of the Hounds service was held at the church in 1929. Each Thanksgiving Day, this colorful ceremony brings together foxhunters and their horses and hounds in the church yard for prayers and thanksgiving. The Parish House was constructed in 1933 and expanded in 1971 and 2002. Today Grace Church has over 200 members and provides personal and financial support for numerous charitable missions, including the church's food closet, Habitat for Humanity, the Salvation Army, Meals on Wheels, the Cameroon Water project, and many others.
LINDEN LANE FARM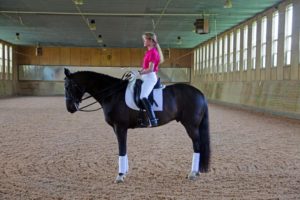 Established in the 1930s, derives its name from the linden trees lining both sides of the lane that runs through the farm. There are indications that the "lane" may have been first used by Monacan Indians prior to the arrival of the first European settlers. Thelinden trees were imported from Europe and planted along the lane in the 1930s.
Today the farm is home to Bert Page and Elizabeth Lewis Page. A member of the U.S. Equestrian Dressage Team, Elizabeth represented the United States in international competitions throughout the U.S. and Europe, including the 1974 World Dressage Championships in Copenhagen, Denmark. She was also selected as the alternate team member for the 1976 Olympics in Montreal. Over the years, the farm was developed into an international enterprise, actively involved in the breeding, training and sale of dressage horses domestically and internationally. Dressage demonstrations will be presented by Elizabeth and her horse, "Da Vinci," at 10:30 am and 12:30 pm.
MONTANOVA STABLES
Foundation's facility is located on 50 acres at Belvoir Farm. The farm features 45 acres of paddocks, access to trails, a sand riding ring with an adjacent "jumping field," and a beautiful 16-stall barn. Montanova Stables has been teaching horseback riding to children and adults in the Keswick area since 1996. The Foundation is one of the many organizations that have received financial support from Farm Tour proceeds.
The Foundation's after-school program and week-long summer camps benefit children from a variety of backgrounds, helping them to develop valuable life skills such as patience, trust, responsibility, and a strong work ethic. Students gain a valuable sense of accomplishment and increased self-confidence as they learn to ride and care for horses. Montanova Stables Foundation partners with local schools and family support staff to identify children who can benefit from its horsemanship and mentoring program.
KESWICK HUNT CLUB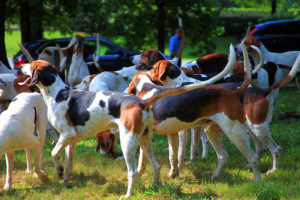 Founded in 1896. Foxhunting has been an important part of this community since 1742, when foxhounds were brought to the area by Dr. Thomas Walker of Castle Hill, who also helped found the city of Charlottesville. The Keswick Hunt Club clubhouse was built in 1898. The hunt club has hosted at least one annual horse show since 1904. Initially, the lower ring's proximity to the railroad tracks was a convenience for spectators who travelled to the event from Charlottesville by train. The upper ring was built in 1957.
The kennels are home to approximately 70 American Foxhounds who lead mounted club members on chases in designated territory in four counties. The three-dayper-week hunting season stretches from late summer to early spring. The huntsman spends the rest of the year as well as non-hunting days during the season training the pack. A select group of the Keswick Hunt Club's American Foxhounds are looking forward to entertaining visitors at 10:30 am and again at 1 pm on Farm Tour day!
MERIFIELDS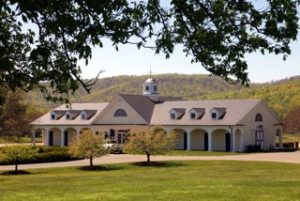 A 556-acre estate that includes land from a separate farm that was formerly known as Holly Fork. Jaffray and Merrill Woodriff acquired Merifields in 2008. The original main house dates from the late 1800s or early 1900s. A white cottage, a corn crib and silos were constructed in the mid-1900s. A guest house was built in 1996, a stable was added in 2000, and a new main residence was constructed in 2002. The latter two structures were built by R.E. Lee & Son, Inc. and were designed by Stewart Humiston and architect Boris Baranovich.
One of the estate's most prominent former residentswas Ebenezer Boyden. In 1849 he purchased a home site there and named his residence Hopedale. Boyden served as rector of Grace Church from 1839 to 1879. During the Farm Tour, Service Dogs of Virginia (SDV) will present demonstrations at Merifields at 10:30 am, 12:30 pm and 2:30 pm. SDV helps disabled persons to gain independence, security and peace of mind. Dogs are trained in three areas: physical assistance for wheelchair users, service dogs for children with autism, and diabetic alert dogs.
LIMESTONE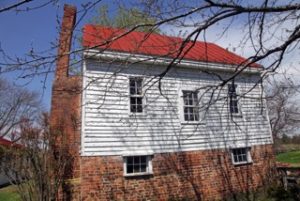 A 465-acre tract, derives its name from the discovery on the property of a portion of the largest vein of limestone east of the Mississippi. Thomas Jefferson owned four acres of Limestone in the 1760s, where he established a kiln and a slacking pit. With the lime, sand, and water, he produced the mortar that was used to build Monticello and the University of Virginia.
James Monroe purchased the land in 1800, practicing law there in a wood frame structure that dates to 1794. Later, the property was owned by George Blatterman, who was hired by Thomas Jefferson as the first professor of languages at the University of Virginia. Between two early 18th century structures, Blatterman added the Neoclassical Revival style center portion of the residence that exists today.
Limestone's current owners purchased the property in 1992 and have placed it under a conservation easement. Limestone is on the list of Virginia Historic Landmarks and the National Register of Historic Places. During the Farm Tour, the first floor of Monroe's law office will be open to visitors.
KINLOCH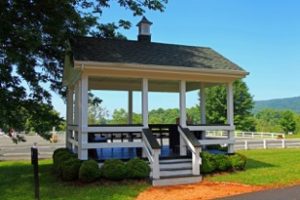 This farm once belonged to a larger holding called Belvoir that was part of the Nicholas Meriwether Crown Grant of 1730. The first house on the property was built in 1764 as the farm manager's house. In 1765, the farm was purchased by Col. John Walker, former aide to George Washington and friend and legal guardian of Thomas Jefferson. When Belvoir passed to Walker's granddaughter, Eliza Kinloch Walker Nelson, whose husband, Hugh, was a Congressman (1811-1823), the house was named after Eliza's Scottish ancestor, Francis Kinloch of Charleston.
Over the next 150 years, Kinloch grew to include four tenant houses, a barn, garage and a lakeside log cabin. A major overhaul of the house by the Masseys in the 1930s brought Kinloch into the 20th century, including the addition of a library and extensive gardens. Under the Massey ownership, Kinloch continued to be a center of social activity and their friend, William Faulkner, stayed in one of Kinloch's cottages while he wrote The Mansion. Join us for Jumping/Hunt Team Demos 11:30 am and 1:30 pm.
AIRSLIE FARM
The main residence was built by descendants of the Meriwether family around the turn of the 20th century, but was completely renovated in the 1990s. Designed by Charlottesville architect Robert L. Paxton, the renovations provide an elegant atmosphere, integration of indoor and outdoor spaces, and an abundance of natural light. The classical massing of the entry elevation includes a bluestone portico with Doric columns.
The central block is highlighted with Quioned corners and a Chippendale widows walk atop the slate roof. The two-story entrance hall is finished with marble flooring, raised panel wood and Zuber wallpaper. Flanking the hall are spacious living and dining rooms with antique heart pine flooring and raised panel wood wainscoting. A study with fireplace and 12-inch wide antique heart pine flooring also adjoins the living room. Each room in the residence includes a fireplace with marble surround, triplehung windows, and French doors, which access covered terraces or landscaped courtyards. The barns and cottages in the back of the 507-acre property still reflect the architectural style of an earlier time. The first floor will be open to host to a special antiques dealer show (open 9am – 5pm).
OLD KESWICK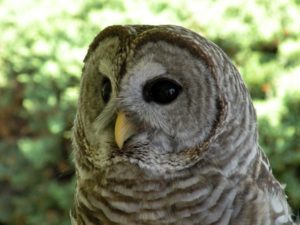 Part of a tract that was given by Thomas Walker to his daughter, Jane Frances Walker, who married Dr. Mann Page. The estate's residence was built in stages, beginning with a log house in 1736. Originally called Keswick, the farm remained in the Page family until 1952, when it was sold to Mr. and Mrs. Ellsworth Augustus. Keswick Stables was formed at Old Keswick as a major Thoroughbred breeding and racing operation. Over the years Keswick Stables has sold many notable horses, including Sabin, Simply Majestic, Alwuhush, Eishin Guyman, Johnny D, Raise a Native, Natalma, and the 2015 Eclipse Award winning three-year-old filly Stellar Wind. Today Old Keswick is the home of eight foster horses from the Thoroughbred Retirement Foundation, which will have horses available for adoption at Old Keswick's yearling barn. Also at the yearling barn, The Wildlife Center of Virginia will display rescued birds and animals.