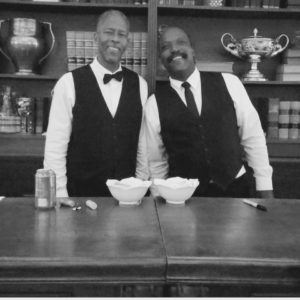 After sitting down with these two gentlemen it is obvious to see their passion for not only the drinks they create but the people they create them for. Both of these gentlemen has over 30 years of service in bartending at Keswick and continue to bring smiles and joy to the evening life around them.
These two artisans continue to strive to preserve the old-time charm of Keswick and blend it in with the new style and air that is floating around this Charlottesville haven. As a team Arnold and Ernest have many stories to tell about Keswick night life but as any good bartender their lips are sealed when it comes to the wilder events – they let their drinks do the talking!
In interviewing these two drink artists there were three questions we just had to ask them about Keswick life. To start off we just had to know what their favorite bartending experience has been at Keswick.
Arnold and Ernest's favorite night was Safari Night hosted by Mr. Larry Tharpe. They loved the decorations and the atmosphere there that evening and seeing all of the guests happy really stood out in their memory.
Secondly, we needed to know what makes bartending at Keswick different from anywhere else in the state of Virginia. Arnold enjoys getting to know Keswick families beyond their favorite drinks. He knows theirs kids, theirs likes and dislikes and enjoys spending time with them at Keswick events. Ernest has enjoyed the fun people he has been able to meet and the joy he brings to the crowd at every party!
And finally, after thirty of bartending at Keswick, we asked this dynamic duo how would  they sum up Keswick bar life!  Arnold and Ernest both describe their 30 years of bartending at Keswick like a big family reunion – stressful, exciting, fun, and at the end of every event you are glad you were able to make it and can't wait for the next. And who knows, maybe another 30 years of mixing for the newer faces around!
Enjoy a summer cocktail at Villa Crawford….
VILLA CRAWFORD COCKTAILS
Pears Nicely: Pear-&-Ginger Infused Vodka, Domaine de Canton, House Marinated Pear Puree, Fresh Lemon Juice, Homemade Cranberry Vanilla Syrup – Garnished with Star Anise.
Lewis & Clark: Bulleit Bourbon, Local Apple Cider, Fresh Lemon Juice & Gosling's Ginger Beer. Candied Ginger Garnish.
A Villa Pendennis: Bluecoat Gin, Apricot Brandy, Cointreau, Cinnamon/Orange Tincture, Fresh Lime Juice, Apricot Syrup. Served over a Peychaud's Bitters Ice Cube.
One Night in Jalisco: Ocho Plata Tequila, Poire Eau De Vie, St. Germaine, Fresh Lime Juice, Topped with Champagne. Sprig of Rosemary Garnish.
Sage Advice: Caol Ila 12yr Scotch, Blackberries, Chamomile Syrup. Sage Leaf Garnish.
The Green Thumb: Apple/Celery Vodka, House Thyme Sours, Cinnamon Tincture.

 

Fresh Thyme Garnish.
Honey Pot: Cane Rum, Barenjager, Fresh OJ & Lime Juice, Honey/Ginger Syrup, Egg White.
Keswick Manhattan: Templeton Rye, Cocchi Vermouth di Torino, Angostura Bitters, Brandied Cherries.
Jefferson's Old Fashioned: Jefferson's Reserve Bourbon, Sugar, Fee Brothers Bitters, Orange Slice
HENNESSY HOT OR COLD
Toddy – Hennessy Cognac VSOP, Honey/Ginger Syrup, Fresh Lemon Juice, Hot Water. Lemon Peel Garnish.
Sidecar – Hennessy Cognac VSOP, Grand Marnier, Fresh Lemon Juice. Served in a Sugar Rimmed Martini Glass.
Lairds Alexander: Lairds Apple Brandy, Crème de Cocoa, Cream, Virginia Maple Syrup & Cider. Shaved Nutmeg Garnish.
Keswick Kick: Solerno Blood Orange Liquor, Amerula, Tia Maria, Licor 43 & Espresso Served Up.
Full Cry Bloody Mary: Kettle One Vodka & Home-made Bloody Mary Mix. Served with a Celery Salt Rim & Hearty Garnish
MOCKTAILS
Keswick Fizz: Tangy Meyer Lemon, Rosemary, House Pomegranate Cordial, Soda
Pineapple Limeade: Fresh Pineapple, Lime, Soda, Pink Peppercorn