By Suzanne Nash
The heat of the summer is finally breaking and fall is due to arrive soon, and with it comes darkening days…a perfect accompaniment to some spooky tales.Just in time for Halloween!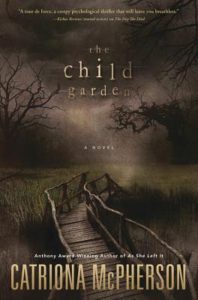 Catriona McPherson has written a very eerie story that takes place at what was once a school as is now a care facility: Eden. The Child Garden has a very gothic and haunted setting, Eden holds secrets that haunt all the children who used to attend the former school. Gloria Harkness visits Eden regularly because her son resides there, as does Miss Drumm, the owner of Rough House where Gloria now lives. Every evening Gloria makes the trek from Rough House to Eden to read to her son, who no longer responds to any stimulus. One evening a childhood friend shows up with a strange tale of being stalked by a former classmate from Eden.  When they head out in the dark to meet the stalker they find her dead and this leads to a journey back in time to unravel the mystery of the school. One by one the former students of Eden are being killed and Gloria must protect all those she loves from a threat from the past.
The Uninvited by Cat Winters takes place in 1918. Ivy Rowan has just recovered from the great influenza epidemic and has begun to have "the gift" (or perhaps it's a curse) of "sight".  She see people who have died prior to someone close to her passing.  When her brother and father kill a young German in retaliation for the death of Ivy's brother, Billy, in the Great War, she is devastated.  Ivy becomes involved with the young German's brother, Daniel Schendel.  Her involvement with him is seen with suspicion by the townsfolk, who begin to think she is colluding with the enemy.  This is a book of mystery and uninvited guests.  Flu and war have created panic and unrest. Jazz, passion and freedom abound because each day could be the last and it sets the stage for a compelling novel.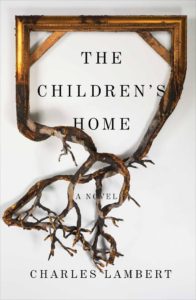 I love a book where I cannot see the twists and turns coming and The Children's Home definitely delivers. This is a spooky fairy tale built around the idea of loneliness. Morgan Fletcher is a wealthy man living as a hermit due to his disfigurement.  He has two companions, Engel, the housekeeper and Dr. Crane, the town physician.  The story dissolves slowly into a surreal portrait of a man trying to find himself. He is alone until children begin to show up and populate his house. Not only is this story sure to give you chills but it is a commentary on exploitation and capitalism.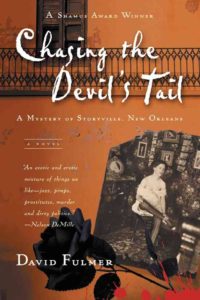 Chasing the Devil's Tale takes place in 1907 New Orleans. Using a historical background with characters based on historical figures, Author David Fulmer has created a tale of intrigue and mystery.  Storyville is the red light district of New Orleans where alcohol, drugs and women are available at every turn. This area is run by Tom Anderson, the acknowledged King of Storyville who keeps a very talented Creole detective, Valentin St. Cyr on his payroll.  St Cyr is following a series of grisly murders very closely.  One of the things I enjoyed most about this mystery is the connection to the history of New Orleans. Lulu White ( a notorious madam), E.J. Bellocq ( A photographer of fallen women), Jelly Roll Morton (a piano player) and Buddy Boldon (a jazz musician) all populate this story and are worth exploring further after you close this book.  Jazz was seen as the Devil's music and as murders start to take an upswing in Storyville, fingers start pointing toward Buddy Bolden, the famous Jazz musician. As things progress it begins to look looks like the Devil has taken his due from Billy, causing him to lose his mind.
So pull up a chair and get ready to experience the chills that come with the fall and creepy tales. Happy Halloween.