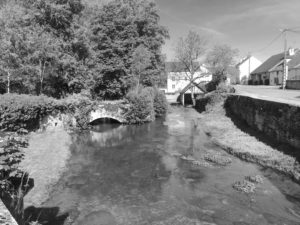 The pursuit of fish with a fly has taken me to many far-flung locations. Frequently, even if the quality of the fishing has been disappointing, the overall experience has been enjoyable. So, rarely do I evaluate an invitation to fish based solely on my angling expectations.
This past January an email arrived from the Fario Club, the fly-fishing club of Paris, inviting members to explore the trout fishing in the streams of Burgundy, the famous wine region of France.  The Club was originally identified with Charles Ritz, whose father, Cesar Ritz, started the Ritz-Carlton hotel chain in 1898. Cesar was known among his peers as the "king of hoteliers and hotelier to kings" and, of course, the hotels continue to carry that cachet today. Charles took over management of the hotels following World War I and continued in that role until his death in 1976.
Charles Ritz began fly fishing in his 20s, while residing in the United States. He took to it quickly, and became one of the most skilled casters and anglers in the world. His 1959 angling autobiography, A Fly Fisher's Life – which has been translated into many languages – is generally considered one of the finest books ever written on the sport. In 1958, he founded the Fario Club (named for the brown trout), which attracted as members many prominent men, because of Ritz's celebrity as an angler, hotelier and bon vivant. Ritz was the life-blood of the Club, and shortly after he died in 1976, the Club died with him. Fortunately, about two decades ago, it was resuscitated by a new group of French anglers led by the engaging and energetic Laurent Sainsot.
The email from Laurent described a trip that would include fishing the Seine River and a few of its tributaries. That's right – the Seine, which I knew only from seeing it in Paris. Mon dieu! Would we be fly casting for old tires and dead cats? Laurent assured me otherwise, that the Seine originates in Burgundy, a three-hour drive from Paris, and that it is a charming rural stream in those environs. So, I signed up and was on a plane to Paris in mid-May. Like many French fishing excursions, it started with a lunch including several bottles of wine, before four of us – three Frenchmen and myself – left the City of Light and drove to the tiny rural village of Aisey-sur-Seine, about 20 miles from the source where the 500-mile long river emerges from a hardly noticeable underground aquifer. On route, we passed many large, beautiful fields of blue flax, which I have never seen in the U.S.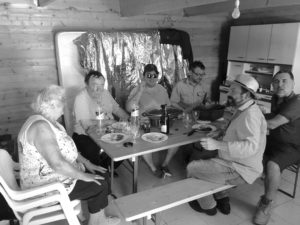 We checked into our gite (a simple cottage) was on the grounds of a fish hatchery called La Chouette (the Owl), and made our preparations for the next day's fishing. Nearly all the stream fishing in France, and in the rest of continental Europe, is private. Fishing rights on rivers are controlled by individuals, clubs, hotels or other parties that own or lease the land through which the river flows. Sometimes ownership goes back for many centuries. Owners can sell a permit to an angler that allows him to fish on the owner's section for a day or longer. Even someone who lives on the banks of a river cannot fish in it unless he owns the rights or has acquired the requisite permit.
The Burgundy region was once part of a vast, tropical sea which created limestone soils enriched with crushed shells, which in turn produced the zesty minerality that's the hallmark of Burgundian wines. Limestone, also often holds underground aquifers, producing spring creeks (sometimes called chalk streams), which are fertile trout habitats. Some of the streams that we intended to explore in Burgundy, including the uppermost Seine, are spring creeks. There are also many spring creeks that provide fine fishing in the U.S., and in our region of Virginia, such as Mossy Run, Spring Run and Buffalo Creek.
If you are familiar with the wines of Burgundy, you may know that the division of vineyards in the Cote d'Or is very complex. This resulted first from the division of the estates of the nobility and churches following the French Revolution, and subsequently from the effect of the French system of inheritance. For example, the Montrachet district, where some of the greatest dry white wines in the world are produced, consists of 19 acres and is divided among 18 individual owners – some owning less than one-tenth of an acre. Interestingly, the last sale of a Montrachet vineyard was in 1993 when approximately one-tenth of an acre sold for over $500,000, which at least partially explains why the wines of Montrachet are so expensive, as are many of the great Burgundies.
The division of fishing rights on Burgundian rivers is not unlike the division of wine districts. A 5-mile section of river could be divided among a half dozen or more owners, with some having only a few hundred yards, or only one bank of a river. The Club's purpose in exploring the rivers was to, first, evaluate the quality of the fishing and, second, to determine if permits for large enough sections of some rivers could be acquired to accommodate a typical Club outing consisting of a 10-20 anglers. Alas, as is often the case in France, other priorities arose which undermined the completion of our mission.
One of the anglers in our group, Marc, had an uncle, Patrick, a wine merchant who owned the fishing rights to a section of the upper Seine and of a tributary, the Yonne. Marc had persuaded Patrick to let us fish his sections on the two rivers. We arrived at the Seine shortly after 10AM, and our first mission was to survey the waters and learn where we should fish. Patrick's section was quite long, 2-3 miles, and the viewing required us to follow him through farm fields to observe each part of the river, the flies that were hatching, where the fish were likely to be found, and discuss the appropriate techniques for catching them. By the time we were finished it was past noon, and Patrick announced that his wife Marie had prepared lunch for us back at his 16th Century house. We gathered there and he opened a bottle of Champagne for the five of us, raising a toast to our fishing success. We had just finished the Champagne, when Marie appeared with a platter of five different local Burgundian hams, and baguettes. The hams were incredible, washed down by two different bottles of Chablis, and then a white Burgundy. I was just beginning to think about where on the river I should go to fish, when a huge platter of beef filet appeared which Patrick said was from an animal raised on the farm. The wonderful meat was surrounded by a ring of assorted grilled vegetables and accompanied by two different rich sauces. Of course, a red Burgundy was required to partner with the red meat, then surprisingly Patrick strayed from his roots, and opened a lovely syrah from the Rhone Valley. I was beginning to reach a state of somnolence, when the homemade rhubarb-raspberry pie appeared, though the fifth bottle of wine carried us through the dessert. But Patrick and Marie were undaunted. Burgundian cheeses are renowned, and the next platter included four varieties, all of which were wonderful, with small toasts to put them on and another excellent Rhone Valley wine. Of course, "what is cheese without Port?", and a bottle was soon opened. Over our repast, we talked with increasing exuberance of fishing, food, wine and anticipated outcomes of the recent unexpected election results in both of our countries. It was the longest, wettest, and most memorable, lunch that I have eaten. After finishing, we four anglers got up (surprisingly, without assistance), donned our waders and other gear, and walked shakily to the river. We began fishing at 6PM, eight hours after we had arrived. Among the four of us we caught a single small trout, and left for the drive back to our abode at dusk, having learned nothing about the river or how to catch its fish.
When we arrived back at the gite after ten o'clock, the Frenchmen insisted that dinner was required before turning in. I have forgotten what was served, but the next morning I observed that we had consumed three more bottles of wine. That day we drove to the other fishing section that Patrick controlled, on the Yonne River, a tributary of the Seine. Not surprisingly, we got a late start, and it was a longer drive. We arrived just in time for lunch at a small fishing cottage on the river, and I was surprised to find Patrick and Marie there to welcome us again. Marie had prepared a lunch consisting entirely of offal, cooked in the traditional French peasant style. The first course looked like ravioli, except that it was minced tripe and innards mixed with a stuffing, and wrapped in tripe. There were sweetbreads, liver and a few things that I could not, or was afraid to, identify. We were still recovering from the previous day's Bacchanalia, so our wine intake was reduced to only six bottles, and we were all fishing by 4PM. On this river, there was a hatch of green drakes (a very large mayfly that can be found in the U.S., including a few streams in Virginia). Sometimes the big fly brings up the big fish, but it didn't that day, and our group caught only a few small ones. But it was a pretty stream and, all-in-all, another fine day.
The third day I decided that the risk of eating lunch was too great to consider venturing forth with the rest of my group, so I stayed at the gite to fish the small stream that flowed next to the hatchery, then through the property for another mile or so. On my first cast in a likely looking spot, I was careful and faintly dropped the fly on the water. Nothing happened. On the second cast, I clumsily splatted the fly on the water making a commotion –a beginner's mistake that usually scares off any fish in the vicinity. Immediately about a dozen trout rushed to my fly, fighting over it before one was hooked. When it worked a second time I realized that these were fish that had escaped from the hatchery into the stream, and that had been accustomed to being fed from a bag by a worker. So, my fly was not replicating a natural insect, but rather a pellet of processed fish food being indiscriminately scattered on the water by someone who views trout as a form of livestock. I caught a couple more, but after about 15 minutes became disgusted with myself, and repaired to the gite to catch up on my reading. My first fishing success had only served to put me in a bad mood.
On our fourth and last day, we fished a different section of the Seine, which was very beautiful. It flowed sinuously through open pastures, with long glides and a few deep runs. In the late afternoon, the green drakes appeared, and as dusk approached, the fish began rising to them. We all caught some nice fish on dry flies, which is everything that this angler hopes for. On the way home, we stopped in a small country restaurant in Aisey-sur-Seine. I remember a fine salad, and the best frogs' legs that I've ever eaten, washed down by a couple of inexpensive Burgundies from uncelebrated villages in this lovely region of France, and accompanied by a convivial group of fellow anglers. There is more to fishing than catching.