By Stuart Burford – Stu Pots Book of Recipes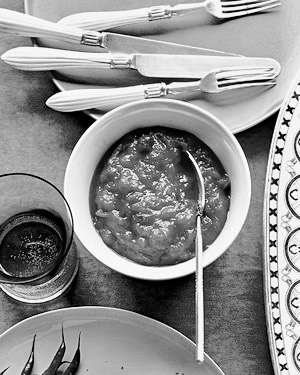 This sweetly tart chutney makes an excellent spread for Christmas turkey sandwiches, provided there's any left. 
Step 1: Peel, core, and dice 
   3 tart apples and 
   2 slightly ripe pears 
Step 2: Add
   2 lbs. cranberries
   1 cup yellow raisins
   2 cups sugar
   1 cup fresh orange juice
   2 tablespoons grated orange rind
   2 teaspoons cinnamon
   ½ teaspoon nutmeg
Step 3: Mix all of the above, bring to a boil and simmer for 45 minutes uncovered until thick.  Add ½ cup Cointreau or Grand Marnier at the end.