It's August and the Covid hunkerdown continues unabated. I'm sitting here in Keswick, listening to the muscular roar of the bikes as they bust out of  the Cismont Store parking lot – which is giving me a hard case of Sturgis-envy, especially when I see pictures of all the bulging biker-babes in their red baseball caps and tattooed bods, ridin', drinkin' and playin' hard, while all the while, standin' by their god-fearing men. But, even for them, life has gotten tougher. Two years back they permanently lost the Testicle Festival in Montana – a stopover of sublime debauchery for those cruising toward Sturgis from the west – and now they have to risk their lives to pursue the god-given pagan ritual that's as American as apple pie. But bikers are nothing if they are not tough, and those that survive Covid will return, keeping America great.   
For me, it's the first year that I haven't planned a trip to fish the West in almost 40 years. I may yet, but Covid, combined with two cracked ribs from separate klutzy mishaps have, so far, shut me down. When I think back to my first occidental angling excursion, and how it started, perhaps it's surprising that I ever took another. I had been dabbling at fly-fishing for a couple of years in early 1982, when I read an article about a trip to the Bob Marshall Wilderness Area (called "The Bob" by locals and afficionados) in Montana, that combined nearly two days of riding horses and a bit more than four days of floating on the South Fork of the Flathead River, through a pristine and remote area. I knew enough about fly-fishing to know that Montana was considered American Nirvana for pursuing it, and decided that this was the trip for me to get properly introduced.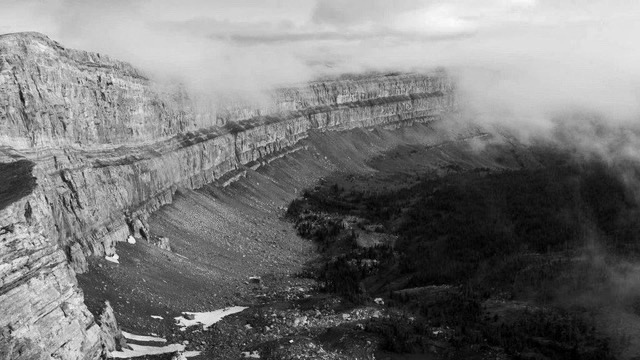 The Bob is one of the largest wilderness areas in the U.S., slightly smaller than the state of Delaware. By law, it has no roads, but nearly 2,000 miles of trails, limited for use by people and stock. The South Fork begins in the southern part of The Bob, and travels northerly for nearly 100 miles (including the enormous Hungry Horse Reservoir) to join the Middle Fork and the North Fork, and form the main stem of the Flathead River, which flows into the Clark Fork of the Columbia, and ultimately to the Pacific Ocean.
I contacted the author of the article to get information about the outfitters that he had used for his trip – it was Gene Lee, assisted by his son, Cameron. The Author said that they were the only outfit running fishing trips in The Bob. I tracked Gene down on his ranch at the southern end of Hungry Horse, to get some details. He said that he would take two rafts accommodating at most four anglers, and that there was a narrow window of about six weeks to go, from late July through early September. Before that the spring runoff made the river too high and off-color, and after that the chances of snow and freezing weather were too great. The anglers didn't need to be skilled riders, but they did have to be willing and able to sit on a horse for about 40 miles (35 going in and five coming out), sometimes over rough terrain. That was more miles than the total that I had ridden in my lifetime, but being intrepid or, more likely, lamebrained, I booked the first week in August and set about recruiting some friends to join me. Fortunately, Deliverance was still fresh in everyone's mind, and I found three guys who, like me, pictured themselves as Burt Reynolds, although probably we all secretly thought that at least three Ned Beattys were among us. Doug was an old friend and an experienced and skilled outdoorsman. Tom a fishing friend, and Mike a lawyer and business associate. I was The Organizer, which would become important.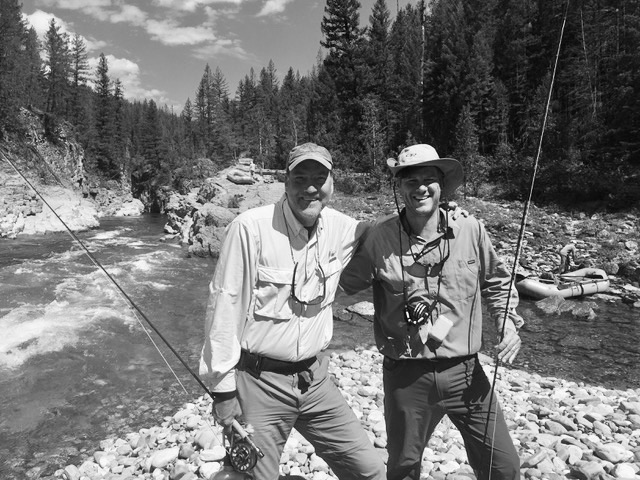 The trip started on Saturday, and the day before we stayed in Kalispell, Montana. That evening we went to see and fish the South Fork where it emerged below the dam that formed the Hungry Horse. OMG! It was the coldest river that any of us had ever encountered – about 40 degrees Fahrenheit. We only had light pack waders, and couldn't stand in the river for more than a few minutes. Plus, we caught no fish. We were all neophyte anglers and had no idea that water being released from the bottom of a dam would be much colder (and support fewer fish) than that in the river above the reservoir. We figured that we had made a really bad choice of a river that we could not walk into, and that seemed devoid of fish. The Organizer caught some abuse at dinner, which soon became a pattern.
Saturday we were up early to take the 60-mile or so drive to Gene Lee's ranch. The rough dirt road along the Reservoir was slower than expected, but we got there by 10AM, the appointed meeting time. A woman answered the door, introduced herself as Gene's wife, and told us that he was out "looking for his horses."
"Didn't he know that we were coming to start a week-long trip today?"
"Yes, he knows, but the horses that he normally takes on his trips escaped overnight, and he and Cameron are flying around in Gene's plane to see if he can find them. He should be back soon. Why don't you have some sandwiches while you are waiting". I don't know what surprised us more – that our guide lost his horses or that he had a plane.
Having no better choice, we lunched. After a couple of hours, The Organizer started to get the glares from the other three, similar to the night before. Gene finally showed up at about 1PM, in a foul mood. He looked to be about 60 years old, seemed more than a bit cantankerous, and was very grizzled. His wife asked him about the lost horses.
"Couldn't find em."
I muttered, "What are we going to do?"
"What d'ya think we're gonna do? Only got one choice. Take the reserves. They haven't done this trip in about three years, but they'll have to do. Let's get started. We're late." I didn't think that "we" were late, but kept that inside.
Gene and Cameron loaded the ten horses (six for riding and four packhorses) into some trucks and we drove about 15 miles to the Spotted Bear Campground, where we would start. Three wranglers on horses met us there, with the rafts and the other equipment. They would ride with us for the 35 miles over two days, set up the first night's campsite en route, drop off our equipment at the headwaters of the South Fork, ride back to Spotted Bear with the pack horses, then meet up with us again when we pulled out of the River at the end of the float, pack up, and we'd all go back to Spotted Bear.
The wranglers took the pack horses aside and started loading them with equipment. Gene said "I'll ride the big bay mare, cause she's pregnant and is like to be in a foul mood. And she ain't been ridden in a few years. He put the saddle and bridle on, walked around with her for a couple of minutes, speaking to her in the soft, dulcet tones of a horse whisperer, then he mounted her. Holy s..t! Her hindquarters went four feet in the air, Gene flew about six feet and landed on his butt with a thud! The horse continued jumping around and snorting fire. Cameron quickly grabbed about ten feet of rope with a loop on one end, he put the loop around her neck, and tied the other end to a small tree. The big horse started running in circles around the tree until the rope got so short that she flipped over and was lying on her back – feet kicking up into the air and still snorting. Cameron walked up to her and, with his metal toed boot, kicked her as hard as he could, smack in middle of the head. Her eyes started dancing around in the sockets, looking as whacked out as Kid Sheleen's steed in Cat Ballou. Then they went blank, and she passed out. We had placed our lives for six days in the care of Curly from City Slickers, and his scary son. We were terrified.
Meanwhile, Gene was back on his feet. Cameron threw a bucket of water from a stream on the recalcitrant mare's head, and she revived. He loosened the rope, helped her up, and Gene mounted her again. She dejectedly hung her head, and began docilely walking up the trail. Doug finally worked up the courage to mount his horse. No problems, and we all climbed on without incident. We started up the trail with Gene ambling along in the lead, followed by the four of us, then the pack horses, all watched by the wranglers, and Cameron bringing up the rear.
The peace was short lived. The pack horses were tied to one another in a line, and the second pack horse started nipping at the butt of the first, and a wrangler gave him a bit of the lash. But he wouldn't quit, then the third pack horse started nipping at the second horse's butt. Gene said don't worry, that these horses, being reserves, had never been in a pack together and that a pack horse had strong beliefs about where he rightfully belonged in the pecking order. The nipping horses resented being behind the imposters ahead of them. We took his word for it, until we were riding up a steep and narrow stretch of the trail, and the first horse finally lost his patience and spun around to bite the nose of the second horse, who promptly did the same to the third horse. In a nanosecond the whole pack train slid off the side of the trail and about thirty feet down into a ravine. The packs came apart and we could hear the sound of horses whinnying and smashing stuff. Holy s..t again!
Gene started screaming expletives at the pack horses, which seemed futile, while the wranglers and Cameron went down to untangle the mess. Amazingly, none of the horses were hurt. Only a spare oar, a net and some other equipment of minor import was broken. It took over an hour to re-assemble the pack train. While our leaders were doing that, our group had a meeting, the gist of which was "you're The Organizer, so how the hell did you ever find these people?". I deflected all responsibility, pointed out that logistically and financially we had no option other than continuing on, and the others begrudgingly accepted their fates. We all pondered how we could survive six days with these Keystone Kops. To our relief the wranglers re-ordered the pack horses and, sure enough, the pack train never had another incident.
In short order we came to a spot where the trail, maybe seven feet wide, bent to the right, and followed for several hundred yards in a semi-circle next to a high wall on our left. Gene said that the wranglers and the pack horses would turn left before the wall, and take a detour on the other side of it, which was about a half mile longer. As we approached the wall, we saw why. The trail alongside it overlooked, on the right, a sheer cliff with a straight vertical drop off of perhaps 400 hundred feet. Whoa!
Tom asked Gene, "do you really want us to go on this trail?"
"Yup, always do. But if you're too scared, you can go with the wranglers."
He was challenging our manhood, but Tom was not embarrassed, and promptly joined the wranglers. I will admit that looking over that cliff from three feet above the top of a horse gave me that unpleasant feeling deep in my bowels, or some male place in that vicinity, that I get only from peering straight down from great heights. Apparently, I wasn't alone because Mike got off his horse and said that he'd walk with his horse behind us. Doug and I proceeded, but our horses kept leaning toward the drop off and looking directly down. That scared the bejesus out of us, and we tried to pull the horse's heads back toward the wall, which they wanted no part of. Gene lost it.
"What the hell are you morons doing? Don't you know that your horse doesn't want to go over that cliff any more than you do? If you stop him from seeing what's there, he may accidentally go over it. Let him look and he won't. That's just common sense."
My solution was for me to stop looking and stare at the wall. Soon we were at the end of the wall and the cliff, and feeling pretty good about ourselves. Foolishly, because we were just sitting on top of a horse. After the cliff incident, things became pretty normal. Mike decided that he liked walking with his horse, and never re-mounted for the entire thirty miles or so, in and out. Tom liked Mike's idea, and walked most of the rest of the trip. Doug and I wanted to get our money's worth, and rode all of the way. The price for me was sore thighs and walking bowlegged for a few days – well worth it.
We came back down to the river for the first night's camp. Our group fished while camp was being set up, and dinner prepared. It was our first River sighting up close, and it was the most beautiful that I had ever seen, and still is today. The water was crystal clear, with long riffles and deep pools, where I could clearly see stones on the bottom, 15 or 20 feet down. I was really a beginner fly fisher, having been a few times and never taken lessons. The river was perfect for my skill set, as it had wide banks and nothing to interfere with my back casts, which were lousy. In fact, when I dropped the fly in the water on my back cast, normally a bad mistake, frequently a fish would take it, and as I began making the forward cast a trout would go flying through the air. The river had a large population of scrappy Montana Cutthroat trout, and catching fish on dry flies, was simple, even for someone as inept as I was. Most of the fish were in the 10-13" range, with occasional larger ones up to about 17". The River also had bull trout, which grow very large, but the guides didn't mention them, and we never fished below the surface, where they hang out.
The clarity of the water on the South Fork was extraordinary. Looking out at the current, it was easy to seriously misjudge its depth. We learned this the first morning. Tom, who was very tall, but not the steadiest wader, walked out into a current which looked to be about two feet deep, but was actually well over three feet and moving faster than it appeared. When he tried to turn around to retreat (mistakenly facing downstream), exposing the full width of his body to the current, it swept him off his feet and he took two somersaults downstream. It was a very dangerous situation, but he righted himself somehow, and was able to swim and crawl to the bank, remarkably unharmed except for a few bruises. After that, he never waded out in the current again and we were all more respectful of the River's power. The first night at camp we had a great meal, some beer and booze (before the days that wine was de rigueur), and the four of us settled down to drink and play poker. Gene looked on, and asked if he could join us. Turned out he loved poker and beer, and from then on, the five of us played every night, and he lightened up and became a fine and engaging host. He knew The Bob as well as anyone, and on the second day's ride we saw some extraordinary scenery, including the famed Chinese Wall – a massive escarpment about 1,000 feet high and 12 miles long – that runs along the Continental Divide. Although The Bob contains many large animals, including black and grizzly bears, we saw only tracks or scat of them, except for a few mountain goats at a natural salt lick. On the other hand, we did not see another human being in the six days.
Floating the spectacularly beautiful river was pretty mellow. There was one short rapid that the guides took by themselves. It wasn't really dangerous, but this was an angling, not whitewater, trip. We pulled out to return to Spotted Bear just before the dangerous gorge, which is basically impassable (we saw it from about 1,000 feet up on the trail, and were told that it is so narrow, that you would have to swim through with the raft turned on its side). Missing that pullout could be a death sentence. And all day, every day, the fishing was superb. We caught as many fish as we wanted (the first day I counted 70, then ceased counting), and watching them slowly rise to the surface of a clear, azure pool from fifteen feet below to eat a large Royal Wolff or Humpy will be etched in my memory forever. One day we stopped to take a lovely hike to a small lake, catching both great scenery and, in the outlet, the largest fish of our trip.
Today, the trip into the Bob to fish the South Fork is quite popular and, in fact, there are a variety of outfitters, and several different routes in and out for guided or do-it-yourself trips. But the river is still the river, the scenery is still the scenery, there are no vehicles or bikes, the fishing is easy-peasy, and you are in one of the last true wilderness areas in the lower 48. It seems that the cutthroats are a bit larger and most anglers spend at least some time fishing deep for bull trout, that can reach ten pounds or more. It's a great experience, whether you fish or not. And maybe you can hire Curly.