By Colin Dougherty
IN VINO VERITAS – Wine & Gourmet Shop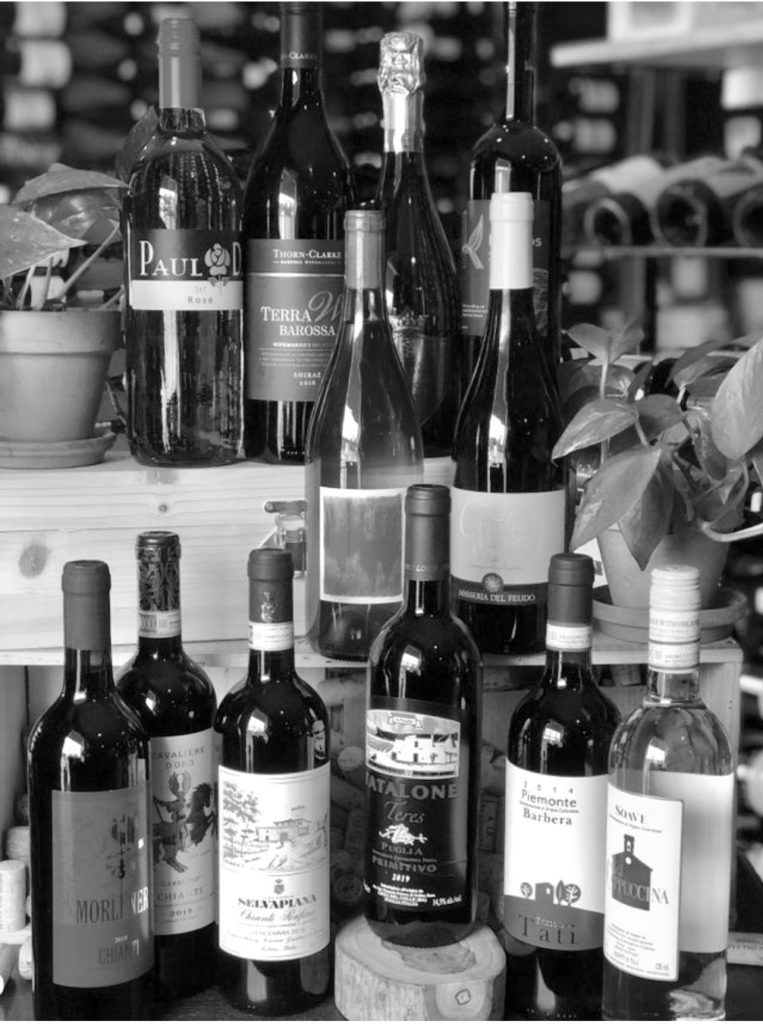 For the better part of a decade owner, Erin Scala worked in New York City at several Michelin star restaurants, notably JoJo, PUBLIC, and The Musket Room. In 2014, she returned to her home state of Virginia to run the wine programs at local downtown restaurants, Fleurie & Petit Pois. Today, she is the sommelier at Common House social club in downtown Charlottesville, and since 2017, she's owned In Vino Veritas Fine Wines, a wine retail shop in Keswick, Virginia.
Erin writes the thinking-drinking wine blog, produces audio essays for the I'll Drink to That wine podcast, and consults about wine privately and commercially through her company, ThinkBev. Her articles about wine have been published in The Washington Post, Wine & Spirits, Wine & Country Living, and Knife & Fork magazine. For several years, she covered the Virginia wine scene in a column for her local paper, The C-Ville Weekly.
Named one of Wine Enthusiast's 40 Under 40 wine professionals to watch, her wine list at Fleurie won a Wine Spectator "Best of Award of Excellence" in 2016 and 2017. Erin received a James Beard Rhône Rangers Travel Study Grant to study Rhône varieties in California in 2016. She competed in the Sommelier Scavenger Hunt held by Wine & Spirits Magazine to find delicious Pinot Noirs in the Santa Cruz Mountains AVA in 2017. In January 2018, the I'll Drink to That podcast was written up in the New York Times.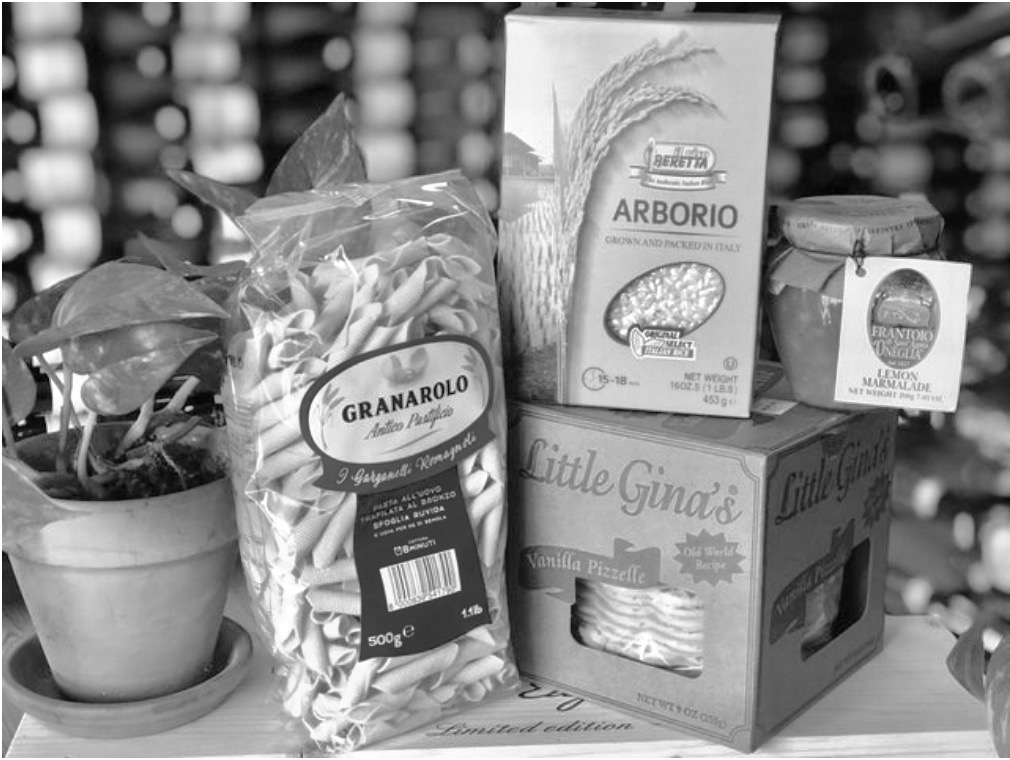 Certified as a Certified Sake Professional, and also with the WSET Diploma of Wines and Spirits, she believes that fermented beverages are a unique and dynamic communion with time and place and that often the best beverages come from small vineyards, orchards, and breweries using products farmed by passionate families who believe in minimal intervention.
IN VINO VERITAS – Wine & Gourmet Shop
Located: 3015 Louisa Road ~ Keswick // Phone: ​434-977-6366
Email: erin@invinoveritasva.com
CURRENT HOURS // Monday – Thursday 11am-6:00pm, Friday 11am – 7:30pm, ​Saturday 11am – 6pm, Sunday closed
COUNTRY HOUSE ANTIQUES – Go Shop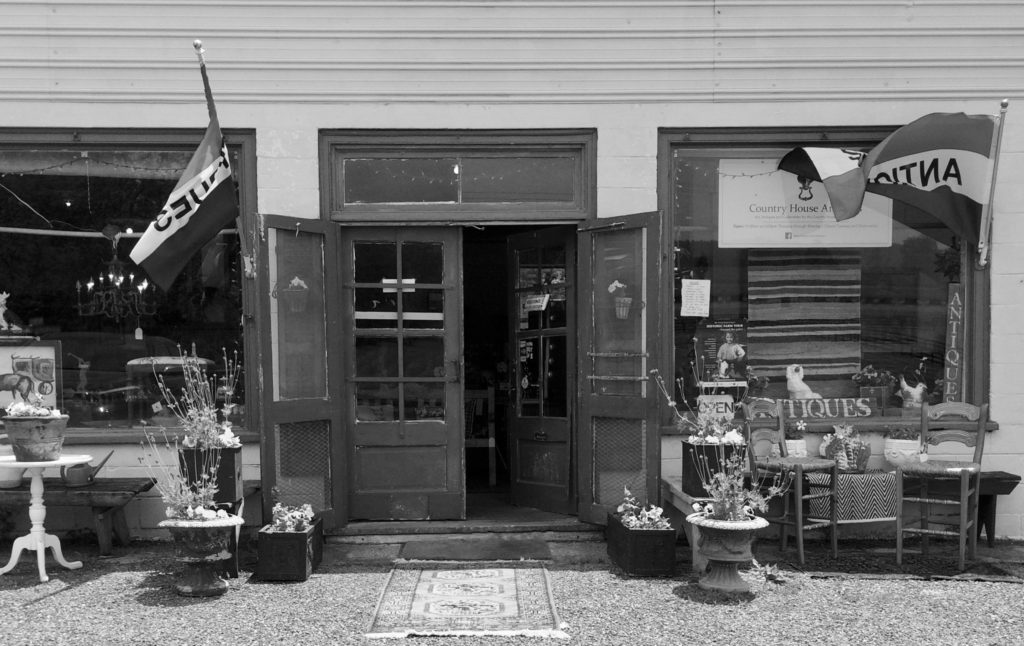 Country House Antiques offers art, antiques, and décor for the country house and garden. Nancy Parsons, the owner, specializes in antique and unique equestrian pieces related to foxhunting, polo, and racing. The shop also offers 18th and 19th century English, French and American furniture and lovingly curated vintage pieces. Check out a display of handmade rugs with access to a larger inventory of rugs upon request. Many items are consigned from area farms and estates – it is undoubtedly a treasure hunt!
On any given day, you might find a wonderful 18th-century highboy, a vintage needlepoint pillow featuring horses, hounds, or foxes, or an antique sculpture of a whippet for a special place in your garden. Recently, some unique midcentury modern pieces have come in. New inventory arrives every week, and the best pieces go quickly. She posts on Instagram or Facebook to see the new arrivals. Nancy comments, "I'm so grateful to the Keswick community for supporting my shop, now in its fifth year! We are open every weekend, and we hope to see you soon!"
COUNTRY HOUSE ANTIQUES – Go Shop
Located: 5447 Gordonsville Road, Keswick // Phone: ​434-295-0616
CURRENT HOURS // Saturday and Sunday 12pm – 5pm or by appointment.
STOKES OF ENGLAND – Blacksmithing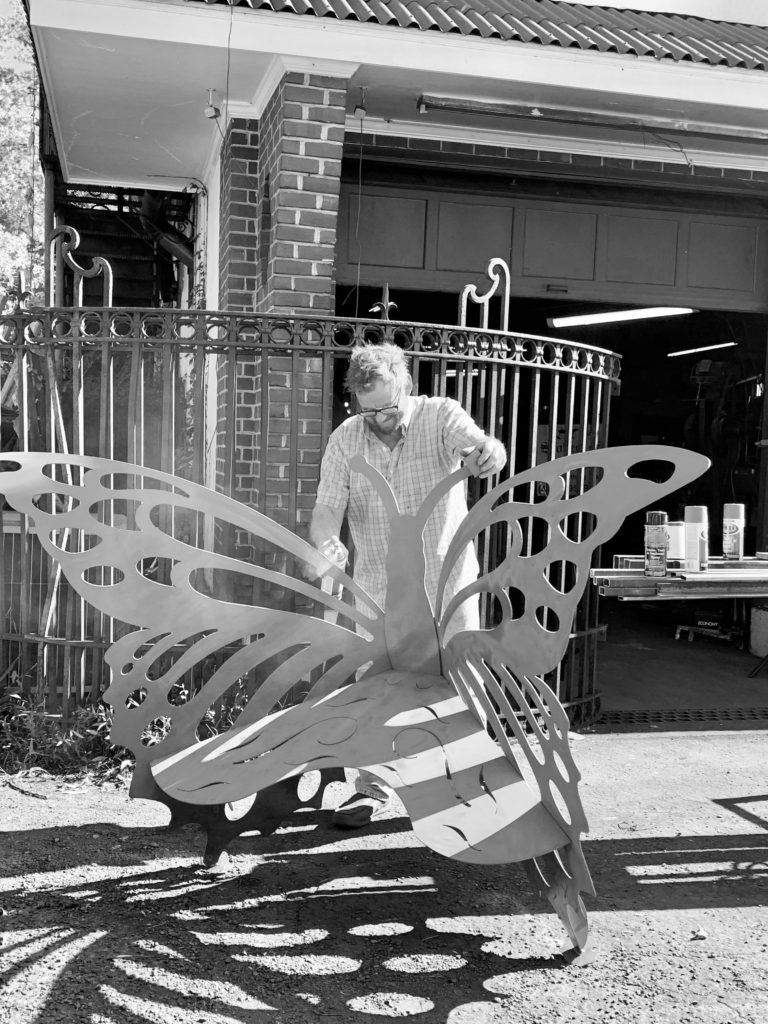 Founded in 1981 by Joe Stokes and oldest son Stephen Stokes, first commissions were for knives, swords, furniture, hardware, and fire screens, but eventually included gates railings, lighting, and balconies. Their work has been featured in many prestigious publications over the years, including Architectural Digest, Southern Living, Home and Garden, and Shropshire Magazine and being written about in the New York Times and Washington Post and many local publications, including Keswick Life.
Stephen and his team of skilled craftsmen work directly with their clients. Recently, Stokes of England was commissioned to make all the hand-forged iron gates and balconies for the new business school at William and Mary College in Williamsburg, VA. Stokes of England operates a showroom and gallery where a wide variety of artisan pieces are offered, including furniture, lighting, hardware, and traditionally made wooden doors with iron strap hinges and hand-forged locks. Custom orders available; also, make an appointment to tour the forge and watch the blacksmiths at work on the forges and anvils.
STOKES OF ENGLAND – Blacksmithing
Located: 4085 Keswick Rd, Keswick // Phone: ​434-295-9848
CURRENT HOURS – Flexible but by appointment.
TASTING ROOMS – Cidery & Wineries
Three tastings rooms come to mind in the immediate area of Keswick, first is an apple cidery, Castle Hill Cider, which offers their extraordinary grounds and tasting room Friday, Saturday, and Sunday from midday to 6 pm, with light fare on Fridays and a full lunch menu on the weekends. Just down the road, you will find Keswick Vineyards, with the tasting room open every day from 10 am to 5 pm, reservations not required but suggested on the weekends. Next, to the opposite end of my tour, around the Shadwell horn, across the river, towards Monticello, you will run across Jefferson Vineyards, open midday to 6 pm Thursday thru Sunday. Don't miss the Simeon Market while you are on this side of Keswick environs – they are stocked up on picnic baskets, picnic blankets, and all other great goodies to fill those baskets!
GREGORY BRITT DESIGN – Create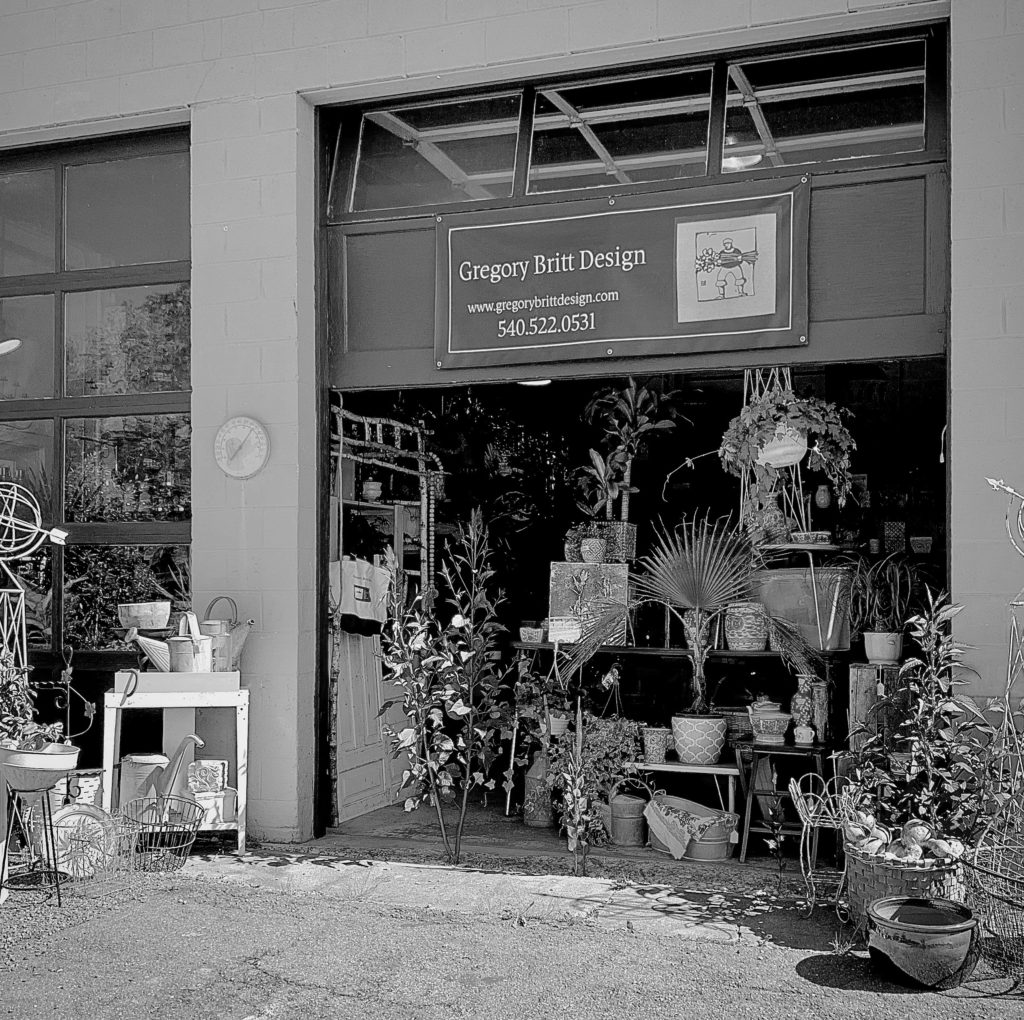 Gregory has a knack for creating inspired flower arrangements, dream weddings, lovely cocktail parties, and a myriad of events. He can design your gardens, style your photoshoot, and decorate your home for any holiday.
The design studio, turned shop, is an excellent addition to the area. The space is charming and vibrant and packed with interesting plants, vases, pottery, vintage, retro, gifts, antiques, one of a kind finds, and treasures, many from Gregory's collection.
Ok, the holidays are coming, and you might be thinking about decorating, have no fear; this team can help! Holiday decorating and parties with wreaths, garlands, and styling are available at the end of November.
Gregory began gardening while growing up in Indiana. During college, he studied art history and painting.  He worked in small florist's shops and event design companies. After college, it was to New York City, free-lancing for all of the design stars, while simultaneously working on his painting. In 1999, the business Gregory Britt Design was born. After acquiring some fantastic clients, Gregory was fortunate to travel and create celebrations for them worldwide. The charming village of Washington, Virginia, was the next adventure. The world-renowned Inn at Little Washington welcomed Gregory as their floral and event designer, and then after ten years, he ventured to Keswick. Gregory lives in Keswick on a farm with dogs, cats, horses, and of course, gardens.
GREGORY BRITT DESIGN – Go Shop, Plan a Party, decorate for any reason.
Located: 5445 Gordonsville Road, Keswick // Phone: ​540-522-0531
CURRENT HOURS // Saturday and Sunday 12pm – 5pm or by appointment.
LEGACY MARKET – Convenience Store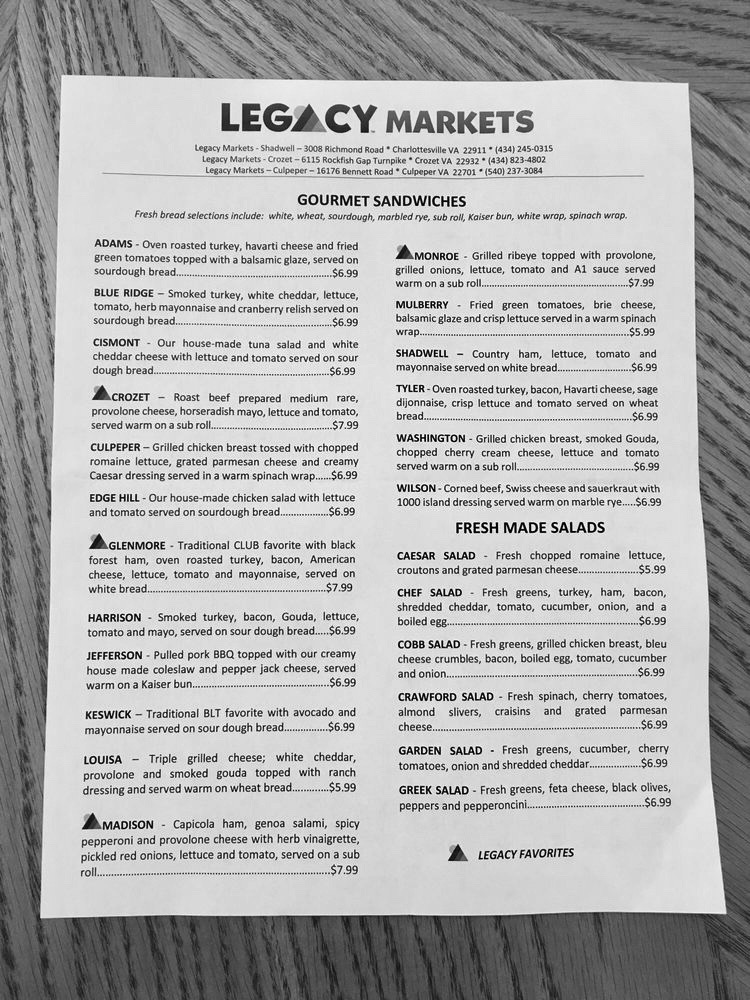 One recent visitor was skeptical about food from a gas station, but Legacy Market did not disappoint! Everything is made fresh with quality ingredients. The sandwiches and sides are delicious. Our reader's favorites were the custom sandwiches, the Mulberry, Washington, and Louisa. "It was damn good, especially with the added tomato slices he requested!" he exclaimed.
This C-Store sits at the gateway to Keswick and Cimont areas. It is essential for me to fill up on Exxon products and quickly get the propane tank for my patio grilling – literally just a 1/4 mile down the road for me. The nightly dinners, featuring southern comfort food specialties like fried chicken or fried catfish, with two sides, are a weeknight value at $6.99.
The parking is tight, it is what it is, so you'll have to be patient. The staff is always warm and friendly – the coffee fresh and hot!
LEGACY MARKET – Convenience Store, Exxon Fuel, Propane Tank Exchange
Located: 3008 Richmond Rd ~ Shadwell // Phone: ​434-245-0315
CURRENT HOURS // Monday – Thursday 4:30am-10:00pm, Friday 4:30am- 11:00pm, Saturday 4:30am – 11pm, Sunday 6am – 9pm
THE CLIFTON – Sleep, Eat & Drink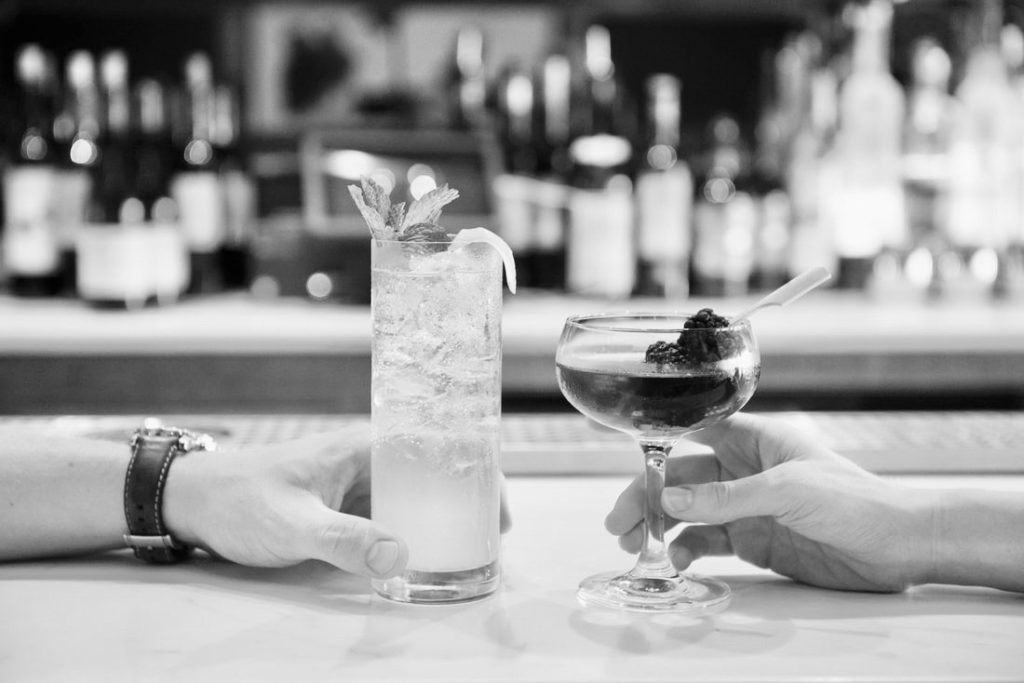 One word comes to mind – staycation! This local spot is a favorite for the socially distanced these days as the Clifton does a beautiful job of keeping us all safely separated.
The original 1799 building is full of history, modern charm, and seven newly renovated and luxurious bedrooms and suites. The different but equally beautiful views from these rooms include the Monticello Mountain, the cascading waterfalls of their superb pool, and the beautiful lawns and gardens. All rooms offer the finest of rural and modern amenities.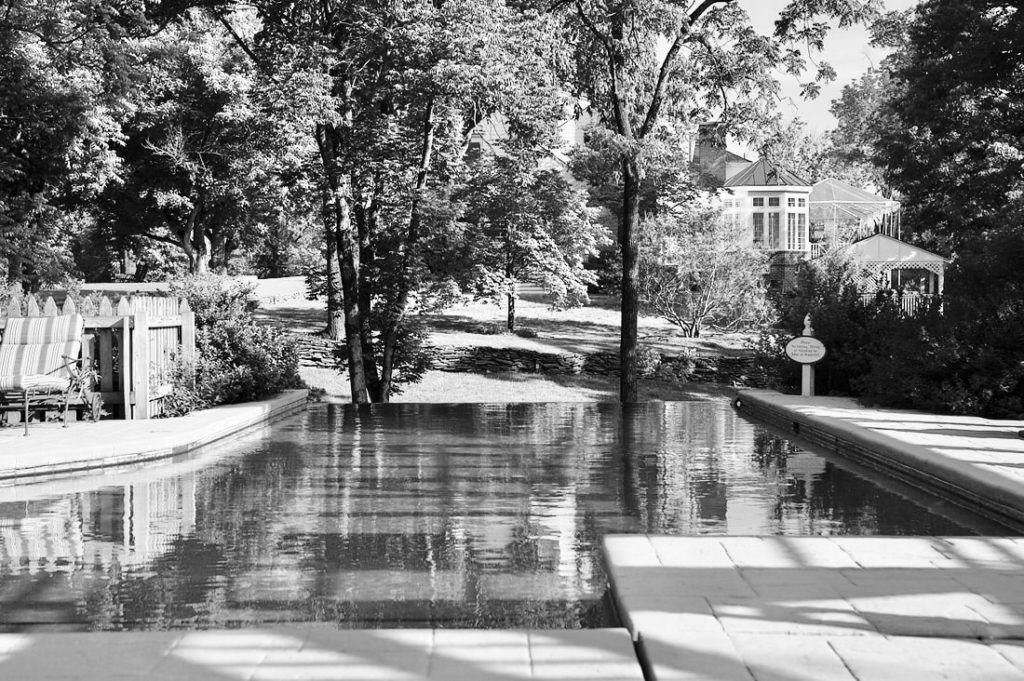 With its sun-drenched veranda and an enclosed patio with stunning views of the Virginia countryside through floor-to-ceiling windows, the restaurant '1799' is one of the most romantic restaurants in the area. The seasonal menu highlights dishes showcasing local ingredients—with many sourced from the chef's garden—to create distinctive regional food. The cuisine is perfectly complemented by inventive cocktails and an extensive wine selection featuring Virginia's most celebrated wines and ciders, along with vintages from around the world.
They serve breakfast (yes, locals can be seated without being a hotel guest) and dinner daily, but lunch is performed only on the weekends, but do call ahead to be sure they aren't closed for a wedding. Guests of the hotel enjoy complimentary continental breakfast each morning of their stay.
Located just off The Clifton Lounge is The Copper Bar, a sophisticated and chic cocktail bar, aka the local Pub. It features a modern quartz bar with copper trim-lined oak shelves and mirrors on one side with lush velvet banquettes on the other. The space offers a hushed, intimate vibe for guests to savor original and inventive seasonal libations.
THE CLIFTON – Sleep, Eat & Drink
Located: 1296 Clifton Inn Drive, Shadwell // Phone: ​434-971-1800
Email: reception@the-clifton.com
CURRENT HOURS // Cocktails & Dinner by reservation, Breakfast daily, Lunch on the weekends but do call ahead. Lodging and visit arrangements, best to call.
CISMONT MARKET & DELI – C-Store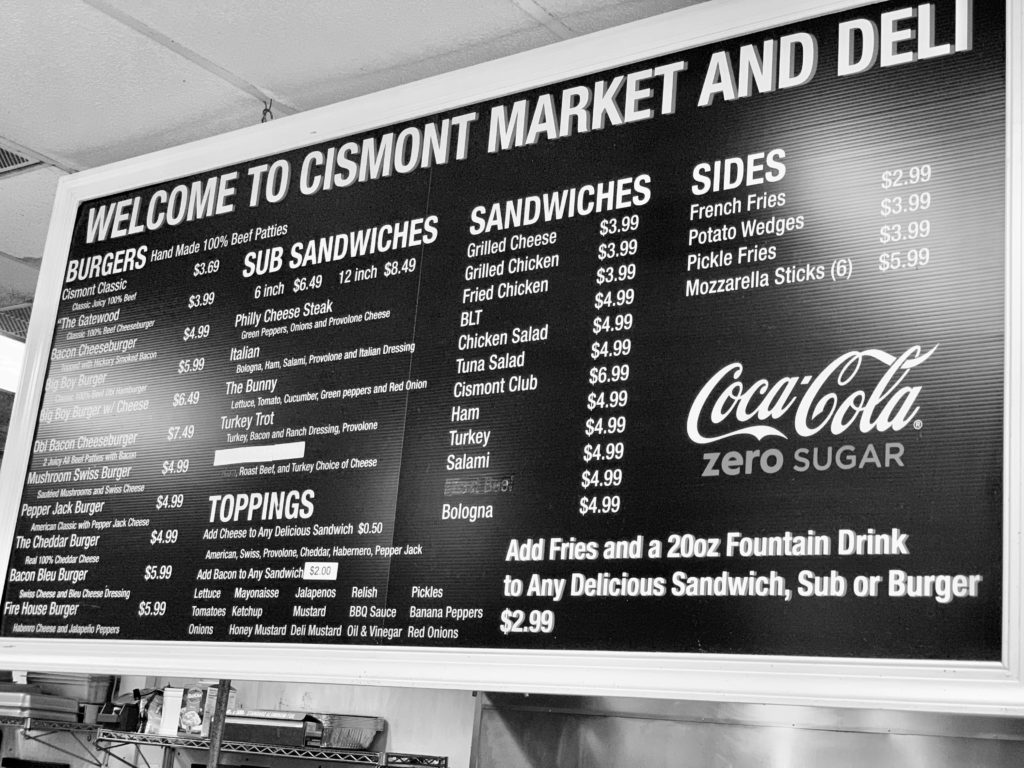 As an early morning patron, I am typically greeted by Judy and Gregory, a friendly welcome and willingness to put up with my 'custom' orders with a smile while we are all still waking up. This convenience store stocks a range of everyday items such as coffee, groceries, snack foods, confectionery, soft drinks, tobacco products, over-the-counter drugs, toiletries, newspapers, and some gifts suitable to not let you walk into a host's home empty-handed. They even have some NFL gift apparel and gear right now, heavy on the Eagles, of course – makes me happy as I am originally from Philadelphia.
They have great BLTs, double bacon cheeseburgers, and fried chicken – some say it is the best they have ever had. Still, the Cismont Market hands down set themselves apart by offering Diesel fuel, a rarity these days in the Keswick environs. Don't miss this long-standing Keswick staple; every out-of-towner must stop in. You just haven't been here unless you have visited this Keswick environs classic.
CISMONT MARKET & DELI – Convenience Store, Exxon Fuel, Diesel Fuel
Located: 5412 Louisa Road ~ Keswick // Phone: ​434-295-1866
CURRENT HOURS // Monday – Saturday 5am-10:00pm, Sunday 6am – 9pm