Sometimes when you read as much as I do, you forget which books you have written reviews for. You stumble into some really amazing books and can't wait to write about them and then you put them aside for something new. I actually had to go back and check to make sure I hadn't already written about this month's offerings because I read them in December and loved them and thought that I had certainly already shared them with you… but I hadn't… so you are in for a treat!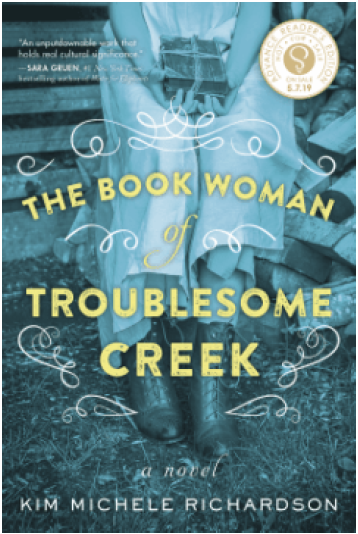 I loved, loved, loved The Book Woman of Troublesome Creek and have been meaning to tell you about this wonderful historical fiction by Kim Michele Richardson. In the 1930's President Roosevelt created a Pack Horse Library Project to serve those people living in the Appalachia area who wouldn't normally have access to libraries. This novel follows the story of Cussy Mary Carter who was one of the lady librarians working on the Pack Horse Project. The fact that she was a woman who was holding down a job back then was amazing enough but to add to that she was "colored"… but not in the way you might expect. She was a blue Kentuckian… which I thought was just something made up by the author, but in fact there were a group of people living in Kentucky who were actually blue and shunned because of their unusual hue. The 1930's in Kentucky, things were hard. People struggled to put food on the table and reading was considered a luxury that few could afford. Many in the town did not like the idea of the Pack Horse Project and went out of their way to make things difficult for the librarieans. If you were a young woman you were expected to get married just as soon as you could and Cussy's father was no different to most of the men in that town. He expected his daughter to entertain suitors by the light of the courting candle. Cussy, however, wasn't interested in getting married again after her first husband abused her. She loved the freedom and challenges of taking her books through the mountains to those people who lived far beyond the road system. While she was frustrated by the color of her skin and how that impacted her life, she didn't see any way to move past it. Fighting against all of the prejudice, Cussy shows how books have the power to transport and transform you. This book will do just that. I highly recommend it!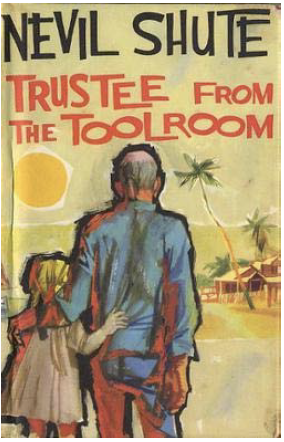 The Trustee from the Toolroom by Nevil Shute is a classic written in the 1950s and you may be familiar with the author from his more well-known book, A Town Like Alice, or even The Far Country. It was published after Shute's death in 1960 and if you are someone with an engineering mindset, then this is the book for you. Keith Stewart is a very sweet humble technical journalist who lives with his wife in England and he is pretty happy with his quiet life and spends most of his time focused on small scale precision machines. When his flamboyant sister and her husband die in a shipwreck off the coast of Polynesia and leave their 10 year old in the care of Keith and his wife, Keith must make a decision what will pull him out of his comfort zone. He knows the secret hidden in his brother-in-law's boat and he must somehow get to it before it is lost forever. It is serious when it comes to the engines and parts it talks about, but it is also poignant and lovable, and I didn't find the engineering talk off putting in the least, but actually endearing because of the joyful glee of the people discussing them. This is the story of a modest man who is amazed by the esteem others hold him in and it is just wonderful as the story unfolds. It also really puts into perspective the idea that simple joys are sometimes the best joys.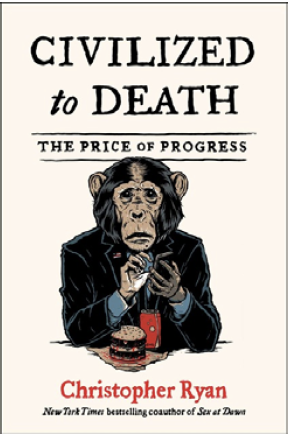 So, if you are looking for a book that addresses some of the pitfalls of our time, Civilized to Death: The Price of Progress by Christopher Ryan may be just the book you are looking for. I read this in January before really facing the crisis we are currently in. I may just reread it with a different mindset. Ryan asks the question, "How do myths and lies become the truth?" We believe that civilization is humankind's greatest accomplishment, but is it? Perhaps progress isn't inherently good. He asks, "Were pre-civilized dangers more dangerous than what we face today?" …Wow, that is certainly a loaded question right now! He writes that maybe we should move backwards to create a better tomorrow and argues that "progress" is a lot like an advancing disease. His arguments are fascinating, and he makes some very interesting points that are worth exploring. I found myself being swayed by many of his premises and also ended up looking some of the anthropological data he quotes because it was compelling. If you like debating and playing devil's advocate with your friends, and I do, this this will give you a lot to talk about at the next Zoom gathering!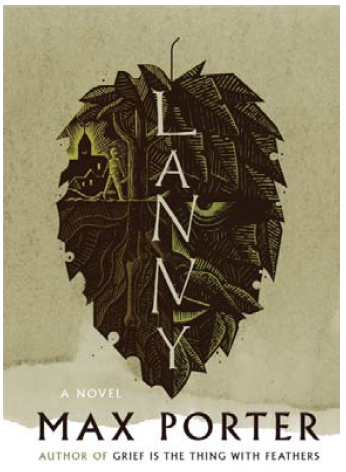 Lanny by Max Porter is a fantasy read mixed with the environment of an English village. For me, when I am looking for escapism, there is nothing better! This is a powerful story of the land and nature and the forces that hide within it. The author can write you into a child's head in a truly magical way and Lanny is a child like no other. He is unusual and connected to the land around him and he spins his path around the village. His parents struggle to keep track of him as he wanders the village and wild spaces and he puzzles the adults and children alike with his strange questions and thoughts. When Lanny goes missing the world turns upside down for his parents and the village gossip becomes bitter and vile. This is not a sweet little English book that spins a dreamy version of the village life. No, it grasps and tugs out the words and thoughts of the neighbors, who spy and connive and lie, always judging and comparing. I think the language in this book is spectacular, especially the whispering of the green pagan spirit who shape shifts and go as by the name Dead Papa Toothwort. He seems to suck in the murmurings of the different conversations occurring in the village around him and the dialect and dialogue are delicious in every way. I think spring is the perfect time to read this novel because it is green and growing and you can feel vines curling around your fingers as you read. Just don't let them choke you before you finish the book!