Goldfinger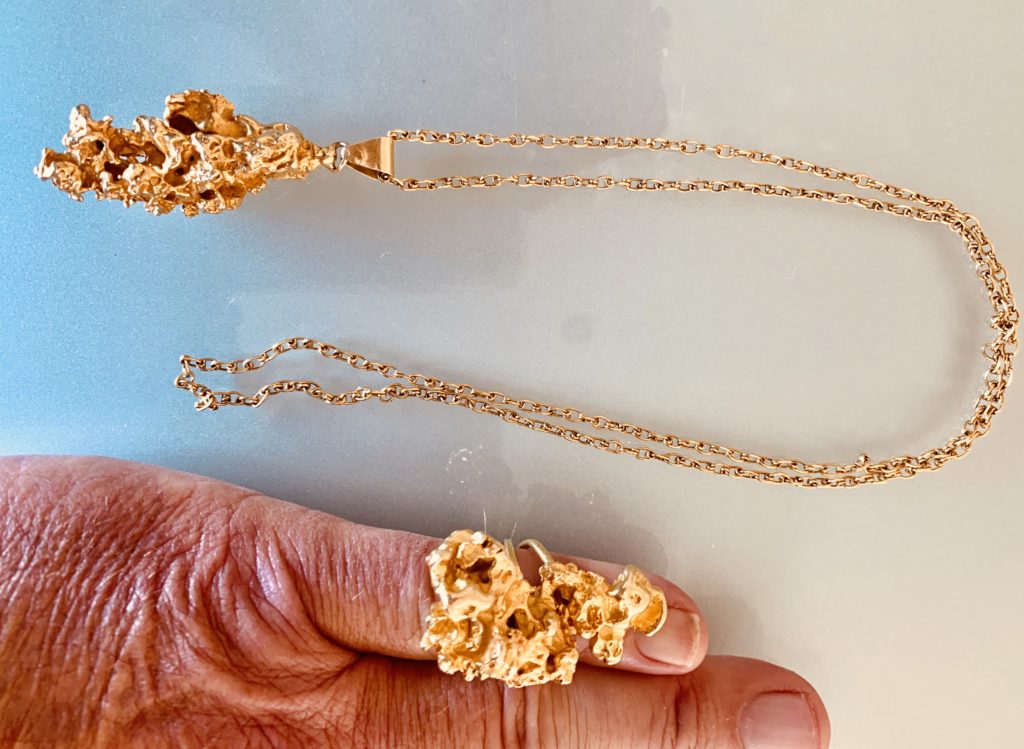 This has nothing to do with Keswick but it's a good story.
We all have reminders of who we used to be and the things we did. Photos, an old football helmet, a locket or faded handwriting on an old letter. Me? I have two gold nuggets, one a ring and the other a pendant.
I was twenty and in the Peace Corps in the Republic of Guinea on the west coast of Africa. Guinea has an important connection to Charlottesville as that's where the basketball star Mamedi Diakite grew up. He started out playing soccer but fortunately as he began to sprout up, his parents suggested he switch to basketball. The rest is history.
But back to Guinea. The country has extensive gold mines and Guineans love to wear gold. Heavy gold earrings, gold bracelets, gold chains and bracelets. After a appreciating their gold jewelry for a year and learning that local goldsmiths could craft gold nuggets, I decided to get a couple. I'd become a touch Africanized in my year and a half in the country. Like the Guineans, I wore clear plastic Chinese sandals, brightly-printed shirts and French planter suits, so it seemed totally natural for me to sport a couple gold nuggets.
The details are now hazy. I don't remember exactly which village the goldsmith was in or how much I paid for the nuggets but I can remember sitting on the dirt floor of his mud hut and watching the old guy make them. He crouched over his fire and carefully poured molten gold into a batch of pebbles, then, as the gold started to cool, he picked the pebbles out of the gold leaving behind an irregularly-shaped and indented object that seemed to resemble what one would imagine a gold nugget to look like. He made a second one, crafted a ring to attach to the back of it, a loop to hold a chain for the pendant, threaded the chain through the loop and I was in business. I hung the pendant around my neck, put the ring on my finger, paid the goldsmith for his work and proudly strode off through the village.
It never occurred to me what a twenty year-old white kid from Connecticut would look like wearing a huge gold nugget on my left pinky and another on a chain around my neck until I got to Heathrow Airport on my way home. Going through immigration, I was surprised when one of the officers beckoned me to leave the line and follow him. He escorted me into a small office, closed the door, locked it and began to grill me. Who was I? Where did I come from? And where was I going? And what was that gold jewelry I was wearing?
From time to time, he would get up and leave, locking the door behind him. When he returned, it was the same story: Who was I? Where did I come from? And where was I going? And what was that gold jewelry I was wearing?
This went on for six hours. Back then, I was puzzled. Why were they retaining me? What did they think I had done? Are they going to deport me? But now I realize that with my long hair and gold nuggets, I must have looked like a drug dealer, international smuggler or NFL wide receiver. Or at least, someone worthy of suspicion.
They finally let me go, never telling me why they'd retained me. But over time, I decided that the nuggets attracted too much attention, particularly back in the States. People looked at me like they were thinking: Why is that kid wearing a honking big gold nugget on his finger and one hanging around his neck? What's his story?
So I stopped wearing them. But put them away until my wife, Annie, discovered them, she asked: "Can I wear them? They're great! I'd love to wear them!" Having long ago abandoned the thought of being an NFL wide receiver, I said, "Sure, happy to have you enjoy them."
So every time she wears my gold nugget pendant or puts on my nugget ring, it takes me back to the mud hut in Africa, the grizzled old goldsmith and the detention center at Heathrow, things I never would have experienced had I not decided, fifty odd years ago, that I couldn't live without a couple gold nuggets.  
The Ups and Downs of Country Living
For all the serenity and simplicity living in the country affords, there's a price to be paid. Sure it's tranquil and beautiful but it has its downsides.
Praying for rain after a long dry spell? Fed up with crispy, brown grass and leaves turning color way before they're supposed to? Well, be careful what you wish for because you can get three inches of rain that knocks out your power and disables your TV and internet. Sure the grass turns green again but you can't get your email or watch ESPN or run the dishwasher.
Want to go for a nice walk in the woods? Get ready to get ticked off. The little suckers burrow into your shin and munch your blood. And some have the effrontery to invade your private parts laying a fat gray egg where you least want to find it.
Plant a raft of tulips in the fall and eagerly look forward to seeing them pop up and bloom in the spring? They might pop up but the deer nibble them to stubby nubs before they have a chance to bloom.
Looking out proudly on your expanse of green lawn but dreading having to hop on the mower twice a week to keep up? Well when August comes, your rich green lawn will look like someone took a flamethrower to it.
Usually, traffic isn't a big deal in the country unless you run into an accident on 250 and decide to take 64 instead. Wrong move because the rest of the world has decided to do the same thing and 64 is now a parking lot.
Septic systems are an unseen ally until your toilet gurgles. Gurgling means your septic tank is full of you-know what and you're suddenly into writing big time checks. You're lucky if its only six hundred bucks to pump out the tank because you could get hit with a bum pump and then you're out a couple grand. Suddenly you find yourself paying $3000 to go to the bathroom.
Just when you've got the freezer packed with all kinds of goodies you've harvested from the garden, a hurricane hits and knocks out the power for a week and you find yourself emptying the freezer into the trash.
You face up to the fact that you need to replace your pool cover. Get a spanking new one that matches the color of the grass so you can hardly notice it. Problem is that deer don't notice it either and walk right over it, crashing through the cover, ripping a hole in it and cutting up your pool liner with their sharp hooves as they try to escape. The deer-drop-in costs you your insurance deductible. Just feel lucky the deer wasn't a cow because, as our insurance agent told us, domestic animals aren't covered.
Zero turn mowers are the sports cars of the mowing world. Nimble and maneuverable, they can run circles around trees and bushes, turn on a dime and deftly respond to your every command. Problem is the two rear wheels are powered separately, which makes them agile but when one wheel gets stuck in mud, since the two wheels aren't connected the unstuck one tells the stuck one to take a hike so the more you try to power out , the deeper you bury the wheel and mowing quickly turns into towing.
Another downside to country living is when a hurricane or snowstorm is coming, you can't get to the grocery store fast enough. I don't care if you go three days before, you won't find an egg, carton of milk or loaf of bread in the entire store. When threatened with a weather catastrophe, instead of buying shovels or salt or plywood, country people buy bread, turning into locusts, devouring shelves upon aisles of loaves. Grocery stores end up looking like third-world food stores just before a currency devaluation.
Snow falling in the country is beautiful but there's a huge downside. Snow brings out the worst in country drivers. When they're faced with a steep hill, they put the pedal to the metal so the rear wheels spin out and slide the car into a ditch. Same goes for going down a hill, only this time they hit the brake so hard its ditch time again, Moral of this story is, when it snows, stay home and eat whatever bread you were able to save from the grocery store.
Ponds are great, pleasing to look at and fun to fish in. Unless the pool drain begins to leak. Since drains are way down at the pool's bottom in case you want to completely empty it, when it leaks the drain threatens to drain the pool dry, leaving you a layer of fish a foot deep. So you need to quickly call in a backhoe guy to fix it. Now the backhoe guy knows you're up against the wall so his fee automatically ascends. He tells you, "I can drop my current job and get over there quick and fix it but it ain't gonna be cheap." So the leaking drain not only drains the pond but your wallet too.
But I wouldn't trade living in the country for anything. You just need to know peace and quiet can cost you
Weirdnesses In Life
What got me thinking about the odd things in life was a dental implant I had recently. In order to insure that there is sufficient bone below the sinus to hold the implant, the prosthodontist inserts cadaver bone (yup, you heard it right) to encourage my jawbone to grow, kind of a bone growth cheerleader. So I began thinking, I now have a dead guy in my mouth. How weird is that?
I guess I should thank the deceased guy (or female) for being so generous but he or she is stone-cold dead and unaware that part of them is in my mouth. Talk about having your foot in your mouth, how about having someone else's foot in your mouth?
So on my Virginia driver's license, down in the lower left corner is a notation, alongside a tiny black heart, that I am an organ donor. So if I go down in a car wreck, my foot could (or my arm, or shoulder, or leg) go into someone's mouth.
I guess that's a nice thought, better than your bone's going into soup or something like that, but it's still strange.
And I had to sit there in the dentist's chair while he stuffed someone's foot into my mouth and it was like nothing weird was happening. The office was painted a restful color, soft music played, everything the dentist and his assistant would touch was wrapped in plastic, it was all normal EXCEPT….
There are other oddities in life, like when I sing in church and nobody looks at me. Because I can't sing, I sound like a cross between a foghorn and a coyote. I can hear it, it's grating, so off key there isn't a noticeable note within five hundred yards. I sound awful. Once I was presenting a commercial to McDonalds, a spot with the McDonalds' jingle and I was singing along and the head guy stops me and says, "Just read the lyrics, Tony, we know the song." So why doesn't the congregation turn and stare at me? How odd is that?
Okay, some other weird things. I like bright colors, I mean really bright colors. Like I have an orange pair of pants, not just orange, but red, yellow and blue too. I mean these pants are so bright, they are almost electric. And when I wear them out, to a party or something, someone always points at me, sneers and says, "Nice pants," like they wouldn't be caught dead in them. Does it faze me? Not at all.
But it should. I mean who wears orange pants to a cocktail party? And I usually top off the pants with a bright contrasting shirt, so I end up looking like a flag semaphore. I guess wearing orange pants and a yellow shirt to a cocktail party is no weirder than having someone's foot in your mouth, but it's still weird. I just avoid singing when I'm wearing orange pants, I mean why push your luck?
Here's another weirdness: I only wear Crocs, you know, those ugly rubber shoes that kids wear with little metal emblems sticking out the holes? I've got a foot condition so they are the only shoes I find comfortable. I've got them in a light blue color, I've got red ones, bright green ones, orange and black ones and a pair of camouflage Crocs. I also have a couple pairs in brown suede that I wear with my orange pants so I don't end up looking like a walking Jackson Pollock painting.
The weird thing is back in the good old days, I had a whole stock of fancy footwear. I had crocodile pumps, I had formal black Mary Janes with red piping, I had a pair of wingtips made out of boar's hide and I prided myself in always having the sharpest footwear. So when I go out, wearing some nifty outfit, my fancy shoe history collides with my stupid-looking Crocs and I feel weird.
Here's another weird thing. My wife thinks I drive too slow, "You're so pokey!" she regularly says when I'm behind the wheel. So she drives most of the time. But recently, I noticed that she constantly looks out to her left at the passing scenery. Now I have to turn my head to notice her looking out the window so now we're both looking left. Anyone behind us must see both of us turning to look left at about the same time, both not looking at the road. And we do it almost in unison and there's really nothing to look at besides grass and trees. So I know the two of us look weird.
Then there's the pool. When it rains hard, say five inches or so, because there's only fifteen feet between the pool and the house, water weirdly accumulates between the two and causes the pool liner to float up so the pool steps end up swollen like fat pillows and the floor of the pool levitates up. That's where the sandbags come in. It takes ten to get the steps to settle and you have to get in the pool and guide the sandbags to the correct places on the steps. That isn't so bad, but after a couple days when they get waterlogged, getting them out is a Herculean chore. Talk about feeling weird, diving down and trying to hoist sandbags off the steps makes you feel like you're a prospector in the California gold rush panning gold out of some river. But you're panning sand out of a pool, not gold out of a river and I call that weird.
How To Tell If You're Getting Older
There are always numbers, but you can't put much stock in them. You can keep claiming you're 39 for a good ten years and "seventy is the new fifty" only clouds the picture. Plus everyone's chomping down steroids, getting facelifts and taking advantage of other medical advances to disguise their true ages.
So here are some new metrics for you to consider.
Having joints replaced, knees, hips, shoulders, whatever is a surefire sign. You've worn out the part God gave you, just like a crankshaft or wheel bearing, and now you have to pick a new one off the rack and have it installed.
If you have just one friend with a new part, you're not really getting up there. But if you have three, four, six or seven friends or go to a cocktail party where new hips are what everyone's talking about, then you know you're really aging. I once had a dream where a mad inventor put a huge magnet on one wall of the cocktail party and when he turned it on, it sucked everyone with a replacement over to it. I remember thinking, "Look how many of my friends are stuck to the wall. Now they're old."
Take me, for instance. I had a pacemaker put in and while it was no big deal (a nurse once told me that pacemakers now are as common as facelifts), it did point out to me that like a cracked cylinder head, my heart wasn't what it used to be. It needed a machine to run in front of it to, you guessed it, set the pace. So now my heart is chasing a machine and that officially makes me old (Google says 75 is the average age for an implant–plus or minus 10 years).
But the signs don't stop there. At a certain age, the garden of aches and pains begins to bloom. This hurts there, that hurts here, my foot, my shoulder, my neck—they're all talking to me in a way they never have before. You find yourself saying, "Gee, that never hurt before, I wonder where that came from?"
Turns out there are a whole set of mystery maladies seemingly coming out of nowhere. "I mean, I didn't fall, I didn't twist it wrong, I wonder why in the hell my BLANK hurts?" Problem is, they come and go like guerillas in the night. One minute, your back is bothering you, causing you to walk like a pretzel but then that goes away and three days later, you can barely bend your left elbow.
Trouble with all these ailments is that while they randomly attack and then retreat on some weird schedule, you can't pin them down long enough to get to a doctor. You don't want to be sitting in some doc's office and when he asks, "Show me where it hurts?" You have to tell him, "It did hurt right here but it doesn't anymore." Talk about getting a weird look.
The other trouble is that you get no sympathy from your significant other because they too are suffering from mystery maladies. Try for some sympathy for a painful wing and you get, "You say your shoulder hurts, but my hip has been hurting for six months. And I'm not even bringing up my knee."
Okay, so when you get into competition with your spouse over who's got the worst aches and pains, >>>>
<<<< no matter your numerical age, you're definitely up there.
Then there's the mental side of the picture, which is not pretty. As you age, the sliding scale comes into play. And it only slides one way. First you have trouble remembering names. While you can dredge up names from the past, the names of people you recently met vanish like hoped-for lottery winnings.
So before you tell a story, you rehearse the whole thing to make sure you can remember the names of everyone involved. Sort of lets the air out of a story when you start, "So did you hear the one about…jeez, I think I've forgotten his name." You face the same situation with jokes. Once you've gotten to the end of a long windup and come to the punch line, it's not good when you go blank. That's a hole it's hard to dig yourself out of. So before telling the joke, you make sure you've got the punch line down cold, which is not easy when you're struggling to remember the body of the joke.
The dead giveaway that you are old is when you purposefully stride across the house heading to the bathroom to get, say, a Band-Aid. But when you get to the bathroom, the Band-Aid has flown the coop and you're left standing in the middle of the room wondering what the hell you came in here for. God forbid your spouse finds you staring blankly at a wall because she's sure to hit you with some zinger like: "What? Did you forget what you came in here for—AGAIN?"
That's why lists are so invaluable for older people. Only problem with a list is that you have to remember to take it with you. Otherwise you'll end up standing in a dumb stupor in a supermarket aisle. Or what's worse, having to call the wife and asking her to read off the list to you.
Fortunately, there are machines to keep you from going over the edge to total senility. "Hey, Siri," is like a life ring tossed to you when you can't remember where the vacuum repair place is, how to get to Costco or what time your dentist appointment is. "Hey, Siri," gives you a false sense of security until you forget and leave your phone at home.
The way I see it is that artificial intelligence can't come soon enough. And I'm not talking about the artificial intelligence I used to run into in advertising. People walking around with fancy MBA's who couldn't recognize a big idea even if it walked up and slapped them in the face.
I'm referring to little machines with odd names like Google Home Mini and Alexa. Losenge-like things that actually talk to you, reminding you of appointments, when your pot roast is done or the name of the junior senator from Wisconsin. Just imagine what they'll be able to do in the future. Now the things talk to you, in the near future, they should be able to think for you.
For instance, if you find a little senility creeping in, you could activate Alexa and she will take over, monitoring your thoughts, keeping you from acting addled, answering all kinds of questions that normally stump you and making you come across as mentally sound.
"Dad was starting to lose it until he got his new Alexa machine, now he's back in the game," your kids will say.
Just don't expect your Alexa will help with your mystery maladies or failing joints, you'll still have to deal with those. But at least you'll be able to remember what hurts where. 
My House Can Talk
It didn't use to, it just sat there like a lump, saying nothing, seeing nothing. But now it's come alive.
Because I got a video doorbell. It's a tiny oblong thing about the size of a Cameo Creme cookie with a doorbell, camera and microphone included. Our old dumb doorbell just rang. Our new doorbell, on the other hand, not only shows you who's at the door, but it also lets you talk to them. And here's where the fun comes in.
The new doorbell comes with an app that shows you who's at the door and enables you to talk to them on your smartphone.
So you can be say, in Charleston, where we were recently and you get this "ding" on your phone and a message that reads, "Front door camera detected motion on 4-10-19 at 3:33 PM." You open the app, activate the camera and you can see who's there. It turned out to be the exterminator spraying around the front of the house. So I tapped the microphone and said, "You want to check the side of the house?"
When he heard my voice, the guy started swinging his head around looking for who was talking to him. Seeing no one, he looked totally baffled. I continued, "There are ants coming in over there."
That made his eyes bulge out. Someone was talking to him from somewhere—but where? Now he's peering around the side of the house, then out toward the driveway. I bet he's thinking, "The damn house is talking to me."
I couldn't resist so I continued, "And I mean lots of ants, millions of them. So I'd appreciate it if you could take a look." Now he tentatively turns toward the front door as if he's figured out where the sound is coming from—but no one's there. He looks like he's seen a ghost. All he can come up with is, "Oh, oh, oh, okay…"
"Thanks," I say, and that proves to be too much for him. He gives a weak wave and trudges off shaking his head as if he'd just visited the Twilight Zone.
We'd bought the video doorbell because we'd heard of a home invasion in a nearby county. Not that we were worried that we'd be invaded, but just as an added measure of security.
But I had no idea how much fun it could be to talk to people who can't see you. So I tried it on our housekeeper, getting Annie to join me. Wendy arrives every Friday punctually at 8:20. We waited until 8:21 and sure enough, here comes Wendy up the walk. I get the message, open the app and say, "Hi Wendy."
She stops dead in her tracks. We'd told her we'd be away so she can't figure out how we can be talking to her. I nudge the wife and she says, "I put clean sheets on our bed so you don't have to."
"Okay, but where are you?"
"We're in Charleston."
"That's what I thought so how can you be talking to me?"
"Video doorbell."
"Video doorbell?"
"Yup, it lets us see who's coming and talk to them."
"You scared the bejesus out of me, totally freaked me out."
"Sorry."
"I mean, I recognized your voice but you weren't there, it was spooky. But now that I know you have one of these things I won't be spooked anymore."
Wendy shakes her head as she walks by the doorbell as if she's thinking, "These sure are weird times we're living in."
Now I know she goes out for a smoke break after about an hour. So I wait for the next message. Sure enough, "Front door camera detected motion…" I open the app and say, "You know Wendy…"
Wendy goes "Eeeek!" And kind of jumps away from the doorbell.
This time she's got a smile on her face, "You did it again to me! But now I'm wised up."
My next victim was the UPS man. As soon as he set the package down at the front door, I said, "Thank you, you can just open the front door and put it inside–we're away."
Our front door is indented about three feet so he's standing there scanning the inside of the doorway while I'm talking. Talk about looking blown-away. I can tell he's thinking, "Okay, they say they're away so how are they talking to me? But as he suddenly realizes my voice is coming from the doorbell, he goes, "Aha! You got one of those fancy doorbells that talks, right?"
"Right. Hope I didn't scare you too much."
"For a second there, I thought I was hearing things. That's a pretty neat device, might have to get myself one," he said as he dropped the package off inside.
Lizzie, a friend who dog sits for us, was to be my next victim. As she came in to feed the dogs, I said to my wife, "I'm going to wait until she leaves and surprise her."
"Nope, don't do that, you'll scare the hell out of her."
"But it will be fun,"
"Don't you dare."
That was the end of that.
Now I'm conjuring up all kinds of ways to frighten off burglars. I could say, "I've called 911 so you'd better get out of here fast." Or, "I've got your license plate recorded so if you dare open this door, the cops will chase you down."
But I figure just surprising them will run them off.
"Let me see," I'm thinking, "the lawn crew arrives tomorrow, maybe I could scare the daylights out of them!"
I knew it would be cool to have a video doorbell, but I never knew how much fun it would be to have a talking house.