Keswick Hall To Unveil a Dramatic, Expansive Transformation
Setting Bold Goal to have the Facility Open by the Third Quarter of 2020
Covered by Steve Bessett for Keswick Life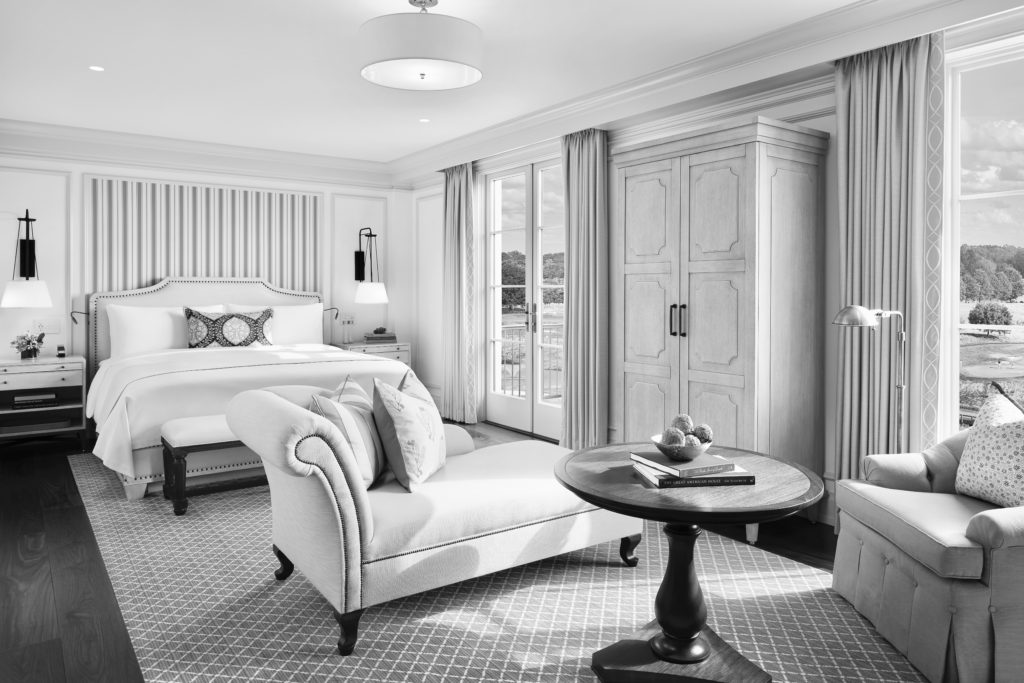 The beautiful and historic Keswick Hall is set to reopen late Summer 2020, following the completion of an extensive and loving restoration that marries the resort's classic style and sophistication with luxurious comfort and modern amenities. The Hardies are directors of the private investment firm H7 Holding Company, which owns Keswick Hall and The Hermitage Hotel in Nashville, Tennessee, among other investments – including Clover Hill Farm and the adjacent Oakdale Farm.
They purchased Keswick from Orient Express Hotels in 2012. Orient had purchased the property from Sir Bernard Ashley, co-founder of Laura Ashley fabrics and decorating, in 1999. Ashley had purchased the property, which was then a club facing bankruptcy, in 1990, and turned it into an inn. The Hardies shuttered the inn to the public in January 2018 to start the renovation process. The remodeling is extensive. Much of the manor house has been taken down to the studs with the wiring and plumbing updated as well as the layout of rooms redesigned.
The entirety of Keswick Hall has been expanded and transformed, including a new guest wing that will increase the number of accommodations to 80 guest rooms, The room unveiled recently is one of 38 planned The inn's new look may be a big change for old customers. Previously, Keswick rooms were smaller with darker woods, artwork and antiques. The new rooms are less formal and more open. The older rooms were all of different sizes and dimensions and they were smaller with dark woods and a variety of antiques and paintings. The new rooms will be lighter, brighter and more consistent in size, although there will be different suites available.
The main manor house, which was built in 1912 as a private residence and served as a country club before becoming a luxury hotel in the 1990s. The hall is currently under heavy renovation that will reduce the inn's former 48 smaller lodgings by 10 while expanding the size of the new suites. An additional residential wing featuring 42 suites will join the manor house as well as the addition of a redesigned spa, a new infinity pool and cabanas and reimagined resort grounds.
In addition, the renewed Keswick Hall will feature a signature restaurant by legendary Chef Jean-Georges Vongerichten. For this project, owners Molly and Robert Hardie tapped the architecture firm Hart Howerton distinguished lighting design firm, L'Observatoire International and the renowned landscape architects Nelson Byrd Woltz to work together and redefine the art of American hospitality.
"It has been no small undertaking to transform this special and iconic retreat and we cannot wait to unveil the new Keswick Hall," said owners Molly and Robert Hardie. "We poured our hearts into thoughtfully redesigning the property and we feel confident that our passion for this project will be embraced by everyone who visits following our reopening."
Guest accommodations will feature four signature suites, including a distinctive two-The new signature restaurant by acclaimed Chef Jean-Georges Vongerichten invites guests to take in the expansive views of the Virginia Mountains while feasting on organic and sustainable ingredients from local family-owned food supplies and farms. Comprised of 130 indoor seats, 20 bar seats and 70 outdoor seats, the new space will feature white tiled and wooden floors, custom-designed light fixtures from L'Observatoire International, ceramic-face bar, a stone fireplace and vibrant outside area. As a pre-dinner treat, guests are encouraged to partake in a game of boules on the Pétanque court with a cocktail in hand.
Other property enhancements will include a Market located off the lobby, offering a selection of artisanal breakfast items, teas and coffees in the morning, thereafter transforming into a retail shop featuring a range of sundries, gifts for children, bathroom amenities and more. The newly designed ballroom with a pre-function space can accommodate up to 250 guests. There will also be several new areas specifically designed for weddings and special occasions, one housing a natural amphitheater adjacent to outdoor-tented areas that can hold events for up to 400 people.
To highlight the outdoor experience at the new Keswick Hall, landscape architects Nelson Byrd Woltz are creating an enchanting outdoor destination that will allure guests to explore myriad walking paths and beautifully designed resort grounds –all sustainable and reflective of the native Virginia landscape. Additionally, a striking infinity pool will be the focal point of Keswick Hall's brand new pool pavilion and cabanas, providing a unique, hammerhead design – unusual for this type of pool – that will allow for more guests to take in the breathtaking views of the stunning Virginia countryside. Opening in spring 2021, will be Keswick Hall's new spa featuring eight sumptuous treatment rooms with services that incorporate indigenous ingredients employing organic red flower products.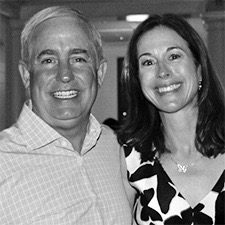 The pair has strong Charlottesville connections. Robert Hardie is a member of the University of Virginia Board of Visitors and earned a bachelor's degree from the university as well as a master's degree in business and a doctorate degree in management from its Darden School of Business.
A Richmond native, Molly Hardie graduated from the UVa School of Medicine and has served on the UVa Health Foundation Board of Trustees, the Virginia Discovery Museum board and the Peabody School board of trustees. The couple lives on a farm near Keswick Hall and are raising five sons.
"When we first saw Keswick Hall, we fell in love with it. We're only about six miles from Charlottesville but it is like being in a different country. We realized it was time to update the property and we thought, why not us?" Robert Hardie said.
"We love the property and we can care for it and treat it with the respect it deserves," he said. "We're lucky to be the ones to bring it into the 21st Century."
As part of the expansive and transformative restoration, Molly and Robert Hardie are creating five speculative homes at Keswick Estates, which will debut in 2021. Keswick Estates, the residential enclave that is part of the property, provides residents the opportunity of enjoying resort life all year round.
Keswick Hall, nestled in the heart of Virginia's Piedmont region, among lush, rolling hills at the foot of the Blue Ridge Mountains, will also offer exceptional local experiences for guests. This peaceful and pastoral property will provide access and transportation to Thomas Jefferson's Monticello, James Madison's Montpelier plantation, the University of Virginia, and gastronomic and cultural experiences including visits to local wineries, craft breweries, distilleries and farms
The goal is to have the facility open by the third quarter of 2020.