BY SAM JOHNSON, DEPUTY DIRECTOR OF CULLINARY | 1776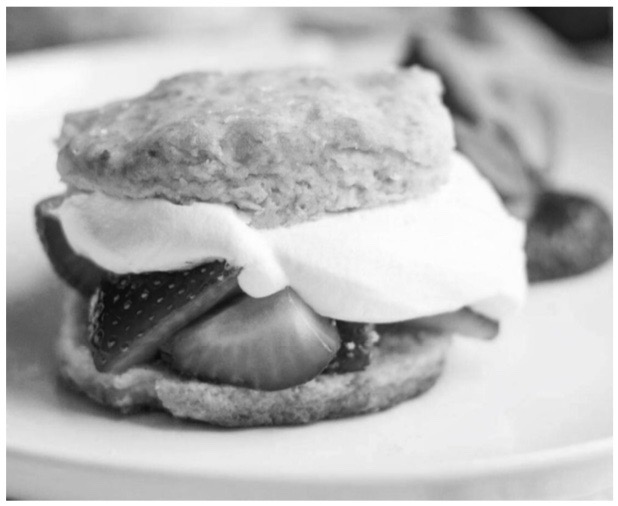 I love this recipe. I have played with this one using different extracts and have found that citrus really highlights the berries, and gives the short cakes a refreshing flavor. Although this is a classic dessert, it is often forgotten. Well let's not forget about it this spring and summer and add this winner to your menus.
Ingredients
3 cups all-purpose flour
1/4 cup granulated sugar
2 tablespoons baking powder
1 teaspoon salt
3/4 cup cold salted butter cut into small pieces
1 1/3 cups cold heavy cream
1 teaspoon pure vanilla extract 
1⁄2 teaspoon pure orange extract 
2 egg whites for brushing tops of shortcake
Sanding sugar for sprinkling on shortcakes
For the whipped cream:
1 cup heavy whipping cream
3 tablespoons confectioners' sugar 
1 teaspoon pure vanilla extract
1⁄2 teaspoon lemon extract
Pinch of salt
Instructions:
Slice or quarter the strawberries and place them into a large bowl. Cover with granulated sugar and stir. Cover and refrigerate the strawberries while you make the shortcakes so they can get juicy.
Preheat oven to 425 degrees F. Line a large baking sheet with a Silpat baking mat or parchment paper. Set aside.
In a large bowl, sift together the flour, sugar, and baking powder. Mix in the salt. Add the small pieces of cold butter and use a pastry blender, fork, or your clean hands to cut the butter into the dry ingredients. Mix until you have pieces that are the size of peas.
In a small bowl, stir together the cold heavy cream and vanilla extract, orange extract. Pour the mixture over the flour mixture and stir until just combined. Turn out onto a lightly floured surface and lightly knead the dough together to incorporate all of the crumbly dough pieces. Do not overmix.
Press the dough into a circle, about 1-inch thick and cut into rounds, using a biscuit cutter. Place the biscuits on the prepared baking sheet, about 2 inches apart. Place the pan in the refrigerator and chill the biscuits for 20 minutes before baking.
Use a pastry brush to brush the chilled biscuit tops with egg whites. Sprinkle tops generously with sanding sugar.
Bake the biscuits until golden brown, about 15-20 minutes. Let cool completely. While the biscuits are cooling, make the whipped cream. In the bowl of a stand mixer, whip the heavy cream, sugar, vanilla & lemon extract, and a pinch of salt together until the cream reaches stiff peaks.
To assemble the shortcakes, cut the biscuits in half horizontally. Spoon the strawberries over the bottom of the biscuit and add a dollop of whipped cream. Top with the other biscuit half. Add more strawberries and whipped cream on top, if desired. You can also break up the biscuits and top them with strawberries and whipped cream or leave them whole and add strawberries and whipped cream on top.