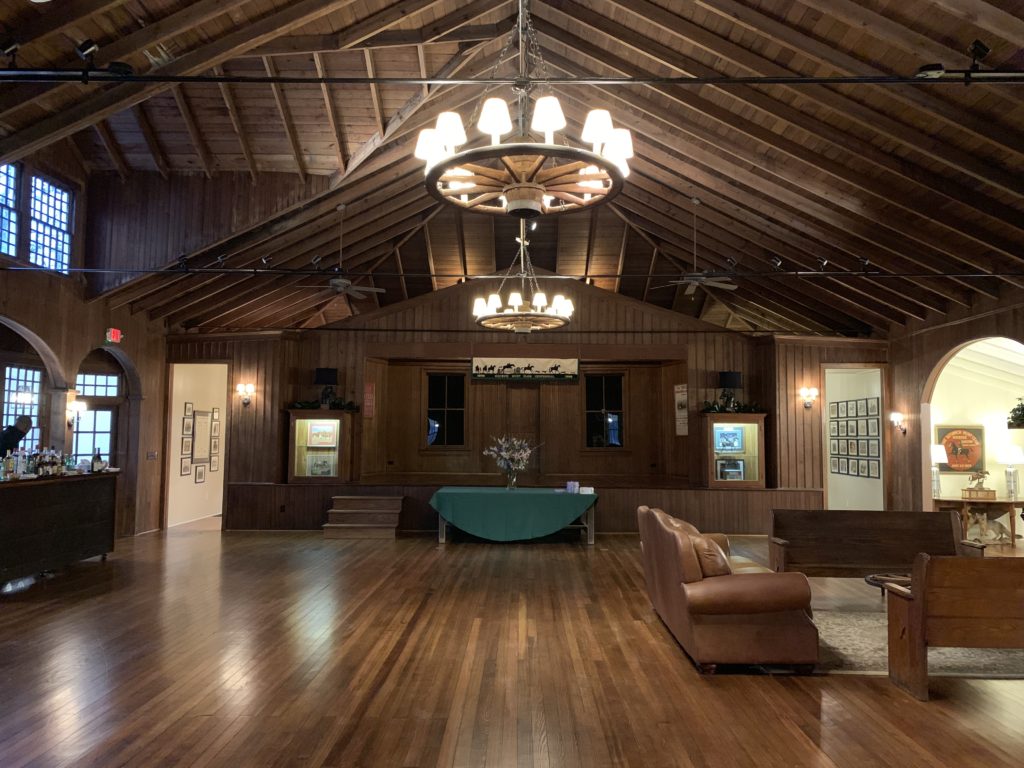 At 6 PM on February 23, a hundred and forty pairs of eyes blinked and went wide as Hunt Club members walked through the front door of the renovated club. People were agog at the sight of the gleaming floor, the new porch dining room created from the former storage room and kitchen, the new curtains festooned with hunting scenes, and the 137 photos hanging on the walls which had been cleaned, reframed, captioned and hung in orderly groups on the walls.
Amy Nunnaly with Paul Wilson and Scott Nunnally

Dolly Buswell. Liza Taylor

Kat Imhoff John Moore And Rosie Merle Smith

Taylor Son and guest

Polly Cooley with Mrs. King

Paul Manning and Mr. Don King
As people toured the renovation, they were delighted by the men's and ladies rooms, fresh, clean and roomy with new lighting and handicap accessibility, the gleaming kitchen, new hallways painted a light cream color and finally the heating and air conditioning systems which brought the hundred and twenty-year-old club into the twenty-first century.
The musty, tired interior had been given a facelift and makeover without losing any of its character. Everything felt familiar but refreshed, like an old friend showing up in a sparkling new outfit.
Arnold and Ernest were back behind the bar that had been lowered and refinished and the faded green Naugahyde front removed and Judy and Marika were enjoying the spacious new kitchen. Earlier, when Judy first walked in, tears came to her eyes as she took in the sight.
The renovation of the Hunt Club could not have happened without Paul Manning, Kenny Wheeler and many other generous contributors along with the constant and expert supervision of Peter Taylor. , the board who initiated the project, to Ceil Wheeler who helmed the decorating committee, the team from the contractor, and the countless members who stepped up with donations of furniture and put in the time volunteering to assist in the renovation and in the previous week had swarmed over the club readying it for the opening.
Still to be finished is the exterior. The Huntsman's cottage has been removed and in its place are numerous bushes from Keswick Hall that will figure in the landscaping plan along with a barn and huntsman's cottage.
Get ready for the next 100 years of fun. Keep checking Keswick LIfe's Facebook page and reading Keswick Life for updates on this fabulous restoration of Keswick's fine old clubhouse.