By Sam Johnson, Deputy Director of Cullinary | 1776
Ingredients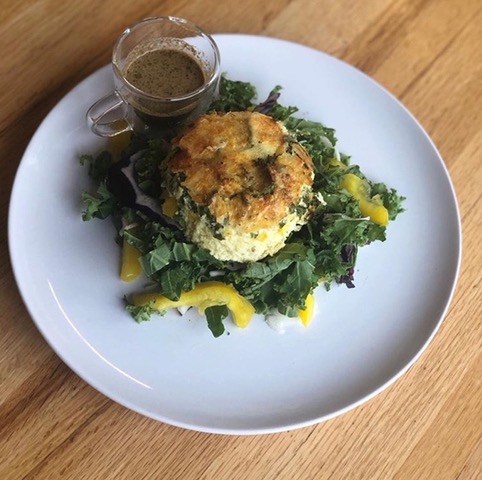 4 large eggs
1/2 cup milk
olive oil, drizzle
1/2 cup kale, chopped
1/2 cup yellow bell pepper, diced
salt, to taste
pepper, to taste
1/4 cup asiago cheese, shredded
Directions
In a medium bowl, whisk together the eggs and milk. Heat the olive oil in an oven-safe pan over medium-low heat. When the oil is shimmering, add the kale, bell pepper, salt, and pepper. Saute until the pepper is tender, about 10 minutes.
Pour the egg mixture into the pan and sprinkle the asiago cheese on top. Continue to cook, pushing in the edges occasionally to make sure all the egg cooks evenly. Remove from the heat.
Place the pan in the oven and broil on high until the top is lightly browned, about 4 minutes.
Serve with chopped kale salad and balsamic dressing to a kitchen full of friends!