By Sam Johnson, Deputy Director of Cullinary | 1776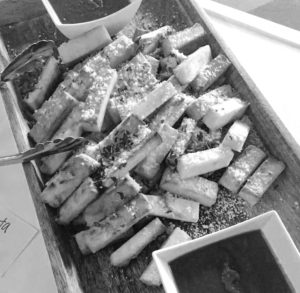 I love this recipe. So simple and can be a fun addition to your fall cocktail parties or dinner menu. Just when you thought fries couldn't be dressed up. Here comes the parmesan polenta fries. I hope you love them as much as I do.
Ingredients
3 1/4 cups water
1 cup polenta
2-3 tbsp fresh chopped herbs (parsley, basil, sage, rosemary) plus more to garnish
2 tbsp butter
1 1/2 tsp truffle oil
1/2 cup grated parmesan cheese (optional), plus more to garnish
Salt and ground pepper, to taste
Directions
Combine water, polenta, herbs, and a bit of salt in a medium sauce pan. Bring to a boil over medium heat, whisking the mixture together. Once boiling, reduce heat to a simmer and allow to cook for about 15 minutes, stirring occasionally.
After about 10 minutes, add in the butter and parmesan cheese (if using), stirring to combine. Once polenta is done cooking, transfer to a baking dish, spreading evenly. Allow to cool uncovered for about 45 minutes. You can also cover and keep refrigerated for up to one day. Preheat your broiler on high. Line a baking sheet with parchment paper and brush with coconut or olive oil.
Remove polenta from baking dish (turn upside down onto a cutting board) and cut into sticks about the size of thick french fries. Brush the polenta fries with oil on all four sides and space evenly on baking sheet. Broil about 4 inches from heat until golden, 15 to 20 minutes. Allow to cool before gently removing from parchment paper.
Top with truffle salt, fresh chopped herbs, a dusting of parmesan or nutritional yeast, and a liberal dosing of truffle oil. Serve with a zesty tomato sauce to a kitchen full of friends!