By Sam Johnson, Deputy Director of Culinary | 1776
This recipe is fun and can be used as a quick lunch item or a great make ahead meal served with nice French White. I'm pretty sure this will become a Keswick favorite, it's certainly one of mine!
Ingredients:
2 cans solid white tuna
1 bunch scallions, thinly sliced
1/4 C soy sauce
2 T sesame oil
1 T honey
1 T rice wine vinegar
1 T furikake rice seasoning
1 C cherry tomatoes, halved
1 english cucumber, halved & thinly sliced
4 C mixed greens
1 C fresh herbs (mint, basil, thai basil, cilantro)
Ginger-Miso Dressing
2 T miso paste
2 T ginger, finely chopped
1 garlic clove
T rice wine vinegar
T water
T sugar
2 tsp sesame oil
2 T vegetable oil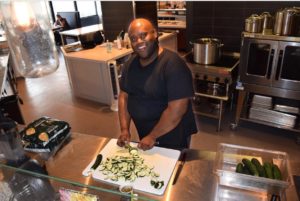 Directions
Drain tuna and flake into bowl, add scallions.
Add soy sauce, sesame oil, honey, vinegar & rice seasoning to blender, blend until combined and pour over tuna. Mix tuna, scallions & soy dressing until well combined. Set aside or chill until ready to serve.
For ginger dressing; combine all ingredients in blender, puree until smooth.
To serve, mix greens, herbs, tomato & cucumber.
Top with reserved marinated tuna and Ginger-Miso dressing.
4 servings.