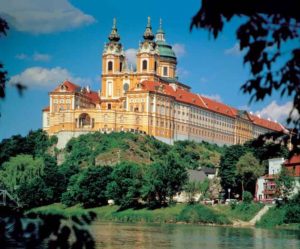 It had been two years since my first fishing trip to Austria. On that occasion I had stayed at the Wirt am Bach, a bustling gasthof on the Traun River, one of the most famous fly-fishing destinations in Europe. On my last night, after four days of good fishing, I was drinking a beer and looking at the wine list, when a group of about ten men sat down at a table behind me. One of them, a man with rumpled gray hair, a thick mustache and a welcoming face, walked over to my table.
"Hallo. I'm Hans Aigner. You wouldn't be a fisherman, would you?"
"In fact, I am. I'm Charlie Thacher." I shook his hand." Do you have the habit too?"
"Yes, of course. I'm with the group over there. We are fishermen who look after the river. We call ourselves the Friends of the Traun. If you have not had dinner yet, why don't you join us?"
"Thanks so much. That is very nice, but I do not speak German"
"No, please join us. Some of us speak English. As long as you don't mind missing parts of the conversation."
"No problem. I would miss it all if I stayed here. I just need to tell the waiter."
It has been my pleasant experience that, because humans are social creatures, they naturally feel bad for someone who is engaged in a normally social activity, such as dinner, by himself. Or, maybe I look particularly needy. Whatever – it's led to some of my most memorable meals.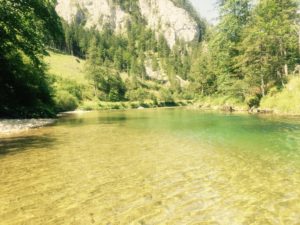 Hans re-arranged the table so that the best English speakers were near me. I had a great time. He was one of the most engaging men that I have met – funny, raucous and warm. He seemed to be the unelected leader of the group, filling in during pauses in the conversation with stories or humor. As they all got up to leave, he gave me his card and told me that if I decided to return, and would like to fish with him, I should send him an email.  Now, two years later, I was on my way to meet him, having left the Vienna airport in the early afternoon, for a 3-hour drive to the gasthof on the Salza River where we would meet for dinner at eight o'clock, and stay. As I neared the autobahn exit heading south toward the Salza, a sign said "Stift Melk" and under it a picture of a medieval building, and "36 kilometers'.
I read Umberto Eco's extraordinary book, The Name of the Rose, several decades ago. The fictional murder mystery takes place in the 14th Century in an un-named Benedictine monastery in the Italian Alps, and it explores quotidian life in a medieval monastery in much the same way that Melville explored life on a 19th Century whaling vessel. One of Eco's two protagonists – the narrator and fictional author – was Adso of Melk. The incredible library, which is a central feature of the book's fictional monastery, was described as being modeled after the great library at Melk Abbey. I had never done any research related to the book and had no idea that Melk Abbey actually existed, much less that I would be within half an hour of it.  I decided to bypass the exit and visit the ruin.
I arrived at Melk just before admissions closed. It is anything but a ruin. Founded in the late 11th Century, it was completely rebuilt in the early 18th Century, and is perfectly preserved.  The massive complex, set on a hill overlooking the Danube, is a beautiful and impressive site. The extensive gardens and the building's opulent interior are spectacular, and the richly decorated library – housing nearly 2,000 medieval manuscripts and over 100,000 antiquarian printed books – is astonishing. Today, in a much more secular era than when it was founded and rebuilt, Melk functions primarily as a tourist attraction and a school. The unplanned diversion was worth the effort, but now I had to hustle to meet up with Hans by eight o'clock.
The drive south through the mountains on winding country roads, was lovely. Soon it started to rain. It was already eight o'clock when I reached the charming four-season vacation village of Mariazell, but I was relaxed, knowing that it should be less than fifteen minutes more to my destination – the Gasthof Franzbauer, in the tiny village of Gusswerk. The Salza was generally rated as the finest trout stream in Austria. Permits were expensive (over $250 per day) and difficult to obtain, and I was very excited to be fishing it for two days.
When I pulled into Gusswerk, it was raining very hard and nearly dark. I hadn't bothered getting specific directions to the Gasthof, or attempting to plot it in a GPS, because the village was so small that I figured I could easily find a gasthof. Wrong! I drove for a few miles on each of several different roads out of town and found nothing. I stopped four or five times to ask people how to get there, before someone claimed that he knew and pointed me to a road leading south. I drove on that dark, wet, winding road for over five miles, finally coming to a turnoff into a gasthof in a tiny cluster of buildings, but the name on the sign was not Franzbauer. Cursing the man who had sent me to the wrong place, I returned to the central village, and found someone else who promptly sent me back to where I had just come from. It was now about 9:30 and I felt awful that poor Hans, who had met me briefly two years earlier, was probably cursing me for making him drive about three hours from his home on a wild goose chase. But I was helpless since I had no telephone service, no GPS and no common sense. When I arrived again at the turnoff for the wrong gasthof, I decided to ask for help. I walked into a simple, but attractive restaurant, and went up to the small bar.
"Can you tell me where Gasthof Franzbauer is?"
"You are in it."
"But the big sign at the turn-in has a different name on it."
"Yes, that's an old name that the local people still use, but the little sign in front of the gasthof is correct."
Just then a man walked from the back up to the bar. "Charlie, how are you?" It was Hans. I started apologizing, and he immediately cut me off. "No problem. I assumed you might be lost. After all, you are a Yank.' He laughed.  "Come sit down, have a beer and we'll order dinner. You must be hungry" I relaxed completely, had a great dinner, couple of beers, and we shared an excellent Austrian wine. We talked mostly about fishing, while exchanging basic details about our personal lives. Hans seemed to know nearly everyone else in the restaurant, with people regularly stopping by to say hello.
It continued raining for most of the night. When I came down for breakfast at about eight o'clock, Hans was just coming in the door from outside.
"I went out to have a cigarette and look at the river. It's flooded. We can't fish here."
"What about tomorrow?"
"No. When the Salza is flooded like this, it cannot be fished for a week."
I went to look for myself, and was crestfallen. Hans said that our best bet was to try the Ybbs River, about an hour's drive. We would go to the village of Opponitz, and acquire permits from the riverkeeper, who was also the town's baker, and a good friend. But, as a courtesy we should ask him to join us for a coffee or beer, and some schnapps, and find out about the fishing. That wasn't my normal morning sustenance, but "when in Rome…" Hans greeted the baker with a big bear hug, introduced me, and we went over to a café for our "snack."  The baker spoke little English, and I missed much of the conversation.  But we got the permits, and just past noon we arrived at a bridge. Hans said "you can go upstream or down, and I'll go the other way. There is not much difference. You might see a few flies hatching that you can try to match. Otherwise I suggest that you use a standard nymph or dry fly. We can meet back here about 3 o'clock and then we will fish a different section." I picked upstream and had a nice afternoon on the pretty stream, catching about a half dozen trout. When I met up with Hans again, he was having a smoke, and merely said that he had caught some good fish on nymphs and a few on dry flies. We went to another spot with similar success, then back to our Gasthof for a couple of beers before dinner. Hans invited the baker to join us, and another friend who was eating in the restaurant, and who spoke English. A most pleasant evening.
During dinner, Hans regaled us with fishing stories, including his recent pike-fishing trip to the remote and enormous Amur river in eastern Siberia, where he and a half dozen of his buddies spent a week, but ended up waiting for the rain to stop. They only fished for a total of a few hours, before returning home. When I commiserated, he laughed and said "Oh no, we had a great time. We played a lot of cards and never ran out of vodka and Cuban cigars."
That night it rained again, and Hans said that we should move on to the Steyr River near Grünberg, about an hour west. When we arrived at a parking area near the River, we were met by the riverkeeper, another pal of Hans. We had our schnapps interlude, and the riverkeeper gave us the required permits. The Steyr is a large river, and the fishing section runs through the middle of the busy village. But as in all of Austria and Germany, even the people whose homes are on the River, cannot fish without a permit, which costs about $200 per day, or maybe about 15 times that for a full season. So, other fishermen are rarely seen. We fished across from the village, perhaps fifty yards apart, for a couple of hours. At one point, Hans called to me to come see a fish he had landed. It was a very large grayling (a fish that behaves like a trout, but looks a bit like a whitefish with a big dorsal fin), perhaps 22" long. Large grayling are rare and difficult to catch, and I have observed that they excite most European anglers much more than trout. Hans said that we could not improve on that success, so we should go to lunch. It was the only caught fish that Hans ever bothered to show me.
We drove a short distance to a modest house, with no sign. Hans led me to the back where there were four tables. A woman came out to greet him with a big hug, followed shortly by her husband. She put two large steins of beer on our table. Hans said "My friends here make the best wienerschnitzel in Austria. That is what we must have." We did, with fries, and it was exceptional. And, to add to the enjoyment, the proprietress joined us for a second beer. One other table was occupied for lunch at what would now be on my list of all-time favorite restaurants, except I never found out the name. After a long lunch, and several smoke breaks for Hans, we returned to fishing, and encountered an evening hatch of tiny flies that allowed me to observe Hans' impressive angling skills. I caught a few fish too.
The next day after breakfast we drove to the Ager River, where Hans was the riverkeeper. It was a small stream. He suggested that we wade downstream, casting nymphs down and across the water, then stripping them in. I would go in front and he would follow about 25 meters behind me. He gave me a few of the nymphs that he would use. I'm an experienced nymph fisherman. and I would never want to fish right behind me or any other angler. But it was his plan on his river. I caught trout steadily, maybe a half dozen or so per hour for the three hours that we fished. I would have felt bad for Hans, but every time I turned to look back, he had a fish on. How was I missing the fish that he was catching? When we returned to our cars, he commented "Charlie, it looks like you had a good day".
"I did. Your nymph worked very well. Do you mind if I ask how many fish you caught?"
"I didn't count. Perhaps thirty or forty. But I am the riverkeeper and have a personal relationship with these fish. You did well for your first day on the river"
That afternoon we drove to the Wirt am Bach, where I would be staying for two nights. Hans returned home. He told me that the Friends of the Traun were having dinner at the Gasthof the next night, and that we should join them. I had more good fishing. The next evening, Hans and I met for a beer, then joined the group. I was sitting next to the group's president. Richard, who spoke excellent English. When Hans went out for a smoke, Richard turned to me.
"How do you know Hans?"
"I met him two years ago at a dinner with this group.  I don't believe that you were here. He invited me to fish with him."
Do you know anything about him?"
"Not much, except that he's a great guy to fish and travel with. He seems to know someone in every village, and he has more fun than anyone I know."
"He is a great guy. The best, and he lives every day like it's his last. But he is also the best fisherman in Austria. He ran our top casting school for 30 years. He never talks about it, but he catches fish when no one else can. And he never takes fishing too seriously. You must be a very good fisherman if he invited you to join him."
"Frankly, he had never seen me fish. He just invited me. I liked him and accepted. It's only been a few days, but great fun."
Richard's comment got me thinking that Hans, a great angler, had never given me any suggestions, or even commented on my workaday skills. We were just fishing pals. Neat.
The next year I decided to return to Austria. Hans said that he could not join me any place, but he would get me permits on the Salza and some other rivers if I liked, and when I came to the Traun he could fish with me. I spent two days on the Salza (staying at Franzbauer) in perfect conditions and all the good things that I had heard about it turned out to be true. A beautiful river, in a narrow valley cut through high and rugged mountains, with great dry-fly fishing. I also enjoyed the Steyr again. After I got to the Traun, Hans and I met for dinner twice, which included some of his friends. and the first morning he took me to a small section of the river that he said had not been fished all season. That was because there were very high, thick grasses and shrubs between the access road and the river, and no one bothered to bushwhack through them to fish water that might be unproductive. But the day before, Hans in his inimitable fashion, had the River's landscaper cut a path through the brush, creating easy access for the two of us. I caught some fine trout and a large barbel (a popular European fish that looks like a cross between a carp and a catfish) – the first of my life. Hans fished just out of my view, and I don't know what he caught.
Austria had become a favorite destination for me. And fishing and hanging out with Hans made it even more enjoyable. The following spring, I emailed him to give him the dates that I was planning to come. He wrote back that he would not be able to fish with me, because he had been diagnosed with lung cancer, it had spread to other parts of his body, and the doctor had told him that it was too late to stop it.  He could expect to live only a few months. If, when I came, he was still able to, he would meet me for coffee. What a shock! This robust, always happy and optimistic man, in such a bad way. Although, I had spent, in total, less than a week with him, he was a close friend.
We picked a day to meet at the Wirt am Bach. He looked better than I expected, though he had lost a great deal of weight. The doctor's prognosis had not changed. I asked him if he was able to fish, and he said that he might be able to, but no longer had any interest in it. He was staying at home with his wife and doing nothing. He was depressed, and seemed to be just playing out the string. I was a bit shocked, since he had always seemed to enjoy life so much.  But, then how well did I really know him? We said our good-byes after less than an hour. A few months later a member of the Friends of the Traun emailed me to tell me that he had died.
I've returned to Austria to fish twice since, always enjoying myself in that beautiful, welcoming country. I even had dinner again with the Friends of the Traun. We met at a large traditional beer hall, and all of them had a single beer or just non-alcoholic beverages. They said that the legal alcohol levels for driving in Austria were now so low, and the penalties for violations so severe, that they could not take a chance. Dinner was very short and, frankly, a bit boring.  I could imagine Hans laughing and saying "In the new Austria, what's the point of a beer hall?"