As I am writing this, it has topped 100 degrees in Keswick today and summer is fast upon us. I hope everyone is staying cool and enjoy afternoons by the pool when they can.
I left you with quite a few reviews for last month, but I live in hopes that you have read them all and are ready to move on to a few new favorites!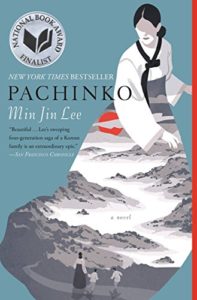 You have to read a least one epic novel every summer and for me, this summer, I finally got to a book that was a Christmas gift…yes sometimes it takes me awhile to get through my piles of books too! Pachinko is a masterpiece by author Min Jin Lee and was a National Book Award finalist for good reason.  It's the early 1900sin a small fishing village in Korea where Sunja and her mother take in lodgers.  When Sunja becomes seduced by a very suave Korean named Hansu and falls pregnant, her life turns upside down. If you have never read much about the Japanese and Korean culture this will be an illuminating look.  I find it especially relevant, as we are currently dealing with the North Korean situation in the news all of the time, to get a better idea of some of the cultural history in Asia. In the 1900's, the Koreans are not thought highly of by the Japanese, who have control of their homeland.  They are treated as second class citizens if that.  Hansu wants nothing more than to be Japanese and all that goes with being able to pass for Japanese.  This is a theme that runs throughout the book. When Sunja marries a kind, sickly minister named Isak, he takes her to join his brother (Yosab)and sister in law (Kyunghee) in Japan. There the two families struggle to exist and create a better life for the two young sons of Sunja.  The name of the novel is never really explained fully so I will enlighten you a bit.  Pachinko is a gambling game in Japan that involves a pinball like machine that is upright.  These gambling houses are almost exclusively run by Koreans and exist to this day.  This story will give you a window onto the world of the Koreans who had to try and overcome many obstacles to succeed in a very repressive world.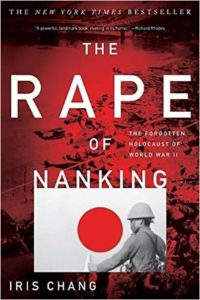 Another book that explores Asian history completely shocked me. I picked up The Rape of Nanking: The Forgotten Holocaust of World War II by Iris Change at a book swap at Grace Church and when I started reading it I was stunned to learn about this horrible atrocity that took place in World War II. Once again, the Japanese looked down on another Asian culture (the Chinese) and when they invaded China they wreaked havoc in a brutal attack that even horrified some of the Nazis who were living in China at that time. I will not pretend that this is an easy, fun read.  It is difficult due to the subject matter, but it is something that opened my eyes to another part of history I had heard very little about.  I knew about the forced marches imposed on the Chinese and had read about them before, but this book takes the experience to a whole new level and it holds some surprising heroes. If you like history and want to have a better understanding of a not too distant past then look into this horrible event that many Japanese still refuse to admit to.
On a much lighter note, if you are looking for some thrillers to give you a chill this summer look no further. After Anna by Lisa Scottoline and Sometimes I Lie by Alice Feeney will both fit the bill.
After Anna opens ten days into the murder trial of Dr. Noah Alderman. Chapters go back and for the between Noah, after and Maggie, before….so that you get the different perspectives of Noah, the accused and his wife, Maggie.  Noah is a pediatric allergist who lost his wife to cancer and eventually he and his son brought the sweet Maggie Ippolitti into their lives. Maggie was married before and when she gave birth to her daughter Anna she suffered a severe depression and her daughter was taken from her by her unfaithful husband. Finally, years later, her daughter Anna has called to reconnect and within days she has moved into the home of Noah and Maggie. Seventeen days later Anna is dead, and Noah is on trial.  This is a real nail biter and a perfect poolside read that you will want to bring with you into bed late at night as well.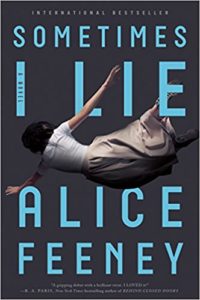 Sometimes I Lie is another psychological thriller featuring a woman narrator who you aren't sure whether to believe or not.  The title sort of clues you in to the fact that you need to question everything you are being told. The chapters bounce between before and after as well, and the reader has to piece together why Amber is now in the hospital in a coma. She is married to Paul, who may or may not be having an affair with Amber's sister, and before the accident she was working as a radio co-host with a real ball-busting radio dive named Madeline. You immediately understand that Amber did not end up in a coma due to the car accident the police seem to think was the cause.  There is a lot more going on here. Amber isn't a particularly nice person…she has her issues…but do those issues mean that her views are warped or is she really in danger? If you like suspense this is a wonderful summer read, that will leave you wanting more! After all, what could be worse than lying in a coma while you have people around you that might be trying to kill you? I have to admit I was not sure what was going on until right at the end.
Have a great time this summer and pack a few books as you head out on your adventures because you are never lost or alone when you have a book to keep you company!