By Sam Johnson, Deputy Director of Culinary | 1776
Its Spring time! So, Keswick and beyond let's get cooking. With Roast Pork and Pineapple Salsa, we can't forget the coconut rice with dried cranberries and toasted almonds. I make this recipe all the time one of my personal favorites.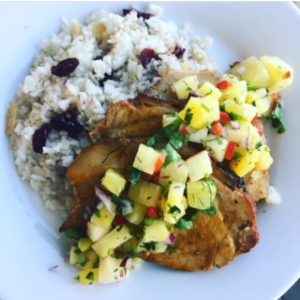 Pork
1 or 2 1-2 pounds' pork tenderloins
1 tablespoon oil
2-3 tablespoons fresh lemon, lime, or orange juice (or 1 tablespoon of each)
2 teaspoons Italian seasoning
1 teaspoon garlic powder also 1 teaspoon of onion powder
1 teaspoon cumin
1 teaspoon salt
1 teaspoon chili powder
½ teaspoon smoked paprika
¼ teaspoon black pepper
Preheat oven to 400 degrees and lightly grease a large baking/casserole dish. Pierce tenderloins all over with a fork. Rub oil onto all sides of the meat.
Whisk together Italian seasoning, garlic powder, onion powder, cumin, salt, chili powder, smoked paprika (if using) and black pepper. Sprinkle mixture over tenderloin(s), patting it onto the surface of the meat on all sides. Place in prepared baking dish and drizzle lemon/lime juice over the top.
Bake for 25-35 minutes until outside is browned and crispy and centers are cooked through.
Spoon juices from the dish over the meat. Allow to rest on a cutting board or in the baking dish for 5-10 minutes. Slice into 1 inch pieces. Spoon any remaining juices from the pan over the slices, garnish with fresh chopped cilantro and pineapple salsa.
Pineapple Salsa
1 cup chopped fresh pineapple
1 cup chopped red bell pepper
1 cup chopped purple onion
1 tablespoons chopped fresh cilantro
1 small jalapeño Chile finely chopped
1 teaspoon coarse sea salt
1 tablespoon fresh lime juice
1 tablespoon rice vinegar
1 tablespoon of honey
Rice
1 cup Indian basmati rice
2 cups water
1 ½ tablespoons salted butter
½ teaspoon salt
½ teaspoon cinnamon
½ teaspoon nutmeg
1 ½ cup dried cranberries
1 cup toasted almond sliced
Place the rice in medium bowl and add enough water to cover by 2 inches. Using your hands, gently swish the grains to release any excess starch. Carefully pour off the water, leaving the rice in the bowl. Repeat four times, or until the water runs almost clear. Using a strainer, drain the rice.
In a medium pot, bring the water, butter, salt, and rice to a boil. Cover the pot with a tight-fitting lid, then turn the heat down to a simmer and cook for 15-20 minutes, until all the water is absorbed and the rice is tender. If the rice is still too firm, add a few more tablespoons of water and continue cooking for a few minutes more. Remove the pan from the heat and allow it to sit covered for 5 minutes.
Fluff the rice with a fork and season with cinnamon and nutmeg. Also add dried cranberries and toasted almonds.