I am currently away traveling in England, Ireland and Wales, enjoying the countryside and getting some time to read, reflect and do a bit of writing. I am looking forward to the Spring quickly approaching and nice enough weather to take a few books out into the sunshine. Here are a few ideas for books to enjoy as the days grow longer.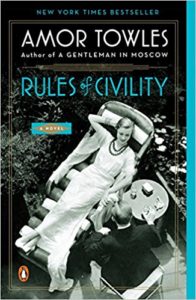 Rules of Civility by Amor Towles is one of my favorites. His writing in this earlier novel is not as eloquent as his later novel, A Gentleman in Moscow, but it is a good story, well written that will capture your imagination. Katy Kontent meets Tinker Grey on a New Year's Eve out with her friend and roommate, Eve Ross. Suddenly both girls are thrown into the high society of New York in 1937. Katy has remade her Russian immigrant background as she seeks to make her way out of the dead end secretarial pool. A chance encounter with Tinker enables her to start circulating among the upper crust and have a front row seat to all of the excesses of the very wealthy. The title is taken from a book written by George Washington called the Rules of Civility and Tinker has tried to follow these rules throughout his life, though his attempts at following his code only land him tied to a woman he does not love. This story is filled with wonderful period details and lots of cocktails, parties and gorgeous settings. It's great way to put away the dreary days of winter.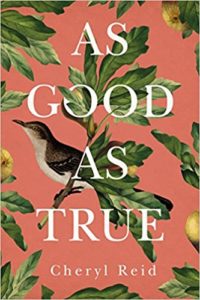 As Good As True is a new novel by Cheryl Reid and follows the story of a Syrian immigrant resettled in Alabama. Anna Nassad finds herself in a bind. She has just recently allowed the first black postman to deliver mail to her house, and even worse, invited him in for a drink of water. This causes a firestorm of reaction from the community and her family, especially her husband, Elias. The next day she wakes to find her husband dead and everyone is pointing the finger at her and wondering if she is at fault for his death. On the long days between his death and burial, Anna looks back at her life and her choices and she fights to regain the trust of her daughter Marina. I love exploring new authors and this a great example of a new, fresh talent.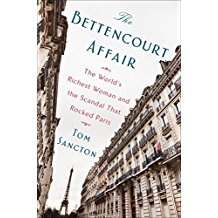 If you enjoy fact more than fiction, then have a go at reading The Bettencourt Affair: The World's Richest Woman and the Scandal that Rocked Paris. As heiress to a 40 billion-dollar L'Oreal fortune, Lillian Bettencourt recently found herself at odds with her own daughter, Francois, over Lillian's decision to patronize an artist, Francois-Marie Banier. For years Lillian and Banier were fast friends and she rewarded him lavishly for that friendship by giving him millions in art and properties. Francois was jealous of this relationship and swore that Banier turned her mother against her. In recent years this disagreement turned into a major court battle with Francois declaring her mother unsound. It was a "he said, she said" case that captivated the entire nation. It begs the question…are you allowed to spend your own money as you please? Are you allowed to leave your money to those you care about? At what point do friends who benefit from the financial gain of wealthy patrons start to take advantage of that relationship?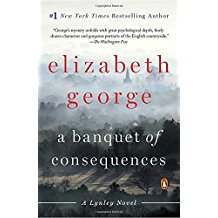 A Banquet of Consequences is another lovely mystery by Elizabeth George. Barbara Havers is in trouble with her department head and must prove herself in this latest case. A feminist writer, Clare Abbott, is poisoned and Thomas Lindley steps in to solve the crime with help from Havers. Caroline Mackerron was Clare's assistant, but seems determined to control everything surrounding the case and soon the detectives turn their attention to her life and the apparent suicide of her son, William. There are plenty of twists and turns to this murder mystery and it will keep you guessing from beginning to end.
So, keep your eyes open for the blue skies and prepare for some outdoor reading in our near future. Keep on reading!