Happy New Year! I was lucky this year and got loads of books this holiday season and I can't wait to share them with you.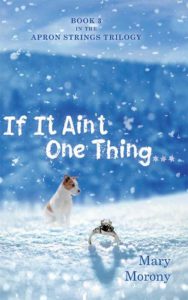 If you read any of Mary Morony's last few books you will surely enjoy her latest, If it Ain't One Thing. Time has passed in the Apron String Series. Now the Mackey clan gathers once again after a long absence. They come to celebrate the intimate marriage of granddaughter Virginia and old wounds and hurts get stirred back up. Stranded by a snowstorm they must all face the past and look toward a new future. There are still wistful flashbacks to the times before and the wisdom Ethel shared with the family. It helps to have read the earlier two books so you have some idea of the background of each character and so the flashbacks make more sense, but I really enjoyed the book and the Christmas setting was also very appropriate considering the season. This would be a wonderful read if we ever do get snowed in this year! Or a perfect book to enjoy while curled up by the fire.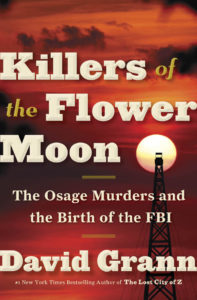 Killers of the Flower Moon by David Grann is a true story of a startling conspiracy that will amaze you if you had never heard of this murder. It is quite a disturbing look at 1920s Oklahoma where the wild west and its gun slinging tactics were still in full swing. The FBI was newly formed and this was one of its first cases. The Osage Indian Nation had been moved time and time again to less and less desirable land and finally they were given a rocky area no one ever expected could be used for anything. It was ironic that this is where oil was discovered and suddenly the Osage were some of the wealthiest people in the USA. This did not sit well with many of the "white folks" and powers that be. What follows is an unbelievable series of murders and cover ups that involved law enforcement and political leaders. As the FBI and Osage dig deeper it become clear that it will be hard to get justice in that environment and harder still to keep the remaining Osage from meeting a grim fate. Greed and narrow mindedness lie at the bottom of this entire ordeal. I was just floored by the callousness and prejudice that prevailed throughout. Everyone should read this so they can understand how important it is that justice be blind and fair and that no one should consider themselves beyond the reach of it.
In Only in Naples Katherine Wilson goes to Naples to live for three months but decides to stay and becomes enmeshed in the lives of the family of her future husband, Salvatore. The Avellone family gives Katherine a first rate experience of all it means to not only be Italian but to be from Naples. Mother Rafaella especially introduces her to the importance of food and how to cook it. She learns of carnale: confidence and comfort in one's own skin. It is a delightful and funny look at the intricacies of Italian living and family life and I enjoyed it immensely.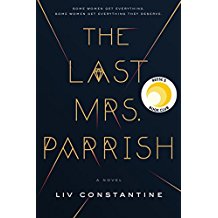 The last book I'd recommend this month is a very imaginative thriller filled with loads of psychological suspense, The Last Mrs. Parrish by debut writer, Liv Constantine. Thrillers are one of my favorite genres to start a new year with as they seem to get the brain out of the lethargy of the post-holiday stupor. This proved to be a great holiday read! Amber Patterson is a lovely young lady ready to take on the world…and win. Changing her appearance to become a drab mousy thing she flies under the radar of most of the beautiful ladies in Bishop's Harbor Connecticut. She is ready to move up in the world and has her eyes fixed on a target: Jackson Parrish, who is handsome, talented, rich and just happens to be married. He isn't just married but seems to be very much in love with his perfect wife, Daphne. But don't underestimate Amber. She has a plan and methodically befriends and becomes indispensable to Daphne. This story has loads of twists and is written in a way that makes it hard to decide who you want to route for as they all have their flaws! If you have ever watched the ID channel, this story seems like it was scripted from one of their shows and it reminds me a little of The Girl on the Train.
So as this new year begins I hope you will enjoy all of those lovely books you received at Christmas and if you need more, you at least have a few recommendations to choose from as you browse at the bookstore. Stay warm!