30th Annual Virginia Film Festival Delivers Highly-Acclaimed Program While Tackling The Issues Of Our Time And Including Special Guests Spike Lee, William H. Macy, Ezra Edelman, Trudie Styler, And Margot Lee Shetterly
Festival Featured 44 Sold Out Screenings And Over 150 Films
Richard Linklater's Last Flag Flying Earns Audience Award For Best Narrative Feature; Roll With Me Wins As Top Documentary Feature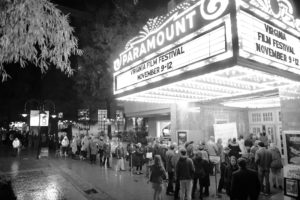 The 30th Annual Virginia Film Festival was a resounding success that brought together leading industry figures with up-and-coming voices and engaged audiences in a dynamic and expansive program that inspired long-resonating conversations around some of the most important issues of our time.
The Virginia Film Festival is a program of the University of Virginia and the Office of the Provost and Vice Provost for the Arts.  The 2017 Festival featured more than 150 films in all and was highlighted by a guest roster featuring top actors, filmmakers, writers, and cultural experts who served to amplify and expand upon the themes of the films presented while bringing the audiences directly into the discussions.  The Festival officials report that a cumulative 30,197 total tickets were issued, including both free and paid events, with 44 sold-out screenings and ticket sales revenue coming in at $187,178.
"Each year we set out to create a Festival program that is as deep as it is wide," said Jody Kielbasa, Director of the Virginia Film Festival and Vice Provost for the Arts at the University of Virginia, "and that engages our remarkably committed audiences while inspiring meaningful and lasting conversations around issues that are vitally important to us all.
This year, given all that we have been through as a city, a University, and a nation surrounding  the events of August 11 and 12, we also chose to redouble our efforts by creating a program that was intentionally inclusive in a variety of ways."
One of those ways, Kielbasa said, was through the Festival's "Race in America" series, presented in conjunction with James Madison's Montpelier. The centerpiece of the series came on Saturday afternoon when Academy Award-winning filmmaker Spike Lee took the stage for a dynamic and wide-ranging speech and a moderated conversation with UVA's Maurice Wallace prior to screenings of his films I Can't Breathe and 4 Little Girls. "We were enormously proud to bring Spike Lee to The Paramount Theater and to see so many people who were experiencing the Festival for the first time. We were additionally just as proud to share stories like Roll With Me, a triumphant tale of a paraplegic who sets out to be the first person to push an ordinary wheelchair from California to New York – which won our Audience Award as Best Documentary. Surviving Skokie and 1945 delivered impactful messages that resonate across history. Hostiles presented a powerful look at the bonds that can be forged, and the divides that can be crossed, even through years of enmity and hatred. We were also pleased to offer a fascinating series of LGBTQIA+ films, which included Trudie Styler's directorial debut Freak Show, a poignant and timely commentary on the epidemic of teen bullying that continues to infect our country, and the highly-anticipated feature Call Me by Your Name, which played to a sold-out audience at The Paramount Theater as our Closing Night Film on Sunday evening."
Virginia Film Festival Programmer Wesley Harris was particularly impressed with the way audiences turned out across the wide spectrum of films and experiences offered. "The degree to which we saw audiences respond to very disparate and diverse areas of the program with such a high level of enthusiasm was really impressive. From international films to films based around social issues to locally-themed fare and beyond, I think the program inspired a strong and enthusiastic turnout, and that is something I attribute directly to the appetite and intellect of our audiences."
Once again this year the VFF shared a roster of some of the industry's top talents with its audiences, including William H. Macy, who presented his latest directorial effort Krystal. "Bill Macy is one of the most talented actors in the business today," Kielbasa said, "and a gifted filmmaker as well. He could not have been more entertaining and gracious with our audiences and we were thrilled to have him." Other highlight guests included Styler, actor Noel Fisher presenting a world premiere episode of the National Geographic television series The Long Road Home; noted director John Lee Hancock, co-director of The Vietnam War Lynn Novick, and Hidden Figures author Margot Lee Shetterly."
One of the most memorable moments of the Festival weekend, Harris said, came with the Sunday afternoon screening of Charlottesville: Our Streets at The Paramount Theater. The documentary from local filmmaker Brian Wimer and writer Jackson Landers captures the tragic events of August in Charlottesville from the perspective of filmmakers and citizen journalists who were on the ground that day. "Festivals are made up of so many unforgettable moments," Harris said, "and the opportunity for our community to come together around this film and share in the extraordinarily difficult realities of those days, captured by our own friends and neighbors, was an extremely powerful one."
VFF audiences also played a key role in the Festival this year by casting ballots for their favorite films. Officials announced today that the winners of this year's VFF Audience Awards are:
Narrative Feature: Last Flag Flying
Narrative Short: An Act of Terror
Documentary Feature: Roll With Me
Documentary Short: The Ruination of Lovell Coleman
Also announced were the winners of the 2017 Programmer's Awards:
Narrative Feature: November
Narrative Short: The Real Thing
Documentary Feature: Serenade for Haiti
Documentary Short: Edith+Eddie
Once again this year, the VFF had a significant impact on the community through a variety of programs including its annual Family Day on Saturday, November 11. This year's free events recorded more than 2,800 attendances from local kids and families on the Betsy and John Casteen Arts Grounds at free film screenings, arts workshops, an interactive arts fair, and more. Also, as part of the VFF's Young Filmmakers Academy, over 500 local students from eleven participating schools screened their original films in Campbell Hall during Family Day. The VFF offered additional free programming throughout the Festival weekend, including a Virtual Reality Lab featuring the latest 3D film technology, a free sensory-friendly screening of The Aristocats in collaboration with the UVA student group Autism Theatre Project, a Composer Symposium, a Science of Pixar workshop, a screening of Light House Studio shorts, and feature film screenings of Harold and Maude and O.J.: Made In America Parts 1 – 4.