Adapted by Keswick Life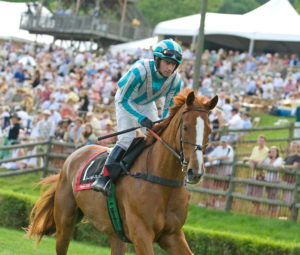 Two-time Eclipse winner Good Night Shirt (Concern — Hot Story, Two Punch) was recently inducted into the National Museum of Racing Hall of Fame. The chestnut gelding, bred in Maryland by Dr. and Mrs. Thomas Bowman, is owned by Harold A. "Sonny" Via Jr.
Bred in Maryland by Dr. and Mrs. Thomas Bowman, Good Night Shirt (Concern—Hot Story, by Two Punch) was owned for the majority of his career by Harold A. "Sonny" Via, Jr., and trained by Jack O. Fisher. Good Night Shirt joined Fisher's barn in 2005 after beginning his career as a flat racer. He went on to win 10 graded stakes races, including eight Grade 1s.
In 2007, Good Night Shirt won the Iroquois, Lonesome Glory and Colonial Cup — all Grade 1 events — to earn the first of his consecutive Eclipse Awards. As a 7-year-old the following year, Good Night Shirt raced exclusively in Grade 1 company. He won each of his five starts, taking in succession the Georgia Cup, Iroquois, Lonesome Glory, Grand National and Colonial Cup. Good Night Shirt's 2008 earnings of $485,520 set a single-season record, surpassing the previous mark of $314,163, which he set in 2007.
In his 2008 Lonesome Glory victory, Good Night Shirt set a Belmont Park track record of 4:24 for 2½ miles over jumps. He received 168 pounds in the National Steeplechase Association Theoretical Handicap in 2008. Only Lonesome Glory was given a higher impost (170 pounds in 1995) among annual highweights in NSA history. The NSA Theoretical Handicap has been in place since 1992.
As an 8-year-old, Good Night Shirt began his 2009 season with a victory in the Grade 2 Carolina Cup — securing his 10th career graded stakes win — before finishing second in the Iroquois. He was then retired because of an ankle injury with a career record of 14-5-3 from 33 starts and earnings of $1,041,083, joining Lonesome Glory and McDynamo as only the third steeplechaser to surpass $1 million in career earnings. Good Night Shirt is also in the elite company of Lonesome Glory, Zaccio, Mistico, Moonstruck and Alajmal as the only horses to win both the Carolina Cup and Colonial Cup in their career.
After a career on the flat with trainer Elizabeth Hendricks, Good Night Shirt went to steeplechase trainer Jack Fisher's barn in 2005 and flourished, winning eight Grade 1 stakes in two years. He claimed back-to-back Eclipse awards in 2007 and 2008 and set a track record in '08 in the Lonesome Glory at Belmont Park (N.Y.). At the time of his early retirement in 2009 due to an ankle injury, Good Night Shirt was one of three steeplechase horses with career earnings over $1 million.
"It's cool having a horse in the Racing Hall of Fame, although it made me look back and really wish he hadn't gotten hurt," said Fisher. Good Night Shirt was the first horse trained by Fisher to receive the honor, and the Monkton, Md.-based trainer said the event in Saratoga felt like a hometown party."It was cool — all the support that was up there at the ceremony for Tom and Good Night Shirt. I think half of Monkton was up there," he joked.