By Keswick Life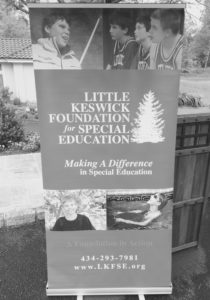 The Little Keswick Foundation for Special Education (LKFSE) will celebrate 35 years in operations in 2017. The Foundation, a 501(c)3 not-for-profit corporation, was established in 1982 by Bob and Libby Wilson of The Little Keswick School in Keswick, Virginia, to receive donations and gifts to the School. The School, which was founded in 1963, is a therapeutically and special needs boarding school for boys aged  8-14 with learning, emotional, or behavioral disabilities.
The Foundation is governed by Robert A. Wilson, Jr. (Beau), son of the Founders, and 7 Trustees, including former parents of students who have attended the School. According to Beau, the growth of the Foundation and the School provided enormous satisfaction to his father, Bob Wilson, who passed away on March 15, 2012. The vision of Bob Wilson is embedded in the Foundation today and eliminates the commingling of funds with the School. The Foundation receives donations and administers gifts for scholarships at the School, promotes special education awareness with annual symposia, and advancing skills of special educators with the Curry School of Education at the University of Virginia, all independent of School administration.
The Foundation accepts multi-year, restricted gifts for scholarships at the School. Parents who are in need of tuition support must complete the scholarship process with Princeton Financial Services. Other restricted gifts honor past student achievements in reading, art, and recreational activities.
In 2017, the Foundation will hold its 20th Annual Symposium with a renowned psychiatrist, Dr. Edward Hallowell. Dr. Hallowell is an expert on ADD and ADHD and author of 11 books, including Delivered from Distraction (2005). The annual symposium is free to the public and is delivered the second Thursday in October at the Piedmont Virginia Community College to raise awareness of special education in Central Virginia.
The Foundation is proud of its recent collaboration with the Curry School of Education at The University of Virginia. According to Dean Robert Pianta, "We are pleased to acknowledge the Foundation's stipend to a graduate student in special education. And, coming a graduate like Bob Wilson makes the gift all the more special."
The major public fundraising event for the Foundation is a golf tournament held the first Monday in May at Keswick Golf and Country Club. Again, the long collaboration with Keswick Hall and the Foundation always ensures a fun event to provide for scholarships. In 2017, the 23rd Annual Tournament will be held on Monday, May 8th..
The Foundation graciously accepts cash gifts on its Website, www.lkfse.org , or via mail at P.O. Box 722, Keswick, VA 22947. The Executive Director, Ms. Deb Woolfolk, may be contacted for arranging donations of appreciated securities, insurance policies, and planned giving. Ms. Woolfolk may be reached via telephone at 434-989-6866 or Emailing info@LKFSE.org.