By Winkie Motley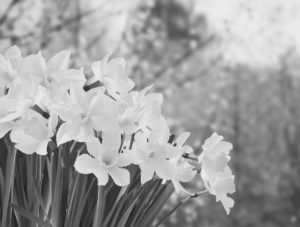 The weatherman said the other night that we said goodbye to meteorological winter, marking the last of the three coldest months of the year, once the calendars rolled over to March. We're still a bit away from the official first day of spring and some days still feels very much like winter.
However, Keswick has had a record heat in February with 9 days of temperatures over 70!
Then last week a strong storm blew through Keswick, bringing with it strong winds and heavy rains that downed trees and knocked out power. The storm was part of a line of super-cell thunderstorms that slammed the Midwest Tuesday , spawned tornadoes and destroyed more than 100 homes. Central Virginians enjoyed a second day of record-high temperatures on Wednesday, but that was expected to change overnight as a cold front pushed its way into the region, offering a chance of rain with snow farther north in Pennsylvania.
National Weather Service meteorologists said Wednesday's temperature hit 71 degrees. That was cooler than Tuesday's record of 75 degrees, but still 9 degrees higher than the record high of 62 for February 8 that was recorded in 1991. The average high for February in Keswick is about 48 degrees. Meteorologists say they expect a cold front that began to move into the region and cause rain and snow across the Mid-Atlantic into Thursday.
Soon enough it will be time to spring forward!
The first day of Spring is March 20th. At 2 a.m. on Sunday, March 12 Daylight Saving Time will start and last for about eight months this year  you'll lose an hour of sleep, but the good news is it means there are more hours of daylight every day. Now Daylight saving time is just days away, when clocks will spring forward an hour despite the fact that we're still in the midst of the winter season.. The Energy Policy Act of 2005, which came into effect two years later, stretched DST from four weeks to five, changing its start date from the first Sunday of April to the second Sunday of March. The rule also changed the end of DST, moving that date from the last Sunday in October to the first Sunday in November, Mass Live noted.Though DST means you'll be losing an hour of sleep, on the bright side it means that you'll see the sun shining from the sky for an extra hour, WXYZ noted. Past theories suggest that DST was implemented so that farmers could benefit from more sunlight.
Other theories suggest that a desire to save more energy was one of the main reasons why the time change was originally made.Those are theories that have been passed down from generations, and might not mean as much to millennials. We live in a time where most of us don't have to worry about setting our clocks forward or backward unless we're setting an alarm for ourselves. Smartphones, computers and even some automobiles have the ability to change the clocks accordingly all on their own, and that will be the case when DST starts March 12. Soon days will be longer and weather will stay warmer.
Enjoy Spring in Keswick! Go Steeplechasing !